There's nothing like pulling on some warm layers, gathering around a crackling campfire, and enjoying a cool, fall night in the mountains. It's an idyllic scene, no doubt, but it's worth talking about how to keep this quintessential outdoors scene safe and sustainable.
For many of us, this will be a refresher, but there's really no limit on the number of times you can remind yourself of these smart campfire safety habits.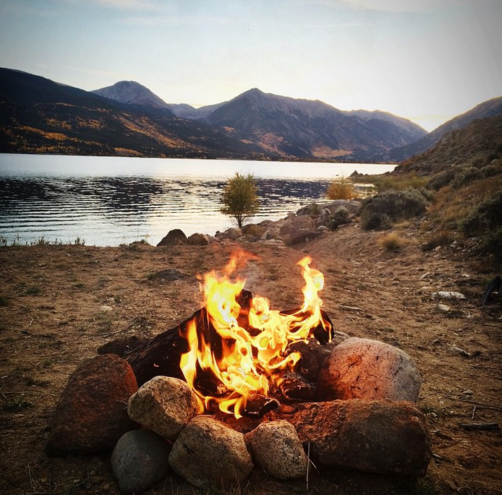 Ask yourself, is a fire really necessary?
Our goal as outdoor good stewards is to, above all else,
leave no trace
. Campfires are cozy and wonderful, but depending on where you are, it might be smarter and more considerate of your environment to forego the campfire in lieu of some warm,
headlamp
-lit reading and camp
stove-cooked food
in your cozy sleeping bag. Fires also might be against the rules, depending on where you are, so be sure to familiarize yourself with the local usage restrictions before venturing out.
Whenever possible, use existing campfire rings
If you find yourself in an established camping area with a clearly well-loved campfire ring, always opt to use that versus setting up camp and sparking some kindling in an untrampled environment.
Assess your campfire from a 360-degree perspective
It's pretty obvious that choosing a campfire spot next to some dry tall grasses or brush is probably ill-advised. Don't forget to look at all vantage points, though -- especially upward. Flames reach upward, sparks fly, and low-hanging tree branches can get caught in the crossfire. Make sure your spot is level and a considerable distance from any hills. And be sure to keep your extra firewood a good distance (at least 5 feet) away from your fire.
Keep it under control
A good rule of thumb is to keep your structure below 3 feet high and to not let your campfire space be wider than 4 feet. Always ring your campfire with large, clean rocks, too, and if you're building a new fire spot,
dig several inches
into the dirt (having cleared the brush away, of course) and use that dirt to further ring your fire.
Know the difference between dirt and duff
Duff is a layer of decomposing wood that can be found below the layers of pine and dirt on the forest floor. It looks like dirt, but it's not, and it can burn. It can sneakily allow embers to smolder for days, oftentimes underground, until it gets hot enough to produce flames. Be vigilant for duff!

Never leave your fire unattended
No, not even to take a quick cat nap or potty break. If you are alone and unable to attend to your fire, don't start one or put it out. If you're with others, always have someone on campfire duty, and make sure everyone knows the seriousness of this responsibility. Winds change quickly, and a stiff breeze can easily cause a fire to spread.
Keep a large bucket of water handy
No explanation needed here!
Drown your fire when you're done
Allow yourself a half hour before you want to go to bed to drown the fire and to ensure it's fully saturated before retiring for the night. Never let the fire burn down on its own, and use your trowel to stir up the pieces of wood, coal and ash. Make sure the entire campfire space is cool to touch before calling it quits, and never use dirt to smother the fire, as dirt can hide and smolder for hours.
Do a final check before leaving for good
Sure, you may think you put out your fire the night before, but take a few minutes to recheck the area for warm spots, and to assess the surrounding space for stray embers. Fire is tricky and unpredictable, and a couple extra minutes can make all the difference.
We all know it's our responsibility to prevent forest fires, so do your part and practice safe campfire habits the next time you spend an evening outdoors. Not only will you do your part as a steward of the outdoors, you'll also protect yourself against the potential costs of fire suppression and damage caused by negligence.
For a fun way to teach kids campfire basics, take a look at this blog post.