When searching for the best tent, you might notice that some are labeled freestanding while others are categorized as non-freestanding. If you're not quite sure what this means or how much it matters, fear not. We'll break down the differences between freestanding and non-freestanding tents.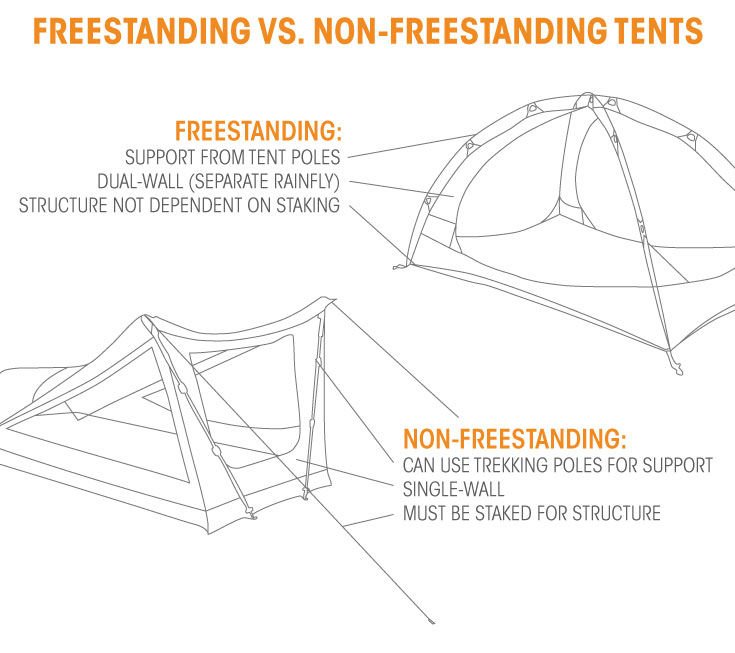 Freestanding Tents:
1. Support comes from included tent poles
Freestanding tents are supported by a number of poles included with the tent.
Pros:
Easy to assemble, re-orient and remove interior debris (just shake it out!).
Cons:
Difficult to replace poles if damaged, can increase overall weight of tent.
2. Dual-wall construction
Freestanding tents usually have a dual-wall construction, which consists of the tent itself and the rainfly cover.
Pros:
Nylon mesh interior and polyester rainfly exterior provide a good ventilation system. Interior condensation is less likely to form.
Cons:
The need to add the waterproof rainfly after setting up the tent makes it more likely for things to get wet during assembly in the rain. The dual-wall system can increase overall tent weight.
3. Structure does not rely on staking the tent
A freestanding tent is structurally sound on its own without the need for stakes and guy lines. Stakes are often used to secure the tent to the ground and to create the vestibule, but guy lines and stakes aren't necessary to the build of the tent.
Pros:
Fast and simple assembly. The tent can be used on ground that is difficult to drive stakes into.
Con:
Might not hold up as well in conditions with strong winds.
Non-Freestanding Tents: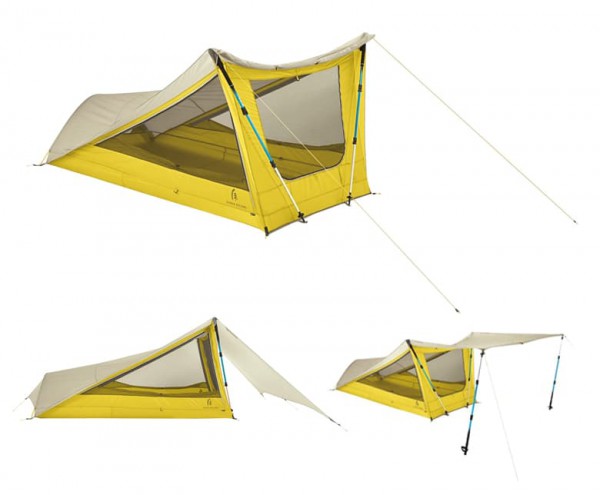 1. Support can make use of trekking poles
Often, non-freestanding tents come with poles but give campers the option to use trekking poles as a substitution. Sometimes trekking poles are required in addition to poles.
Pros:
Trekking-pole substitution decreases overall tent weight. Trekking poles are easy to replace if damaged.
Cons:
Trekking poles must be purchased separately. Adjustable trekking poles can have a tendency to slide down throughout the night.
2. Single-wall construction
Non-freestanding tents have a single-wall construction, meaning the tent does not require a rainfly for waterproof protection.
Pros:
Tent interior is less likely to get wet during set-up in the rain. Single-wall construction decreases overall tent weight.
Cons:
Might not ventilate as well as dual-wall tents. Interior condensation is more likely.
3. Must be staked for structure
Non-freestanding tents rely on guy lines and stakes to be structurally sound; they can't stand fully taut on their own.
Pro:
When staked correctly, non-freestanding tents hold up well in high winds and poor weather.
Con:
Properly staking a tent can require extra know-how and practice, especially on hard or
rocky ground
.
Freestanding vs. Non-Freestanding Tents
The type of tent you purchase depends on what type of camping you do most often, what conditions you camp in, how big your camping crew is and a few other factors.
Freestanding tents tend to come in larger size options and are simple to set up, making them a good choice for family campers.
The lightweight nature of non-freestanding tents tend to make this variation most popular with backpackers. Freestanding tents also come in ultra-lightweight models, making this a solid choice for backpackers, as well. If you're trying to decide on a backpacking tent, take personal preference into account along with the weather and terrain along the trail.
For more information on tents, visit our
tent buying guide
.