Show me a person who says they hate to chill in a hammock and I'll show you a liar. We all love to chill in a hammock. It's so much fun and relaxing. Some of us even enjoy hammock camping whether at a campsite, on the trail, or in our own backyard. There's just something about swinging in with the breeze and catching some zzz's.
As the air turns cold, some take down their hammocks for the winter. If you love your hammock, there's no need to take it down for the winter, only to hang it back up come spring. Here are a few ways to keep warm while swinging in your
hammock
this winter.
Hang it Inside
Buy some hammock hooks and drill them into the studs of your house and you can swing in a hammock all year long inside. Heck, if you're moving into a new place and need new furniture, you could opt for hammocks rather than dropping a lot of money on new furniture. You're going to put some nasty holes in your walls, so you need to make sure you're committed to chilling in your hammock all the time.
Use a Sleeping Bag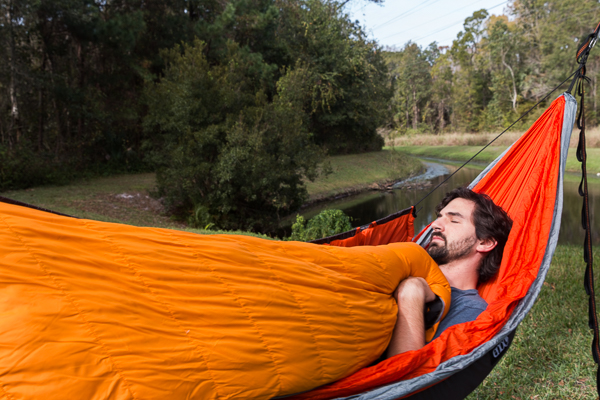 Bundling up in a
sleeping bag
just feels right. It's kind of like a security blanket of sorts, being able to wrap up into the safety of a little burrito. A sleeping bag will keep you warm from the wind and chilly air. The best way to stay warm underneath a sleeping bag is to open it up and use it like a blanket. When you lay on a sleeping bag, it loses its loft and the loft is what keeps you warm; that's why you're supposed to sleep on a sleeping pad when you camp. A sleeping pad provides a barrier between you and the cold ground. You can use a sleeping pad in a hammock, but it tends to slip and move when you move in your sleep.
Cuddle Up
As long as your hammock can hold two, share a hammock with a friend, significant other, or your furry four-legged friend. Kick back and relax with someone else and enjoy one another's company. And we all know the reason we have winter is because of cuddling, it has nothing to do with the angle of the Earth, it's all so cuddling makes sense. Might as well take advantage of that in a hammock.
Invest in an Under Quilt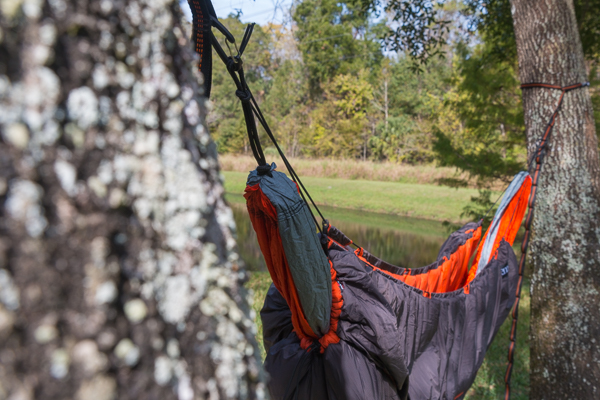 To stay the warmest in a hammock, you should use a sleeping bag as a blanket and wrap and under quilt underneath your hammock. An under quilt will keep the bottom part of you warm by protecting you from the wind and chilly air. They're light-weight and easy to set up beneath your hammock.
Use a sleeping bag and an under quilt this winter to take your hammock game to a whole new level. And to stay warm while relaxing in your hammock this winter, of course.
*Photos by Justin Fricke