One of my favorite parts of camping is sitting around a crackling fire, swapping stories from past adventures and dreaming up future trips. After a long day on the trail, unwinding with the cool, dark night at my back and toasty warm air from the fire on my face feels luxurious.
Sometimes, though, stubborn kindling that won't light makes starting a fire a real pain in the backpack, if ya know what I mean.
While all campers and backpackers should carry elements to start a fire (waterproof matches, lighter), carrying a fire starter can help kickstart a night around the fire pit. On wet nights, a fire starter can be the saving grace in drying out and igniting damp kindling, and on dry nights, it means the fire burns hotter, faster so there's less time between you and your s'mores.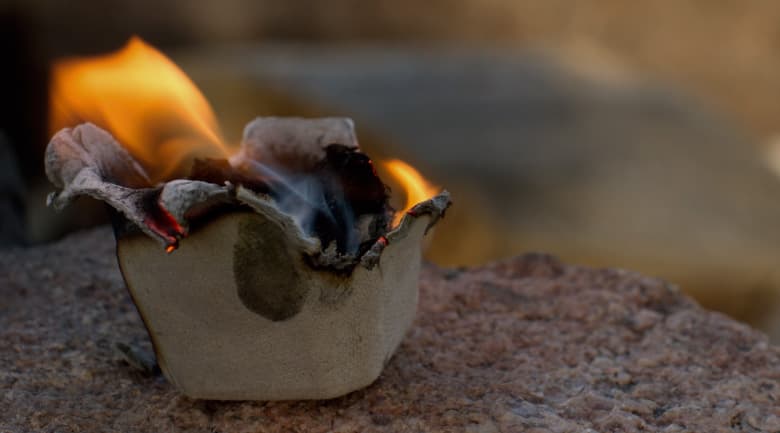 Fire starters are
available to purchase
, but did you know
fire starters are easy to make at home
? With a few items found around the house, you can make a lightweight, homemade fire starter to bring on your next camping trip. I throw 2-3 of these lint and egg carton fire starters in my pack on every camping and backpacking trip and, after seeing how easy and lightweight these are, I'm sure you will too.
How To Make a Lint and Egg Carton Fire Starter
1. Gather your materials:
+ Dryer lint
+ Egg carton
+ Taper candle (I like the 12" size)
2. Ball up dryer lint and portion out into egg carton cups.
3. Burn the taper candle sideways, dripping the wax onto the lint and egg carton.
4. Once wax dries, cut up the carton cups and store for future camping trips!
Looking for more ways to start your fire? Keep Reading:
Emergency Fire Starter
Stop Throwing Away this Easy Fire Starter
How to Make Fire Starters - Lightweight and Reliable
5 Natural Fire Starters