You know how it is. You're camping. You're hiking. Whatever. You need flame. You need someone to "Light My Fire."
Well, we're spotlighting a brand this week that makes that job infinitely easier. The story of Light My Fire began 20 years ago. The Swedish brand actually got its start in Guatemala. That's where its founder discovered "MayaSticks," which had been known to natives for ages. Michael Odqvist was fascinated by these completely natural fire starters. A year later, Light My Fire began marketing its fair-trade product in Sweden.
And then the idea tanked. There wasn't enough money to market their product, but these Swedes, they didn't give up.
They returned to the market in 1996 with a compelling fire-starting solution: Magnesium sticks created by the Swedish Army. Now they're called firesteels, and it's an immensely popular tool used by backpackers the world over.
But Light My Fire isn't just about fire. You know the spork right? Yea, well,
Light My Fire probably perfected the spork
when they added a cutting edge and manufactured it in Sweden in bright and happy colors.
That's an obvious favorite item, but here are a few of my personal top picks: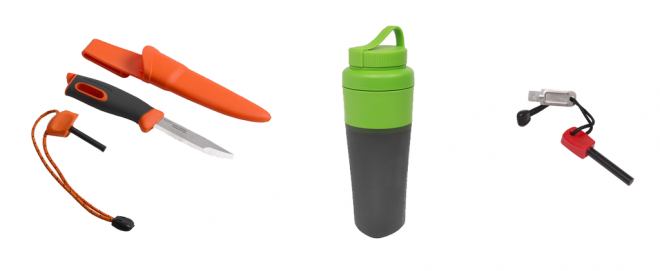 1)
Light My Fire Swedish Fire Knife.
It's a knife that makes fire. What else is there to say? It doesn't get any handier or space-saving-er than that.
2)
Light My Fire Pack Up Bottle
. It's a bottle that scrunches down to save space. Carry it with you on the hike up, or just tuck it in your daypack with some snacks nestled inside. Either way, you'll be glad to know it's BPA-free.
3)
Light My Fire Army Firesteel Fire Starter
. It's a no-brainer to keep this in your pack, but what about tucking an extra into your daypack and then stashing another in your car? Heat is a pretty important thing when it comes to enjoying the outdoors, much less comfortably surviving the elements.
We've always got a great deal on Light My Fire product. Of course. To save an extra 30%, click on the image below. But if winning is your jam, keep reading!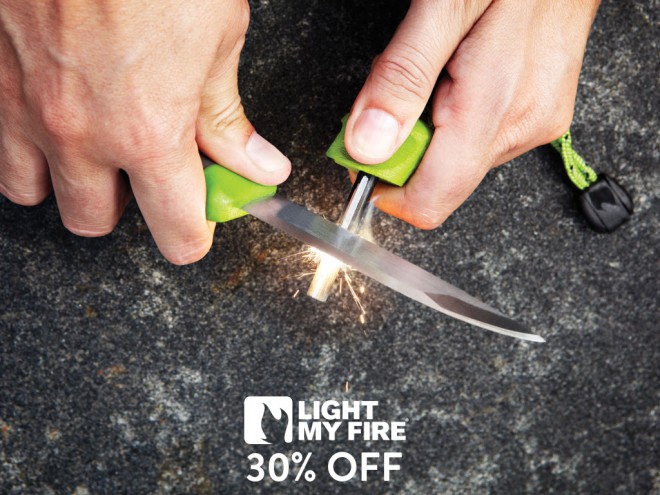 Looking to win? Here's what you gotta do in order to qualify yourself:
a Rafflecopter giveaway