Most
tents come with a set of tent stakes
to ensure you and your shelter are protected from the elements. But the stakes that come with your tent might not be the highest quality. So what makes tent stakes "the best"? This depends on the type of camping you're doing and the terrain you're calling home. Here's some information to get you started on your quest to finding the right tent stakes.
Types of Tent Stakes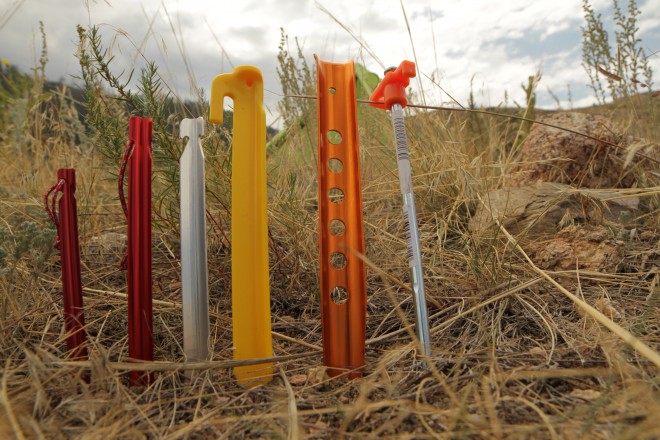 The world of camping and backpacking contains more types of tent stakes than you could imagine. Most tents come with aluminum hook stakes, which are lightweight and have good holding power (the ability to stay in the ground and keep your shelter in place), but are easily bent in tough or rocky ground. We're going to go over a few of the most common stakes and what their best uses are.
Utility Stakes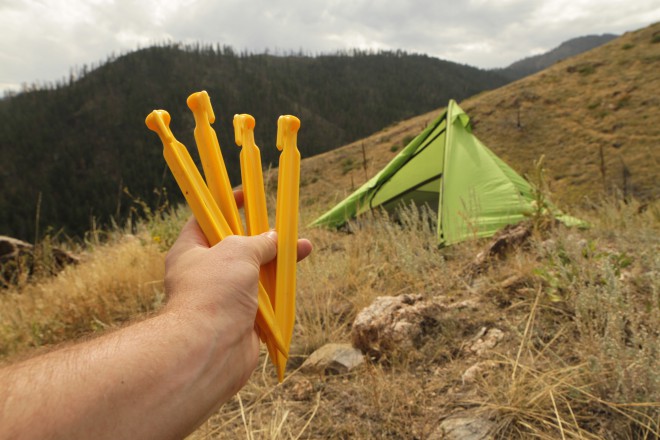 Plastic utility stakes can offer a little more quality than your run-of-the-mill hook stake because their Y-shaped shaft won't twist in the soil. These stakes are often longer than hook stakes, as well, so they offer a higher holding power. Because they are made of plastic, it can be more difficult to drive them into tough terrain.
Why buy a utility stake?
Utility stakes are one of the least expensive stakes, but they're bulky. They are best used for car camping trips when weight and space isn't an issue.
V-Stakes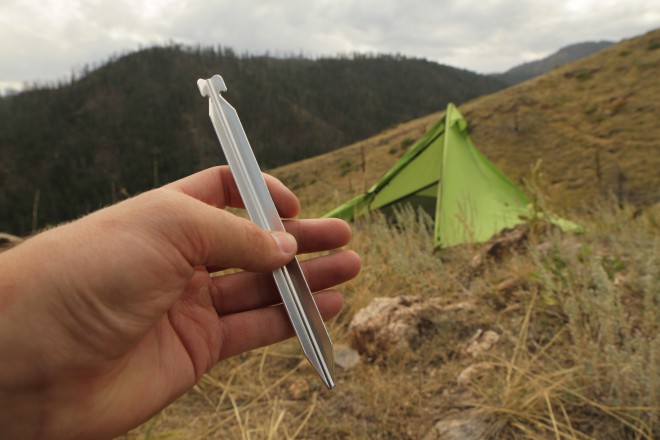 The
V-stake's
V-shape makes it more durable than a hook stake without increasing much in weight. V-stakes work well in hard, sandy ground or in ground with rocks hidden in the soil. Your guy line sits in the notch just below the head of the stake. Some V-stakes have holes throughout the shaft of the stake, which you can thread your line through for even more holding power.
Why buy a V-stake?
V-stakes are more durable than hook stakes and more packable than utility stakes. They are perfect for hard or rocky ground.
Nail Stakes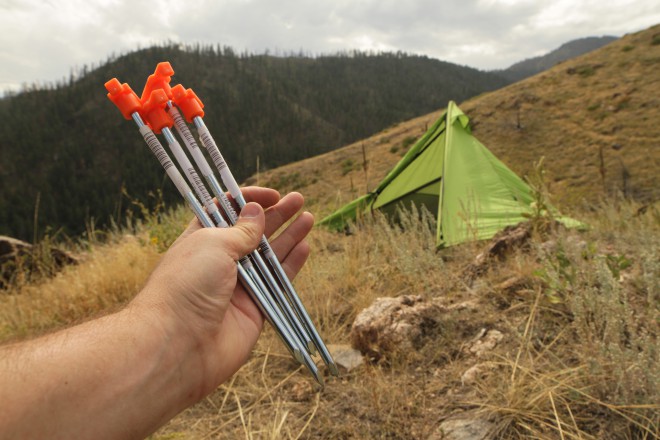 Usually made of titanium or steel, nail stakes are a durable tent stake option. These stakes get their name from their pointed bottom and flat head. Some nail stakes have added plastic at the head, making it a T-stake. The T-shape allows you to more easily attach your guy line to the stake. These tough stakes work well in a variety of terrain, but their holding power is meant for one- or two-person tents.
Why buy a nail stake?
If you are willing to spend a little more for a tough, lightweight stake and use a one- or two-person tent as your shelter, a nail stake would work well for you.
Y-Stakes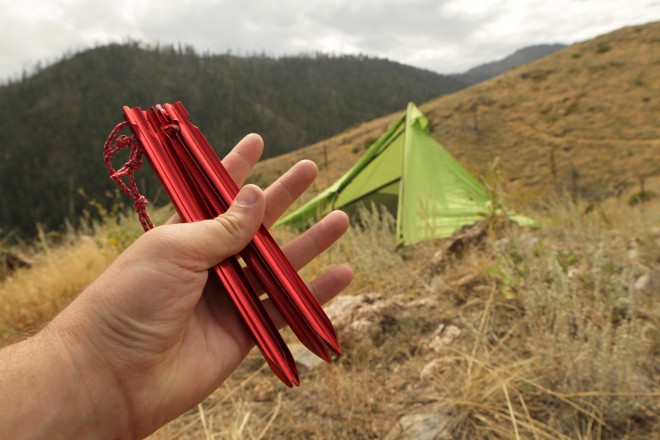 Y-stakes are best for all-around terrain. The fins on the Y-shape of this stake make it very difficult to bend in hard or rocky ground. This unique shape also gives the stake more holding power. With all this power, Y-stakes tend to be on the heavier side when compared to hook, V and nail stakes. These stakes are also a little pricier, but they are worth the cost for having a secure shelter.
Why buy a Y-stake?
Y-stakes are ideal all-around stakes. They have excellent holding power in hard, rocky ground and in more forgiving soil. If you can afford the extra weight and higher price point for a sturdy all-around tent stake, consider the Y-stake.
Snow Stakes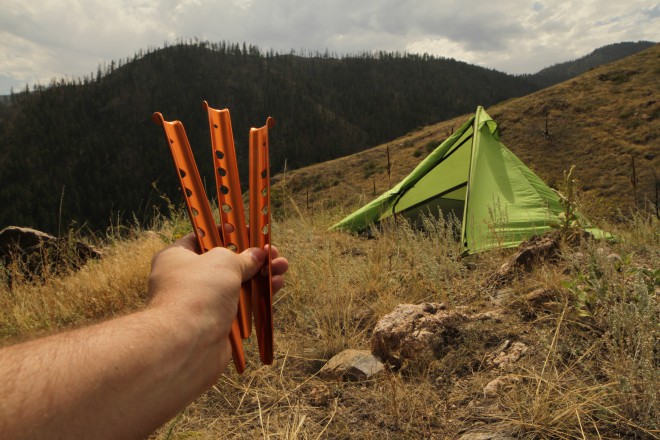 Snow stakes, not surprisingly, are meant for camping on snow. These large, curved stakes feature holes that help freeze them in place, giving you an optimum holding power in the snow. While heavier and more expensive than ground stakes, snow stakes are a must for winter camping in deep snow. Other stakes simply won't hold in these conditions, and the narrow design of ground stakes makes them easy to lose in the snow. Snow stakes also work well in loose sand.
Why buy a snow stake?
If you'll be camping in deep snow or loose sand, you'll need snow stakes to properly secure your shelter. As with all tent stakes, the longer the stake, the more holding power it has. Length is especially important in snow stakes.
With all tent stakes, keep in mind that while shorter stakes are lighter, longer stakes have a better holding power. V- and Y-shaped stakes don't twist as easily in the soil as hook and nail stakes, which helps them stay put in wet and windy conditions. Think about the terrain and weather you're likely to be camping in before deciding which types of tent stakes will work best for you.
Now that you have a better idea of what stakes to buy, learn how to properly drive them into the ground:
Want to learn more about staking your tent? Take a look at these blog posts: