Are you planning to hike the 210+ mile John Muir Trail? The better prepared you are, the more likely you are to have a successful and enjoyable adventure. Take a look at this timeline to get an idea of how to prepare for this amazing California thru-hike.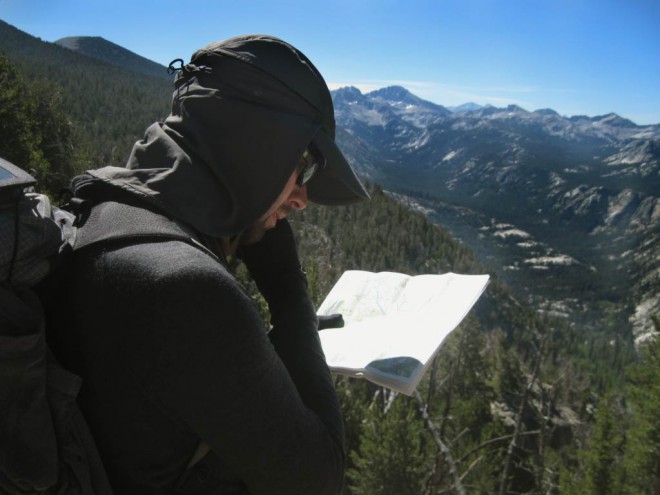 Research: 8-12 Months Before (or sooner)
Permits to hike the trail are booked 24 weeks before your start date on a first-come-first-serve basis, so you need a plan. Decisions you'll need to make now: Will you hike North Bound from Whitney or South Bound from Yosemite? How many days will you need to hike it? Typically people take 3-4 weeks to cover the 210+ miles from start to finish. Start reading guidebooks and examining topographic maps so you know what to expect.
Apply for a Permit: 6 Months Before
If you're heading out of Yosemite, you'll need to get your permit application in exactly 168 days before you leave. The number of people who are allowed to start each day at each trailhead is limited and fills up quickly. Have a couple alternative start dates and trailheads just in case.
Didn't get a permit? If you can't get a permit in advance, 40% of permits are available starting at 11 a.m. the day before at the trailhead office. These are first-come-first-serve, so get there early.
Book Time Off, or Quit Your Day Job: 6 Months Before
It would be terrible to make all these plans only to find out that you can't get the time off. Get your time-off requests in early.
Start Your Training: 6 Months Before
What, you haven't
started training
already? There is a lot of elevation gain on the JMT, so you'll need to start hiking or running. By the time you're ready to set off down the trail you should be used to carrying all your gear plus a week's worth of food on multi-day trips. Practice hiking the same distances and terrain that you will be facing on the trail.
Finalize All Your Gear: 4-5 Months Before
Find a good gear list and start collecting and testing your gear. Make sure your pack is comfortable to carry and that there's enough space for a
bear canister
and everything you'll need on the trail.
Purchase and Pack All Your Food: 3-4 Months Before
On a long trek like this one, plan to eat 4,000-6,000 calories per day. Break up your meals into daily rations of
meals
,
snacks
and hydration supplements. Next, divide it into packages for each food drop.
Plan and Book Transportation: 3-4 Months Before
Whether the JMT is across the street or across the globe, you'll need to have your transportation planned and booked a few months before. This may include flights to California, buses to the trailhead and your trip home once you're done.
Test Your Gear: 2-3 Months Before
Take your gear out on a couple weekend trips to make sure it's actually trail ready. Make sure that you at least know how to use your survival and
first aid kits
. The trail is remote at times, so you should be prepared.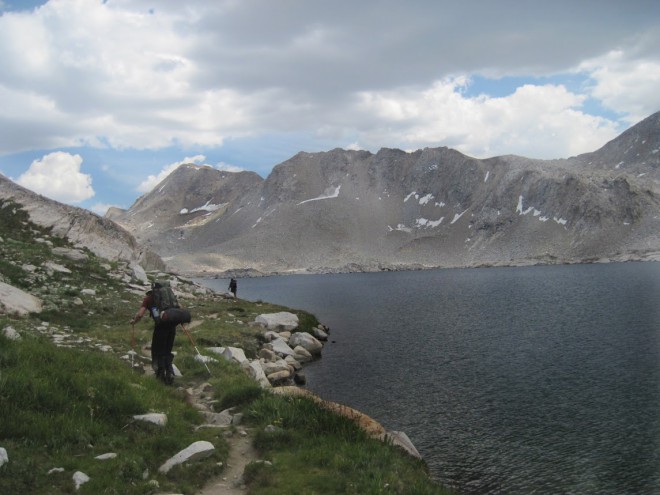 Pack and Send Your Food Drops: 1 Month Before
Now is the time to send off your appropriately packed food drop to ensure it's ready and waiting for you when you arrive. Check with for instructions and rules about how to pack and what you can and can't include in your drop.
Check Your Footwear: 3-4 Weeks Before
210 miles is a long distance, and it's not uncommon to wear out shoes on the trail. Make sure your footwear and laces are ready for the challenge. If you buy new shoes or boots, make sure you've broken them in well before before you hit the trail.
Inform Family of Specific Plans: 2-4 Weeks Before
If you haven't done so already, make sure someone knows the basics about your trip. It's important that they know when you're leaving, where you're going, where you're staying before and after, when you plan to return and how to contact local emergency services if they can't reach you.
Pack Your Bags: 1 Week Before
It's almost time to go. You've trained, you've check off all the boxes and you're ready, so pack everything you need and start staring at photos of other people's trips.
Arrive at the Trailhead: 1 Day Before
You're finally here, so check in at the registration office, pick up your permit and then try to get a good night's sleep before you head off tomorrow.
Hit the Trail!
This is it. All your planning has paid off. Shoulder that pack, get your camera out and start hiking. There's no looking back now. Forget all your worries; it's time for the adventure of a lifetime.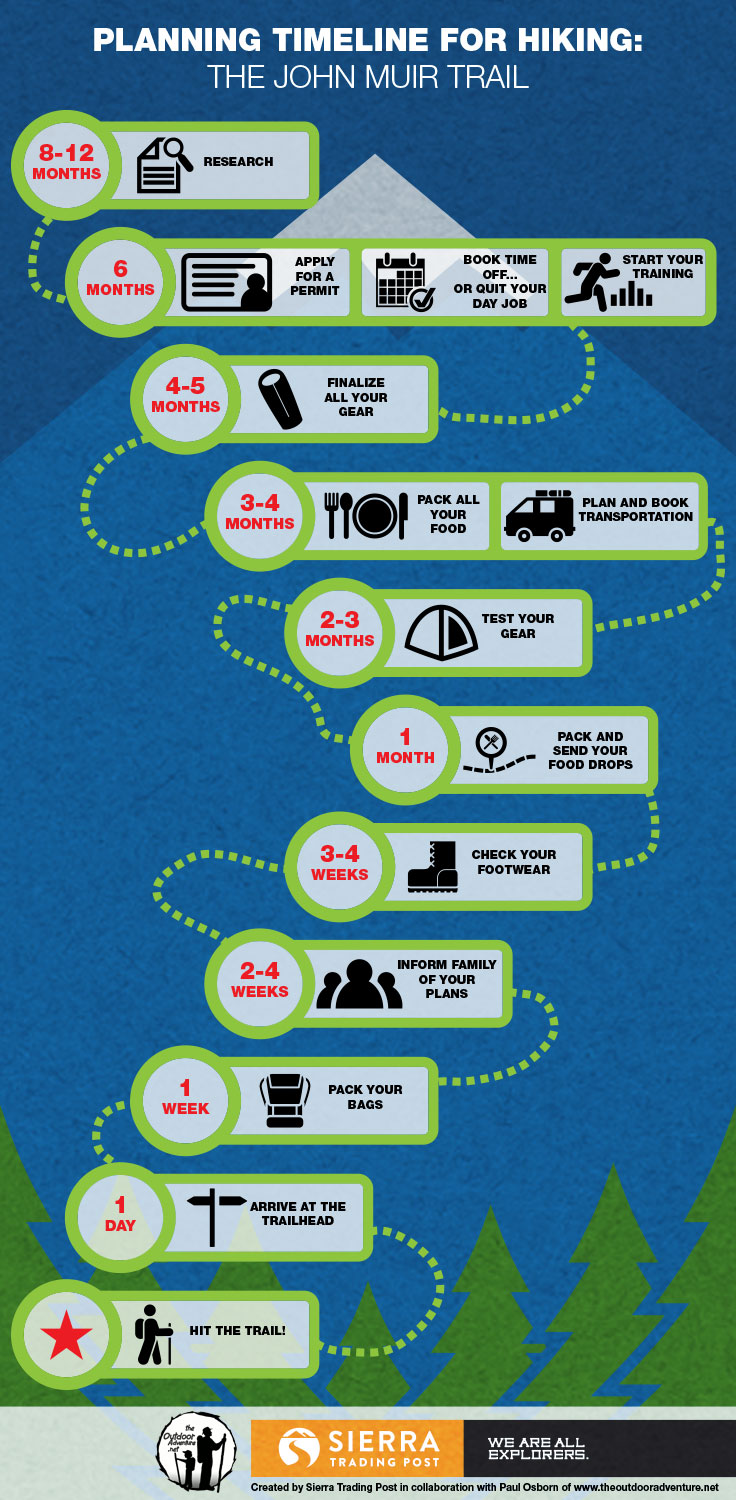 Want more tips on preparing to thru-hike the John Muir Trail? Take a look at these resources:
Backpacking Gear List: What I Took on a 2-Week Backpacking Trip
Thru Hiking Gear Review: What Worked & Didn't Work on the John Muir Trail
Forget You're Wearing a Backpack with These Packing Tips
Get inspired with these videos from our YouTube channel!