Your water bottle acts as a lifeline out on the trail, but it can do more than keep you hydrated. For backpackers and campers, water bottles can act as a way to help you put your boots on and keep your feet a little safer.
If you've ever experienced winter camping, you know things have a tendency to freeze, including your boots. We've already shared a tip with you on
how to keep boot liners warm
, but what about the rest of your boot? Trying to shove your feet into crisp boots isn't exactly a great way to start your morning. Instead, prevent your boots from freezing with small openings by storing a
water bottle
inside.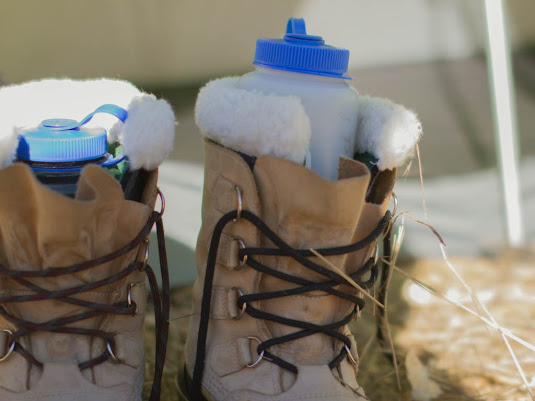 Simply loosen your laces and adjust the tongue to make your boots nice and roomy. Then, slide a water into each boot. The next morning when you grab your boots from the vestibule of your tent, you should be able to put them on even if they've stiffened from the cold.
Warm weather campers, this water bottle tip applies to you, too!
While nighttime temperatures may not drop enough to stiffen the hiking boots of 3-season campers, slipping water bottles into your boots still has its benefits. Stowing shoes in your vestibule, while usually the best option, can leave your
hiking boots
vulnerable to insects and rodents looking for a nice spot to spend the night. Placing water bottles in your boots can help prevent unwanted guests from sneaking into your hiking shoes. And I'm sure your mornings will be a lot better without any surprise boot intruders.
Want to see this camping tip in action? Hit play on the video below!