Camping isn't just for summer, with its mosquitoes and sweat! You've probably heard of people going
camping in the snow
, say, the Inuit or something, but the thought of winter camping well... might give you cold feet. Like the Inuit, intrepid humans have an answer. We can have our winter woods and camp in it, too. The answer? The hot tent.
What is a Hot Tent?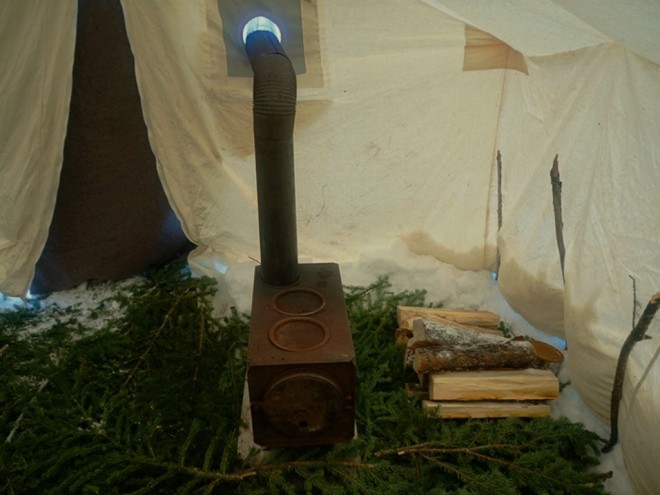 A hot tent is a large tent (typically canvas) that comes complete with a toasty, portable wood burning stove. A fabric tent with a source of fire in it seems like something we remember from the DO NOT section of our tent manual, but this is not your typical polyester or nylon A-frame or dome you'd stuff in your backpack. It's a portable cabin that you can pack with you or leave standing, and it's designed for winter nights and stoves. Although once you try it, you may want to take it with you all-year-round.
Hot tents will often come with a removable floor to allow you the flexibility of winter or summer use. In winter you typically will remove the base so it doesn't get frozen to the ground. Without a floor you can use tree branches, dirt or even a fixed based like wood or concrete.
Most of the time these tents are canvas, but they also come in lighter weight fabrics -- but all good hot tents are fire resistant... for obvious reasons.
Hot Tents usually have the option of being setup with their own poles or by use of trees and branches acquired from your tenting site.
What are the Benefits of Hot Tent Camping?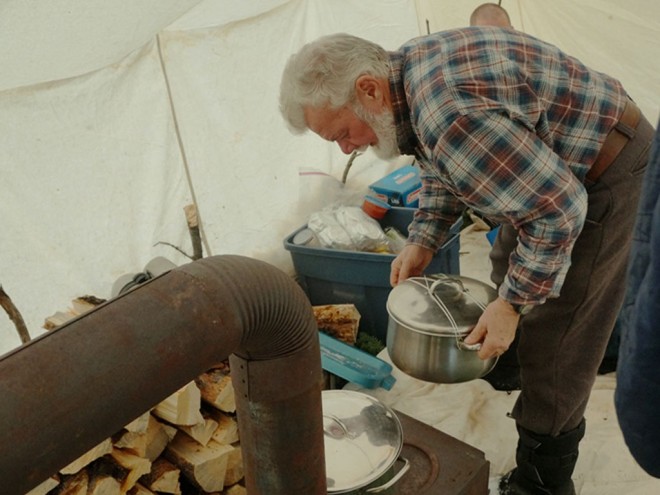 The biggest benefit of a hot tent is that it's a warm base camp after a day of cold adventuring. You can spend the day snowshoeing, cross country skiing, snowmobiling, ice fishing or ice climbing and then come back to a warm palace of comfort. If you get wet and cold, you won't have to head home; you can throw another log on the fire and dry out in no time.
Typically, a hot tent is bigger than a backpacking tent. Ranging in size from 8'x10' (a typical kids' bedroom) to 14'x16' (a spacious master bedroom) or even larger (16'x25' -- a large living room). With all that space, you have room for cots, changing areas, a dining room, and of course you can bring along family and friends. We have a trip planned this January and plan to pack four adults and three or four kids into a 10x12 tent. We'll have space to play games, dry out our gear and share some hot cooked meals.

Did I mention meals? You'll love having a wood stove to cook on, especially if you love good food. Bring your favorite recipes and cook up a five course meal if you want, or maybe just fry up that lake trout you pulled out of the ice. This isn't some mini stove you precariously boil water on!
Another important benefit of a hot tent is that you won't need to buy winter sleeping bags. Just stoke the fire at night and you'll think it's a warm summer night. My son ended up sleeping on top of his 3-season, 30 degree bag last winter, despite the fact the outside temperature was well below freezing.
Are There Downsides?
The downsides to a hot tent are the weight, cost and setup time. A typical canvas tent weighs in at 15 to 20 pounds and packs down to about 20" x 24" x 10". A medium sized wood stove is about 19" x 12" x 12" and weighs in at just over 20 lbs.That means you'll need a sled or snowmobile if you want to carry your setup far... or you'll have to make two trips.
Tents and stoves are sold separately, allowing you to choose the combination that's best for you. A basic 8'x10' canvas tent and wood stove will cost you about $1,100, but if cared for correctly, it will last you for decades, if not a lifetime of luxury camping.
Oh, and be sure to check the fire restrictions for where you're going.
So What's Next?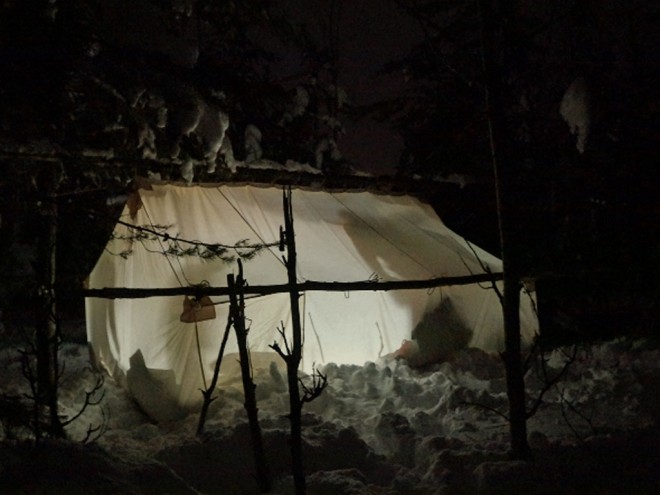 Hot tenting is a great way to comfortably extend your outdoor adventures into the winter season. You get all the benefits of a log cabin in a package that you can take with you. You can enjoy the beauty and tranquility of a winter wonderland and leave no trace after your trip.
If you're not sure about hot tent camping, visit your local tourism board or get online to find local places that offer rentals. Hot tenting is becoming popular, and you're likely to find a couple of campgrounds or outdoor outfitters in your area where you can spend a few days in a tent that's already set up! The benefit of going that route is that they'll have recommendations of winter activities that you can indulge in during your adventure. It's a great way to experience winter in a warm, cozy and relaxing environment.
Need some motivation? Check out this video of a Hot Tent Camping trip that we went on last year:
What are you waiting for? Pack up your winter gear and get out there!
What Should You Bring Hot Tent Camping?
When you go winter camping in a hot tent here are some items that are a must:
Camping Essentials


Canvas Tent


Portable wood stove and chimney


Saw




100 feet of rope or cordage


Fire Starting Kit






Good Food




Sleeping Gear
Activity Gear


Winter clothing, including base layers, gloves or mittens, outerwear and other winter accessories.