Head gasket, baffle, trapezoidal footbox -- a list of sleeping bag features can sound pretty weird. Choosing the right sleeping bag is really hard when you don't know what all this sleeping bag jargon means or how it helps you sleep at night. But that's why we're here! I'll explain the sleeping bag technology that makes for the best night's sleep under the stars. Check out the list below to learn all about the different parts of a sleeping bag.
Parts and Features of a Sleeping Bag
Most of the sleeping bags you look at won't have every single one of these features, but keep an eye out for them, nonetheless. Sleeping bag technology, parts and features have a common goal -- to stop heat loss and keep you comfortable while you sleep in the great outdoors.
Shell
- The shell fabric is what makes up the exterior of the sleeping bag. The shell fabric is usually more durable than the lining fabric, and sometimes features water-resistant or waterproof breathable technology.
Lining
- The interior fabric of the sleeping bag is the lining. It is usually soft and comfortable, and sometimes feature moisture-wicking technology.
Anatomical Hood
- The hood of a sleeping bag is insulated and works to prevent heat loss from your body and the sleeping bag. An "anatomical" hood is a hood that is designed to fit the shape of your neck and head for increased comfort and thermal efficiency.
Pillow pocket
- A pocket inside the hood where you can stuff clothes or a camp pillow for head cushioning and support.
Stash pockets
- Some sleeping bags feature stash pockets in the hood, chest or other areas. A hood pocket is perfect for keeping your watch nearby when you know you have to get an early start on a climb the next day. A chest pocket is great for keeping music at the ready.
Draft collar
- The draft collar, sometimes referred to as a "head gasket," is an insulated collar around the hood. The draft collar stops heat from escaping the sleeping bag. It can usually be tightened or loosened by a drawcord.
Drawcord collar
- A drawcord collar tightens and loosens the hood or draft collar of the sleeping bag to prevent heat loss.
Baffle
- See the seams running across the shell of your sleeping bag? Those are baffles. They're needed to keep the insulation from shifting or clumping. By keeping insulation in place, baffles keep cold spots and heat loss to a minimum.
Draft tube
- An insulated tube that runs along and behind the zipper to stop cold drafts from getting in and warm air from getting out.
Side Seams
- The side seams of a sleeping bag are what connect the front and back of the sleeping bag shell together. Some sleeping bags feature ground-level side seams, which are more thermally efficient because they allow the front layer of the sleeping bag to wrap all the way around the body.
Two-way zippers
- Two-way zippers allow you to close or open different sections of the sleeping bag to regulate temperature.
Zipper lengths
- Full-length zippers make it easier to get in and out of the bag and regulate temperature, half-length zippers save a bit of weight, and no-zipper sleeping bags are ideal for ultralighters.
Footbox
- The footbox of a sleeping bag is the section where your feet will be located when you're sleeping. A "trapezoidal" or flared footbox allows more space for your feet to rest comfortably. Some mountaineering sleeping bags have more spacious footboxes to allow room for hot water bottles and boot liners.
Pad loops
- Some sleeping bags have pad loops on the sides that are meant to connect to your sleeping bag and keep it in place as you sleep.
Hanging loops
-
If there are loops on the bottom of your sleeping bag, they're intended for hanging the bag to dry. Hanging your bag to dry, rather than drying it flat, will maintain insulation loft.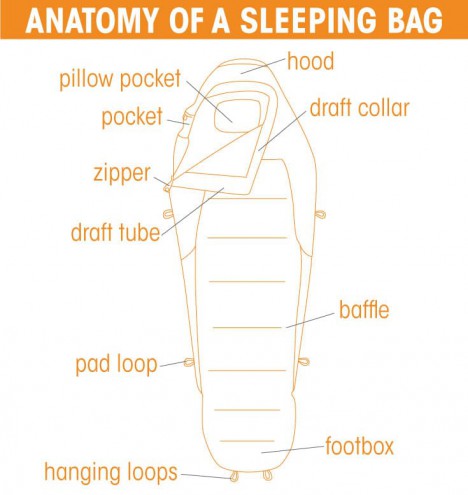 Sleeping Bag Shapes
Mummy sleeping bags
are the most thermally efficient shape. The "mummy" shape allows for far less dead air space than any other shape, which restricts heat loss. Mummy bags also tend to weigh less, because they use less material than other sleeping bag shapes. Mummy bags also come with an insulated hood, another bonus for warmth.
Rectangular sleeping bags
are not ideal for backpacking or cold conditions because they are bulkier and less thermally efficient than mummy bags. However, they are an excellent choice for those who feel restricted by the shape of mummy sleeping bags. They also tend to be less expensive.
Semi-rectangular sleeping bags
are a hybrid of mummy and rectangular sleeping bags. They are wide at the shoulder and hips, and slightly taper to the footbox and head. Semi-rectangular sleeping bags are roomier than mummy bags, but are also bulkier. They also don't have hoods like mummy bags do.
Now you're a veritable sleeping bag expert! If you have any more questions about sleeping bags, including what insulation is best for you, you can learn more in our
Sleeping Bag Guide.