Synthetic insulation is a great alternative to down, because like down, it traps and holds heat close to the body. But there are so many different types! How do you know what'll work best for you? From the new ThermoBall®-insulated The North Face jackets to tried-and-true low-bulk Thinsulate®, choosing the best synthetic insulation can be tough when you don't know what the difference is. So, let's spend some time looking into synthetic insulation technology on this installment of
Sierra Trading Post Explores.
How Does Insulation Keep You Warm?
The common goal of any kind of insulation is to trap and hold warmth. Down (the fluffy stuff found under waterfowl's feathers) naturally offers the lofty, compressible warmth that all synthetic insulation strives for. Essentially, the minuscule filaments in tufts of down create millions of heat-trapping air pockets that allow for compression and lightweight warmth.
To mimic down, synthetic insulation is manufactured to create tons of little heat-trapping air pockets. This is done in a variety of ways, but all of them require superfine fibers in one way or the other. When used in large quantities, superfine fibers can emulate the insulating power of down feather filaments.
What are the different types of synthetic insulation?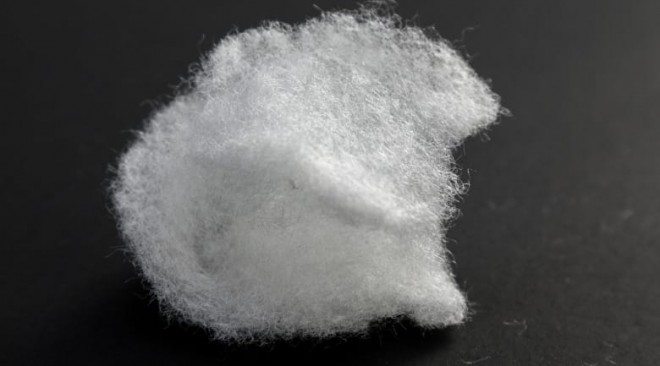 There are three basic types of synthetic insulation -- cluster fiber (ThermoBall®), short staple (Thinsulate®, PrimaLoft®, Omni-Heat®) and continuous filament (Climashield®). As mentioned above, all of these insulation types utilize tiny fibers that create millions of heat-trapping air pockets.
The majority of insulated jackets today have short-staple insulation. Thanks to the success of
The North Face ThermoBall® jackets
, you're likely to see more cluster-fiber insulation hit the market in years to come.
Cluster-Fiber
insulation consists of a bunch of tiny fiber balls that closely mimic tufts of down.
Short-Staple
insulation is made up of a bunch of little, short fibers that move independently.
Continuous-Filament
insulation is made of a continuous filament that intertwines with itself to create a mass of insulating fibers.
Short-staple and cluster-fiber insulation are often the best choices for jackets, because they are more flexible, compressible and heat-efficient than continuous filament. However, continuous-filament insulation is much more durable, so it retains its loft and warmth longer.
Which Kind of Insulation is Best?
Let's narrow the focus down to specific brands of insulation. This is where people often have the hardest time making a choice. Should you go with the widely used Thinsulate® or PrimaLoft®? Or choose a proprietary insulation, like the North Face's ThermoBall®, Columbia Sportswear's Omni-Heat®, Marmot's Thermal R® or Arc'teryx's Coreloft? I'll break them all down below, and leave it up to you to choose.
Thinsulate®
uses extra-tiny fibers to trap heat with less bulk and weight than most synthetic insulation. Footwear and gloves are often insulated with Thinsulate® because it has so little bulk.
PrimaLoft® Gold (aka PrimaLoft® ONE)
has permanent water resistance, which is a huge win over down. It's also extremely breathable, lightweight, compressible and holds heat efficiently. Many argue that PrimaLoft® Gold really
is
the gold standard in synthetic insulation.
The North Face's ThermoBall®
is actually a PrimaLoft® insulation, but is currently exclusive to The North Face. ThermoBall® is the first insulation to use small, round fiber clusters that closely mimic tufts of down. It offers continued warmth in wet weather.
Columbia Sportswear's Omni-Heat®
is a heat-retaining, multi-denier thermal insulation. It's used in unison with Omni-Heat® reflective lining, which reflects body heat to create more warmth. It also has high loft resilience.
Marmot

's Thermal R®
is touted as "ultra-warm", resilient, durable and breathable. It uses multi-channeled and hollow fibers to wick moisture and provide lofty, lightweight warmth. The ability to transfer moisture is pretty unique for an insulation.
Arc'teryx

's Coreloft
is made of double-stranded polyester fibers of varying diameters. The finest fibers are crimped to trap more heat and create more loft. Coreloft offers waterproof, compressible and lightweight warmth.
Well, that just about sums it up for this installment of
Sierra Trading Post Explores
. We covered how insulation works, the different types of synthetic insulation and some of the best brands. You're now well-armed to make knowledgeable decisions when shopping for insulated gear. If you have any more questions about down and synthetic insulation, check out our
Down vs. Synthetic guide
.