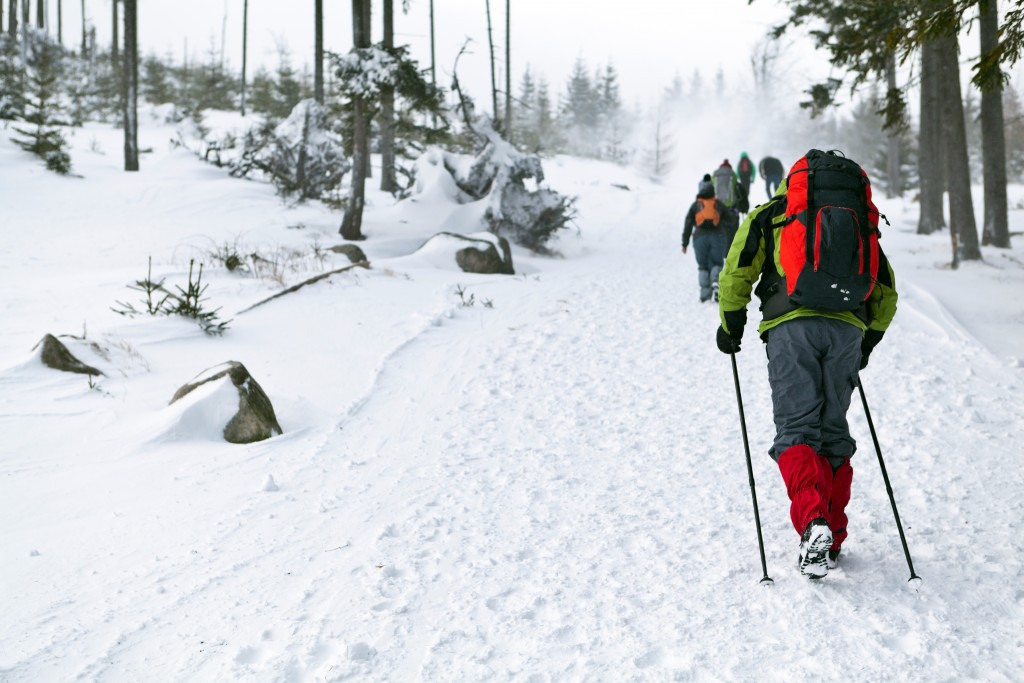 **Please welcome
#TeamSierra
Blogger,
Melissa
, as she describes the lessons she has learned for winter camping.**
I'm totally not a winter person. I prefer warm sunny days where my toes and fingers don't feel like they are going to fall off. Maybe it's because I get cold so easily or I just haven't found some of the right gear to keep me toasty warm in the freezing snow. Either way, I live in the desert for a reason, although, Moab has turned into the Arctic this year with temperatures ranging from the mid to low 20's. Ack!
Even though it's frigid and the temperatures aren't going to let up soon, not for another 3 months or so, I'm attempting to get out as much as possible with my son, J-Man, and have fun this winter.
Snowshoeing and sledding are on the agenda and believe it or not, so is winter camping. Yeah, it sounds kinda crazy when I say that and my husband doesn't believe me, but why not? I've never camped in the winter, so it's worth a try. I'm not talking camping where I have to dig a big snow pit for my tent. Just camping with a little bit of snow. Let's not get too extreme, shall we!
Last year in November we camped in Zion National Park and with the wind ripping through camp and the cold temperatures I was a bit miserable. It was my coldest camping experience to date and I learned a few things that will help us survive and possibly enjoy our winter camping trip this season.
1. Always have something warm on hand to drink. Keeping our bodies warm with fluids was very helpful and holding a warm cup of coffee, hot cocoa or soup helped keep my fingers from freezing.
2. Layer, layer and layer some more. Having appropriate clothing items such as merino wool or synthetic base layers helped keep us dry and warm. Here's how I like to layer:
Layer 1: merino wool
Layer 2: more merino wool
Layer 3: a synthetic layer such as fleece or a light softshell
Layer 4: My outerwear
Told you I get cold!
Typically those layers are for the upper body and just 2 layers on the lower body; a base layer and softshell pants or snow pants. I dress my son the exact same way.
3. Always wear wool socks, a windproof hat and insulated wind proof gloves. I have had frost nip on my fingers before so I need to keep them well insulated and protected. They go numb in 40 degree temperatures. Hats really help keep you warmer and wool socks are the best for keeping your feet from getting too cold. Waterproof insulated footwear is also a must.
4. At night I fill a Nalgene bottle with boiling water and place it inside the bottom of our sleeping bags. It keeps us pretty warm, but by morning it has cooled off.
5.The bigger the tent the more air inside that needs to be heated to stay warm. We took our "portable condo" (6 person tent) and that was not a smart move. It was too big to keep warm. Also, the tent can't have too much mesh. Air passes through too quickly. We might be in the market for a new tent.
6. One of the aspects I find the worst when camping in the cold is having to get out of my cozy warm sleeping bag when I can see my breath swirling in front of me. That's not pleasant at all. That's when it's so cold I just want to cuddle up and stay in my sleeping bag. Thank goodness we decided to splurge before we left for our Zion trip and bought a
Mr. Heater Buddy
. That's right, we went soft, but I don't care. This great piece of equipment helped us get up in the morning and allowed us to put on warm clothes. Ahhhhhh I love our buddy!
7. Never use an air mattress when it's cold. The air mattress absorbs the cold from the ground cooling the air inside, which in turn makes you cold while laying on it. Because of a
previous trip
we now know to use thin insulated mattress pads.
8. Stay active. Moving around keeps you warmer than sitting still. We make sure we plan hikes, nature walks or scenic drives where we can spend time in our heated car.
With these lessons learned I believe this winters camping trip will be a success. Stay tuned!
-Melissa Edge lives in Moab, Utah, where she enjoys exploring the beautiful red rock landscape with her husband and son. She is the founder of
Adventure Tykes
and loves inspiring and motivating parents to get outside with their kids. Melissa is an avid runner, hiker and amateur chef.
She also tweets
.