When it comes to finding ways to play outside in sub-zero temperatures, sports like skiing, snowboarding, even sledding and ice fishing often come to mind as options. But what about a sport that involves attaching sharp things to all of your limbs and throwing them at a wall of ice, repeatedly, working to get as far off the ground as possible?
Prior to my first ice climbing experience in the Adirondacks several years ago, the concept seemed completely insane, and terrifying. But I gave it a try and went on a number of trips after that first fateful weekend. If you're really looking to challenge yourself this winter, ice climbing might be just the ticket.
What is Ice Climbing?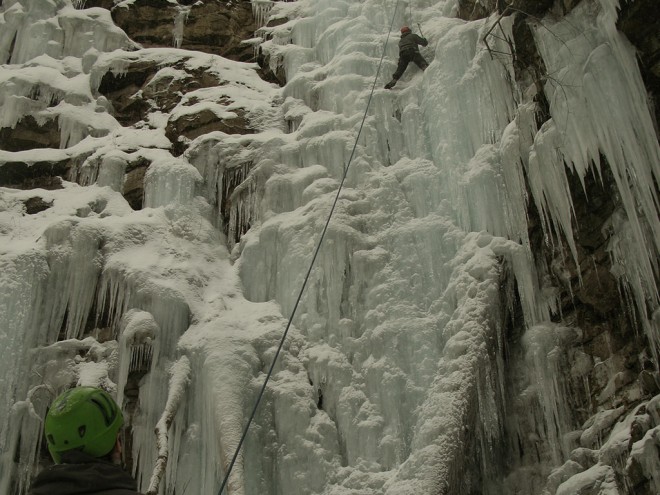 In the most basic sense, ice climbing is the act of ascending frozen waterfalls or ice-covered rock slabs while wearing a harness and using ropes. Climbers use crampons (aluminum or steel boot attachments with points) and ice tools (specialized axes) to ascend the ice walls in a combination of kicking and swinging movements.
Climbers either secure ropes to anchors at the top of the climb if the climb is accessible via another method, like hiking up the back of the route, or the route is led and anchors are built by the lead climber if the ultimate goal is to set up a top rope, similar to sport or trad climbing on rock. Instead of using pre-placed bolts or trad climbing gear, ice screws are placed in the ice by the lead climber along the route to provide protection in case the leader falls.
As with rock climbing, knowledge of rope management, belaying and lowering are key skills to have and for beginners to learn. It's also a great chance to expand your perspective of the vertical world if rock climbing is a sport you already have experience with.
What Basic Gear Do You Need?
If you're going out ice climbing for the day, you'll spend hours in winter temperatures, winter weather, and with winter conditions to consider. Cold weather is a good thing for ice climbers because the ice needs to stay frozen, but it means taking extra care in packing clothing, food, and gear is important.
On your first trip out, consider going with a guiding company. They'll likely provide a clothing and equipment list and help with rental equipment, including
ice tools
,
crampons
,
ropes
,
harnesses
,
carabiners
and more.
With respect to personal gear, make sure you have a clothing system that will keep you warm, but still allow for movement. Think tights and thick
shell pants
on the bottom, a
base layer
,
mid-layer
, and
waterproof shell layer
on top,
warm socks
, baselayer gloves with mittens to cover them, and last but not least, a
warm hat
. It's also essential to have a heavy insulated layer, like a
down jacket
, to slip on when you're not climbing.
Sunglasses
or other eye protection, a
first aid kit
,
headlamp
, lip protectant and a camera are a few other things I always have with me.
With respect to food, bring snacks you'll be able to eat when they're almost rock hard. Sandwiches are a perfect option. Keep snack bars and other items in your pocket as much as it's feasible; there's nothing as alarming as trying to bite down on a granola bar when it's frozen. I'm a fan of bringing a mug full of soup in addition to hot tea or cocoa. I often forget to drink water when I'm out in the cold, but if I've got tea, it's easier to stay hydrated.
What Are Some Basic Technique Tips?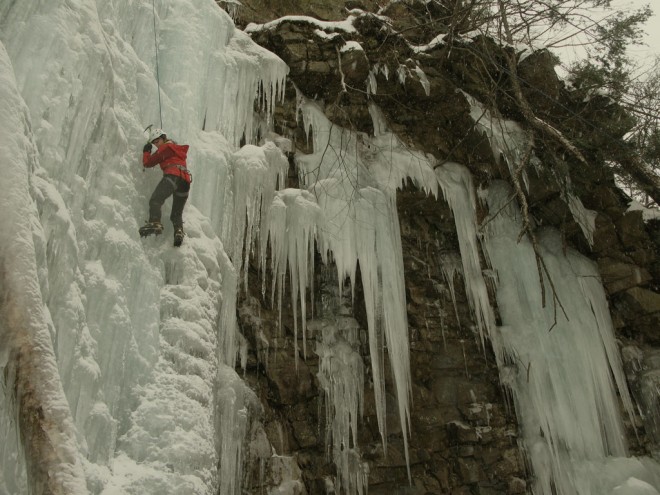 When you're starting out in any sport, learning how to be efficient and how to move well will make a huge difference. With ice climbing, being efficient means you're less likely to fall, you won't fatigue as quickly, and you're more likely to get to the top of the climb.
When it comes to being efficient, there are two key things to focus on with respect to using the equipment you have. When you're moving your hands in an effort to climb up the ice, choose where you want your ice tool to land and be as accurate as possible so you only have to swing once. Flick your wrists to place the tools firmly, and swing from your elbows. Don't swing like you're throwing a baseball. You only need a centimeter or two of the pick on your ice tool to be able to hang from it, and the more you swing, the more damage you'll cause to the ice.
When you want to move your feet, take small steps upward and keep your heels down once you have the front points of your crampons firmly in the ice. Remember, a centimeter or two is all you need, so kick in, trust yourself and your equipment, and stand up. The more you wiggle your feet around, the more likely you are to dislodge your feet from the ice. Bottom line? Don't work harder than you have to.
How Can You Prevent Accidents and Injuries?
Ice climbing is a risky sport, but we can minimize preventable accidents, like those caused by human error, and be aware of what to do when something happens that is out of our control. This list isn't exhaustive, but it'll get you started. Check with your group leader or friends who've been there and done that for other tips.
Even if you've climbed before, do all basic safety checks every time, including checking knots and equipment. Make sure you're always on alert, and put your helmet on at the beginning of the day. Ice is impermanent and the act of climbing it means pieces will fly off, sometimes when you least expect them to. Stand away from the base of all climbing routes and out of the fall zone when you're not climbing.
Also, keep in mind how important communication is. Based on my experience, the leader of your party, either a guide or climbing partner, will have standards for effective exchanges. For example, make sure you know what to do if you're climbing and a large chunk of ice breaks loose. On one of my trips, my friends and I used the "beer can rule;" if a piece larger than a beer can chips off, the climber yells "ice!" as loudly as possible. That rule works just in case folks drop ice tools as well. Knowing to duck and cover when someone yells "ice!" is a good thing no matter what's falling out of the sky.
Finally, be aware of where ropes are at all times. Avoiding kicking ropes in half with your crampons while you're climbing, stepping on them when you're not climbing, or stabbing them with your ice tools is, obviously, important. Be aware of your gear at all times.
Have you ice climbed before? What other tips would you add for beginners? If you haven't tried it, what's stopping you?

Already into ice climbing? Read more: Ouray, Colorado:
An Ice Climber's Dream