When the temps start to drop, ice climber's thoughts drift south...west to Ouray, Colorado. Situated in the southwest corner of the state, every winter Ouray becomes an ice climber's dream by opening up its
premier ice climbing park
to the public for free.
Whether you're a beginner ice climber, an expert, somewhere in between or just interested in watching, Ouray has something for everyone. Every January, the park holds an annual Ice Climbing Festival featuring ice climbing competitions, gear demos, climbing clinics for all skill levels and more.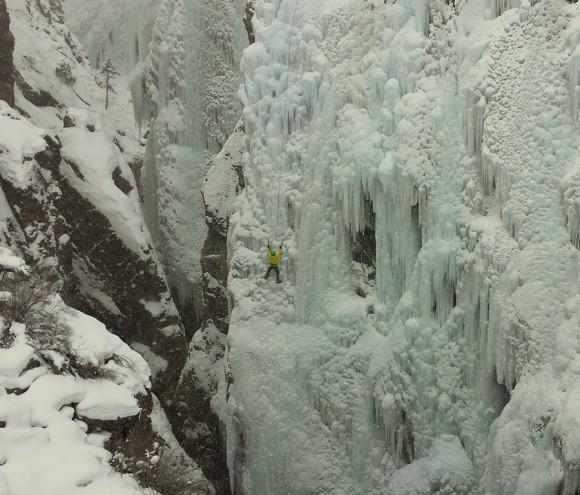 Interested in Ouray? Throughout the winter months, the ice park and town is packed with climbers and outdoor enthusiasts. If you've never visited the mountain town, keep these tips in mind when planning your trip.
Where to Stay
There are a handful of hotels in town, but during peak ice climbing season, these are sure to book quickly.
Airbnb or VRBO are your best bets when looking to book your ice climbing adventure. Using one of these online booking services for your climbing adventure means more flexibility during your stay; you'll have room to store your gear and ice tools while also cozying up to warm fire after a day out in the cold mountain air. Look for a house that includes a garage for easy gear storage after a day on the ice.
Where to Eat
You'll find most of your dining options along Main Steet in Ouray. The dining and shopping strip in the quaint town offers a vareity of options from fast casual, like Maggie's Kitchen, to brewpub food to a top notch Italian restaurant, The Bon Ton, in a historic building. Calling ahead or making a reservation are recommended for groups of four or more to avoid long waits.
Don't forget to stop at Mouse's Chocolate for coffee or a Dirty Hippie (chai and espresso latte)! This coffee shop is a local favorite for hot drinks and baked goods - the Scrap Cookie is not to be missed!
What (Else) to Do
After long hours on the ice, trade your tools for a swimsuit and hit the hot springs in town to warm up! The tranquil
Ouray Hot Springs
in the middle of Ouray is a public, outdoor hot springs that offers pools of varying temperatures and spectacular views. If you're looking for a more secluded hot springs experience, book a stay at nearby
Box Canyon Lodge
as guests have access one of the four hot spring pools on premise.
Looking to take a break from climbing but still want to play outside? Telluride Ski Resort is only an hour drive from Ouray, making it an easy day trip. Because Telluride is six hours from Denver, this mountain is less crowded than the Summit County Colorado resorts, which makes the stunningly beautiful runs that much more enjoyable.
Have you been to Ouray? Leave us a comment below with your favorite things to do in winter in Ouray!

Interested in learning more about ice climbing? Check out these posts:
A Beginner's Guide to Ice Climbing
Tips for Taking Your Kiddos Ice Climbing
Ice Climbing Adventure: Cody Ice Festival