Rock climbing is a fun way to challenge yourself while getting outdoors. With so many different types of climbing and so much gear out there, sometimes getting into the sport can seem overwhelming. We're here to break things down so you can ease into climbing. Today, let's look at some basic differences between personal anchor systems, runners and daisy chains.
Personal anchor systems, runners and daisy chains are all pieces of climbing gear made with nylon, Spectra, Dyneema, Dynex or a mix of these materials. It's important to note that this gear is meant to hold weight or act as an aid, not to directly catch falls.
Rock Climbing: Personal Anchor Systems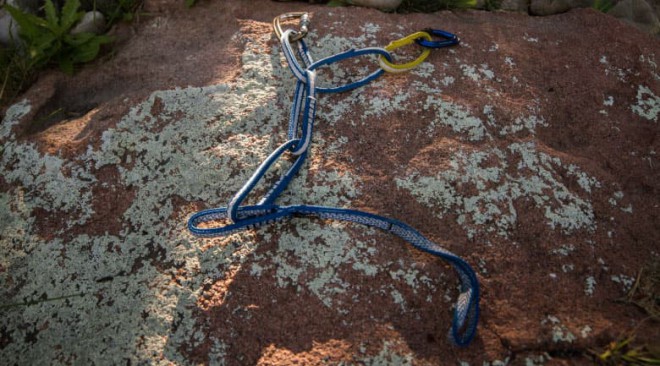 A personal anchor system (PAS) is a piece of climbing gear meant to secure you directly to the anchors of a route. This is done using the PAS and two
locking carabiners
. Personal anchor systems are most commonly used when cleaning a route (removing gear from a climbing route).
Personal anchor systems usually come in the form of chained loops. Since the loops are independent of one another, each loop is rated at full strength. Aside from added security, the chain loop system also makes adjusting length more convenient.
Do you need a personal anchor system?
I would highly recommend a personal anchor system once you start cleaning climbing routes, since this is a simple and safe device for securing yourself directly to the wall.
Rock Climbing: Runners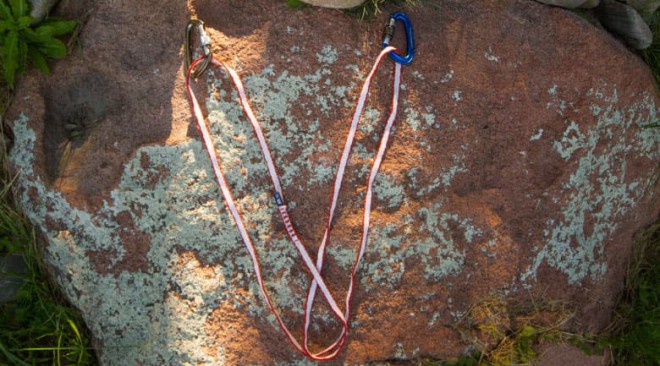 A
runner
, which is also known as a sling, is a single loop of webbing. Runners come in different sizes and are either secured in a loop via stitching or a knot.
Runners are most often used in traditional climbing (trad climbing) to lengthen anchors, prevent rope from dragging through rock and to keep gear from becoming inverted. Sometimes runners are used to prevent rope from dragging through or catching on parts of a sport climbing route, but this is usually unnecessary. Both trad and sport climbers can use a runner to evenly distribute weight to the anchors. Similar to a PAS, runners can also be used along with
locking carabiners
to secure you directly to the anchors of a climbing route.
Do you need runners?
If you are getting into trad climbing, runners are an important piece of gear to own. If you are focusing on sport climbing, runners usually aren't necessary.
Rock Climbing: Daisy Chains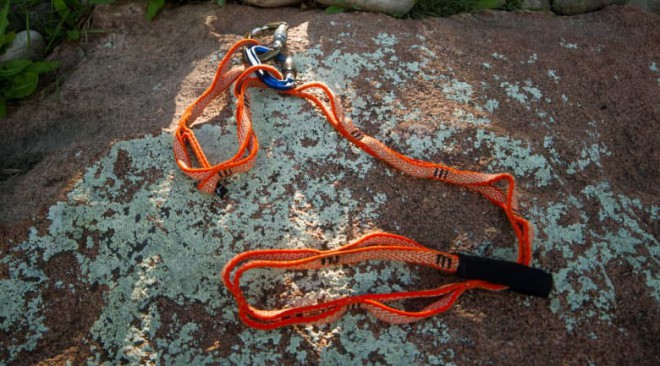 A daisy chain is essentially one long runner with loops sewn in. While a daisy chain has a strength rating from end to end, each individual loop is not rated. Clipping into the loops of a daisy chain incorrectly can be dangerous, as illustrated in the video below.
Daisy chains are most commonly used in aid climbing, which is a style of climbing in which climbers use gear to assist them up the wall. This is different from sport and trad climbing, in which climbers use natural features to ascend the route and only use gear to protect them in the event of a fall.
Do you need a daisy chain?
Unless you are aid climbing, a daisy chain is not necessary.