Repeat after us: No, it's
not
too cold to go for a run.
We know how hard it can be to motivate yourself to head outside in cold temperatures. Throw in a little cold rain or some dirty snow on the ground, and you've got a tailor-made excuse to stay inside and channel-surf.
But the truth is that with the right clothing and a good attitude, it's not hard to stay comfortable on winter road runs. Here are 4 tips that will help you stay warm and allow you to enjoy fresh air and changing scenery instead of the smell of gym sweat and a monotonous treadmill.
Wear multiple thin layers
When you're dressing for winter runs, you want to be able to trap warm air between layers of clothing. It's extremely tempting to bundle up before stepping out the door to ward off that first blast of cold air, but remember that running raises your core temperature quickly.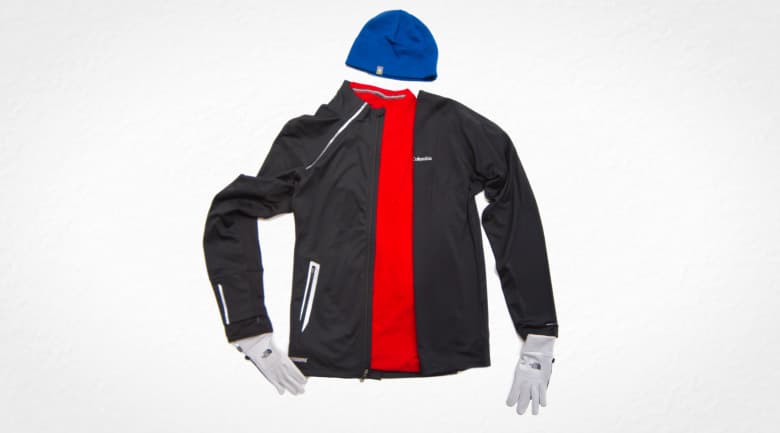 The general rule of thumb is to dress for temperatures 15 to 20 degrees warmer than it actually is. That means dressing so that you're slightly chilly at first; otherwise you're going to go from comfortable to overheated in 15 minutes. A
layering system
for winter running should start with a moisture-wicking, long sleeve base layer and finish with a windproof
running jacket
. If it's really cold, add a low bulk fleece vest or top, or substitute a running jacket with a fleece backing. Look for a shell with ventilating pit zips if you know you're prone to overheating. On the bottom, performance underwear can be used in conjunction with compression tights or windproof pants.
Choose shoes and socks carefully
If it gets snowy and slushy where you live, you're going to hate those open mesh running shoes you wear all summer long. Add a
running shoe
model with less mesh, or one with waterproof breathable construction to your collection. A waterproof, flexible trail running shoe is also a good alternative to your regular road shoes, plus the outsole lugs are a real benefit if you encounter ice or packed snow. If you're hopelessly addicted to your favorite summer road shoes, a layer of duct tape across the front is a simple way to keep cold air out and prevent slush from entering.

Just be aware this solution may cause your feet to heat up real quickly, so it's probably best for shorter runs. When it comes to
socks
, don't be fooled into thinking heavier equals warmer. Make sure the socks you're wearing fit well, don't bunch and are made of technical fabric that wicks moisture and dries quickly. If you're used to wearing ankle socks, winter is a good time to switch to an above-the-calf sock for a little extra warmth and coverage. Don't underestimate the importance of protecting your feet and lower legs.
Accessories are a must
A winter hat or headband is essential to protect your ears from frostbite. Your best bet is a
lightweight beanie
made of windproof fleece. A heavyweight knit hat may feel good at first, but you may find yourself taking it off, so you want to make sure it's compact enough to stash in a jacket pocket.
Headbands
are great because they allow you to shed heat from the top of your head. Gloves are another must; numb fingers are no fun. Lightweight, windproof
gloves
are sufficient in all but the coldest temperatures, and even knit gloves are better than nothing.
Adjust your technique and workouts
Before heading out, don't forget to check the wind speed, direction and maximum gusts along with temperature. Plan your route so that you finish with the wind at your back, so you're not getting slammed with strong gusts when you're already sweaty. If there's fresh snow or scattered ice, running on the road may be safer, as roads are often cleared more thoroughly than sidewalks. Make sure you shorten your stride when paved surfaces are slick. Winter is a good time to focus more on technique, do shorter runs and worry less about pace.