Running your first half-marathon is an investment of months, not hours. It will test your body, sap your strength and suck up calories and hydration faster than you can consume. You'll learn about chafing, cramps, and other bodily fun.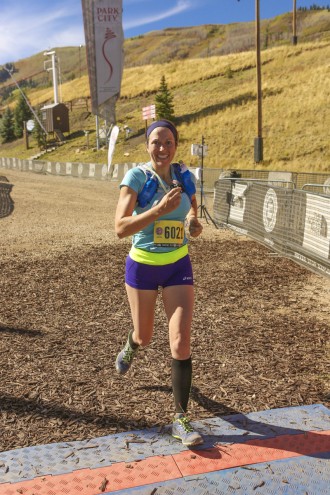 So why the heck would anyone want to abuse themselves running a half? For one thing, when you train for distance and speed, everything else gets easier. A long hike uphill... bring it! You'll ski with more power, climb stronger, and the dog will hide when you offer a walk. You'll also gain a familiarity with you body like never before. It's empowering to know your strength and how to care for your body to get maximum performance.
I ran my first trail half-marathon at age 45 with exercise-induced asthma. Six months before the race, I had never run a mile without stopping. It was a hard process but completely worth it!
If you are ready to challenge your mind and body by training for a half-marathon, here are seven tips to get you to the finish line:
1. Follow a Solid Training Plan
Success is more likely with a good plan. Some training plans cost money, but there are a lot of plans out there for free. Some plans assume you have a base, which means you are already running a stated amount before starting, while others start from zero. If you have a base of about 12 miles per week, a 12-week plan should be fine. Otherwise look for one that builds slower to avoid injury. Plans that include hills, intervals, rest days and cross-training days will deliver a stronger performance, although you might have to scale down the hills and interval days at first if you're a new runner.
2. Train with a Buddy
Training with a partner makes a huge difference! If you don't have a running buddy, join a group. Local running stores often sponsor running groups year-round. You could also look for a meetup group. Just don't plan to run with your buddy on race day unless you have the same pace. The saying "none of us is as slow as all of us" is true. If you each hold back for the other, you will risk your chance of finishing.
3. Don't Skip Long Runs
Long runs leading up to a half-marathon build endurance and give you a chance to test your gear and food choices. It might be challenging to find time for long runs, but they are key to training. Setting clothes and gear out the night before and starting my run early in the morning worked best for me.
4. Invest in Quality Gear
Quality gear
and tools really do make a difference when running long distances. If you were ever going to invest, this is the time. Look for quality materials and good fit in clothing (no cotton!), packs and
shoes
. Ladies, test a few
sports bras
before committing to which one will run the distance with you! Guys,
shorts
that only chafe a little on short runs will make you hate life 10 miles in. Other items you might need: anti-chafe ointment, gear belt,
compression socks
,
headband
, and
sunglasses
that don't slip.
5. Use Training Apps
On the tech front, you'll need to track running distance and
time
. Choose a program with a voice feature that reports distance and pace without you having to look. I found two free phone apps I like:
Map My Run
and
Endomondo
. I also used a tempo app to adjust my pace. No need to spend much on these items; most phone apps are free.
6. Enjoy the Journey
This may sound trite, but it is important. Mountaineer and ultra trail runner Ben Clark shared this valuable advice with me while I was training. Your body is a living and unpredictable part of your plan. Over the course of 12 or more weeks, you'll have strong days and weak ones. You'll get sick. The weather will become uncomfortable or even too dangerous to run in. One of these things might even derail your race day. If all of your focus on is the race, but you don't enjoy the process of training, that could feel devastating.
Instead, consider each run an achievement. Instead of your goal being to run a half-marathon, strive to complete the training program. If you complete all of the runs prescribed in a good training program, you will be ready to run a half-marathon. But if something interferes with race day, you can still congratulate yourself for training strong and find another event to sign up for. There are a lot of races to run, so focus on the journey instead of just one day.
7. Don't Change Anything on Race Day
After experimenting to find the right mix of food, clothes and gear, don't change anything on race day. You'll be tempted by samples and yards of treats at aid stations, but stick to what you know. If you see something you want to try, work it into your next training schedule after the half-marathon.
I'd love to hear if these tips help you. Feel free to leave a comment below, or connect with me via Twitter or Instagram @Active_Explorer.
Happy running!