When I bought my house in Fort Collins, Colo., last year, I had an important goal: Make sure the distance from my home to Sierra Trading Post's tech campus is handily bikeable.
That means 30 or fewer minutes, and in this particular case, about six miles one way. For me, an avid cyclist, it's an easy way to tag on a tiny workout. Thankfully and not surprisingly, I'm sure, Sierra Trading Post has a pretty lenient dress code. A little sweat violates no policy at all around here! Plus, indoor bike parking ... a blessing since I seem to forget a lock an awful lot of the time.
To make bike commuting more doable, I knew I needed to upgrade my commuter cyclist kit, and I knew just where to shop. This is what I got: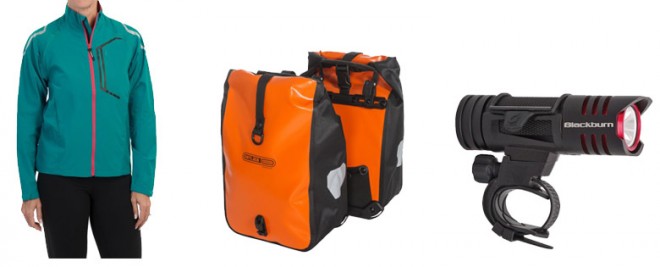 Cycling jacket
A cycling jacket with zip off sleeves is perfect for early spring rides. Cool mornings are met with warm to hot afternoons. A jacket/vest is a great piece of apparel because of its reflective striping and protection against elements like rain. I love this
Shimano cycling jacket
, and I'm happy to report that buying it a size larger so I could layer it with my base layer and a light fleece got me through winter cycling quite happily.
Panniers
I've wanted panniers for 10 years, but I had no reason to buy them because I had a great backpack. That worked fine for a while, but now that I'm commuting by bike on the reg, I don't really want the sweaty back that a pack promises. Panniers are fun to ride with — you have to think a bit about load balance &mdash and equally practical if you plan to pack clean clothes and/or hit the grocery store or your local bike shop on the way home. (Panniers also means getting a bike rack, which I already had.) We've sold out of the Blackburn panniers I bought, but the
Ortlieb panniers
are comparable, if not a bit sturdier than my set. I don't think you could go wrong with either, just make sure you get a rack that's compatible.
Lamp
When I was shopping, Sierra Trading Post didn't have lamps that met my specs. I bought the Light & Motion Urban 650, which is almost like a train coming down the road but not quite. I do a lot of winter cycling, so lumens were key. I like the Urban 650 because it quickly recharges via USB, clips onto my handlebars or mounts on my helmet. It also has variable light power, including a flashing mode, and subtle side lights, too. We don't carry Light & Motion product, but I did like the looks of this
Blackburn Scorch
pictured below for entry level cyclists who just might get caught in the dark.
You don't have to invest much to get started in commuter cycling. The trick is just doing it. Pick a day when you're not under pressure to get to work at a specific minute or plan accordingly and give yourself ample time to get ready for work. Some people carry baby wipes so they can clean up a little before actually beginning their work. Other bike commuters I know have gone so far as to bring a wardrobe (think not so portable closet to their office) so they can stash clean clothes and sweaty bike apparel. The key is to get started ... you have an entire spring season ahead of you to perfect your cycling commute style.
Need more guidance? Looking for more intel on cycling? Our
cycling buying guide
is just the ticket you need to ride!
Do you commute to work? What stops you or keeps you going?