You've heard your friends talking about it, and now even your favorite fitness magazine keeps touting the excellent benefits of taking a yoga class. Improved flexibility, building core strength, a better body image and a reduction in stress are all excellent reasons to try yoga.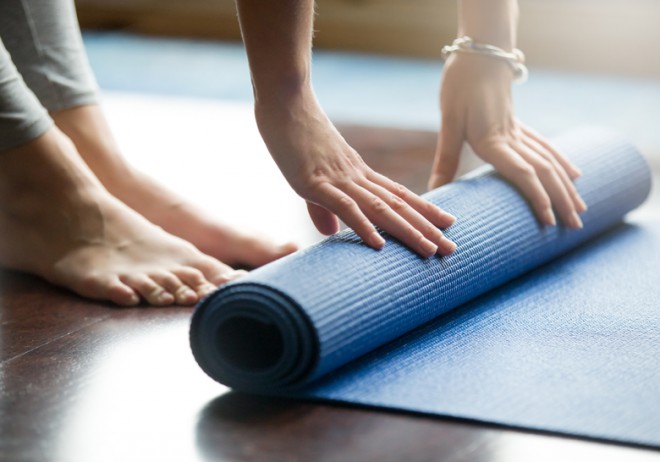 Still, with all of the benefits of yoga, many people are scared or nervous about attending their first yoga class. Here's some tips on how you can prepare for your first yoga class:
1. Assemble the Ensemble
Yes,
yoga clothes
do make a difference. Loose-fitting T-shirts not only have the potential of revealing more than you'd like; in an inverted position a loose shirt will be in your face. The key to yoga clothes is finding apparel that is tight enough to stay in place but loose or stretchy enough to not constrict movement. Tank tops free your arms, and capris or full-length athletic leggings give range of motion while keeping you covered during different poses.
2. Get the Gear
Typical
yoga equipment
includes a yoga mat, straps, a block, a yoga mat bag and a water bottle. While many gyms have mats, straps and blocks available for you to borrow, it's nice to have your own gear. This way, you have the essentials for practicing at home and the knowledge of how clean your yoga mat is... or at least of who was the last person to sweat on it.
3. Attend the Right Class
This might seem straight forward, but understanding the type of yoga you are getting yourself into could save you from confusion and potential embarrassment. The first time I attended a yoga class at my gym, I chose one that meshed well with my work schedule rather than picking a class to suit my needs. The class was titled Power Flow Yoga 2. I had never taken a power flow yoga class before. I actually had very little experience with any sort of yoga, yet I managed to insert myself into an upper level course practicing a type of yoga based on quick, one-breath-per-pose moves. It took me the full class to catch on.
Do yourself a favor and research which type of yoga you'd like to practice before signing up for a class (and then make sure it's a beginner-level class).
You can read more about different types of yoga here
.
4. Arrive Early
At many gyms and yoga studios, classes fill up quickly. Arrive early so you can establish your own spot. Make sure you leave enough room between you and your neighbors so you can each stretch legs and arms in all directions without bumping into each other. It's nice to arrive early so you have time to set up rather than trying to squeeze in somewhere while people are already practicing yoga.
5. Ask Questions
Some people are very overwhelmed at their first yoga class. Most instructors are willing to help and are happy to give you a little extra attention if you simply tell them this is your first yoga class. Often yoga instructors adjust you during class, especially if you are first learning the poses. Communicating whether or not you want to be adjusted can help you avoid uncomfortable situations or receive the instruction you want.
6. Relax
Yoga is about relaxing and reducing stress. Don't compare yourself to the abilities of others in the class; focus on your own practice and goals. Even if it's your first yoga class, relax and be sure to breathe. Many first-time yoga participants hold their breath. Take deep breaths and just go with the flow. By the end of the class, you should feel incredibly relaxed and zenned out.
Remember these tips so you can reap the many benefits of yoga. You'll build core strength, reduce stress and feel good about yourself. Namaste.
Gear up for Yoga:
Women's Yoga Tops
Women's Yoga Pants
Men's Yoga Tops
Men's Yoga Pants