Sometimes the secret to finding workout motivation lies in what you eat. Going to the gym on an empty stomach is no fun, but neither is working out after eating a big meal or unhealthy snack. We have a handful of healthy, homemade snacks to give you the perfect energy balance.
Take a look at these energy-boosting healthy snack recipes that are easy to bring to work so you hit the gym at the end of the day.
1. Bright-N-Early Espresso Bars
Maybe mornings are the best time of day for you to work out. Or maybe you find yourself doing a lot of early morning hiking and outdoor adventuring on the weekends. Either way, you'll want to thank us for this granola bar recipe featuring coffee beans for an extra boost. Almonds, pomegranate and chocolate up the tasty factor on these bars. Watch the above video for the full recipe.
2. Peanut Butter & Coconut Power Balls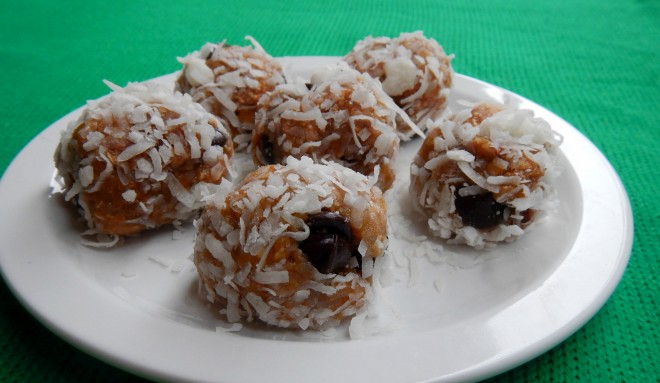 These power balls use peanut butter, walnuts and almonds for the perfect dose of healthy energy before a workout. Chocolate chips and shredded coconut add some sweetness to this protein-packed snack. This is the ultimate grab-and-go treat to keep you gym-motivated after a long day.
See the full recipe here
.
3. Chocolate Raisin Crunch Bars
This homemade granola bar recipe makes packing a snack for the trail or the gym simple. Raisins, chocolate chips and applesauce give this recipe its sweet flavoring, and granola and flaxseed offer workout-worthy energy. Watch the above video for the complete recipe.
4. Homemade Apple Chips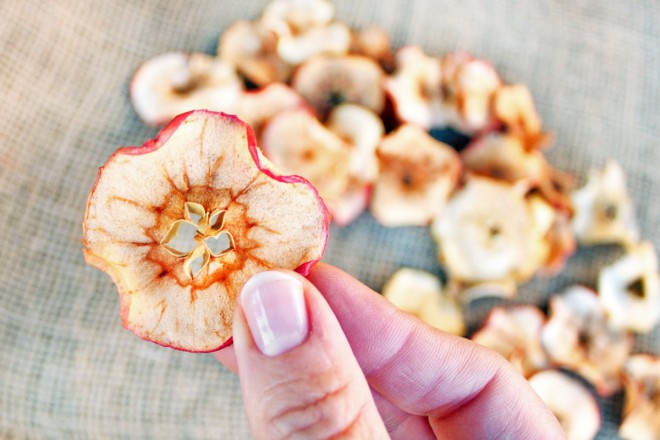 The sugars in fruits makes them perfect energy-boosters. Dried fruits are simple to pack and snack on throughout the day, which is why we love this apple chips recipe. The best part? You don't need a dehydrator to make them!
See the full recipe here
.
5. Honey Oat Energy Bites
These perfectly poppable bite-sized snacks are great for an energy boost on the go. Chocolate chips, coconut and honey flavor this peanut butter-based snack. Bring these honey oat energy bites to work so you can fuel up before you work out.
6. Shamrock(ish) Shake: A Healthy Smoothie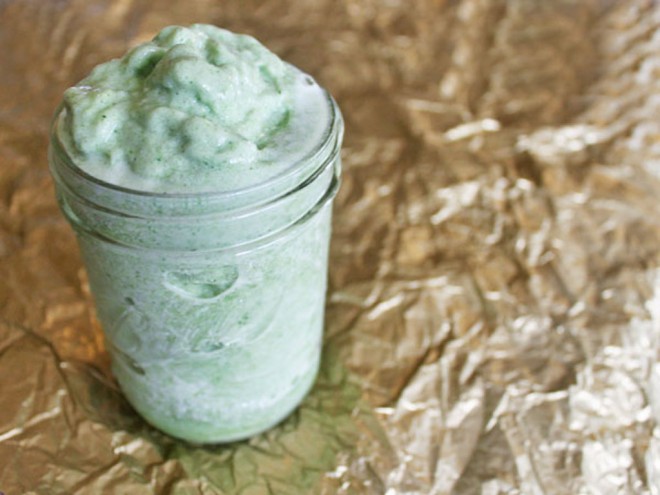 This delicious snack mimics the minty fresh taste of a shamrock shake without the extra calories. Banana, spinach, almond milk and protein powder all go into this shake to replace mint ice cream. Peppermint extract or peppermint liquid stevia make the perfect mint substitute. Make this smoothie in the morning and stick in in the fridge at work so you have a healthy snack to enjoy when hunger strikes!
See the full recipe here
.