I admit it. I
never
clean my yoga mat. It's just not something I'm too picky about. (What I wear to class? So picky about my
yoga threads
!) Still, there can be no denying that my mat knows germs. It's stored in my car (and my dog lays on it). It goes from Subaru to class regularly (and who knows what lives on the floor of my heated power yoga studio). It was time, I decided, to learn how to clean a yoga mat.
Maybe I've been hesitant to clean my yoga mat because of my friend Cindy's experience. She eagerly threw her mat in a tub of warm sudsy water one day ... and then squished soapy water in every class over the next two weeks. She lives in Wyoming, one of the driest climates in the U.S., so that's saying something for the absorbency of a few millimeters of foam! Ultimately, she invested in a
new yoga mat
.
I'm a fan of making my own non-toxic (and super cheap!) kitchen counter cleaner, so it made sense for me to riff on the formula for my yoga mat cleaning ... without wrecking my savasana (the "nap" at the end of a practice). Here's the method I've found works best to clean a yoga mat.
To clean a yoga mat you'll need: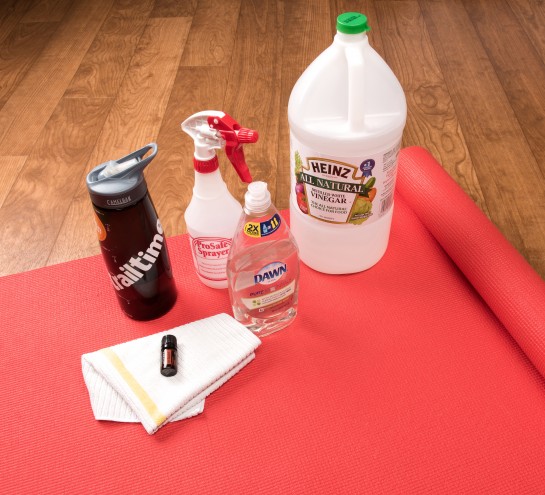 1. Spray bottle
2. Distilled white vinegar
3. Essential oil like my favorite On Guard from DoTerra
4. Laundry or dish detergent
5. Soft cloth or wash cloth
6. That stinky yoga mat
It's a very simple formula. Add 2 tablespoons of white vinegar to your spray bottle, and then fill it with cool water. Add just two or three drops (or a teaspoon of granular) detergent to the bottle, and then add a few drops of your essential oil if you're using one. (I do because I believe in the antimicrobial properties of essential oils and I like my cleaners to smell good and clean.)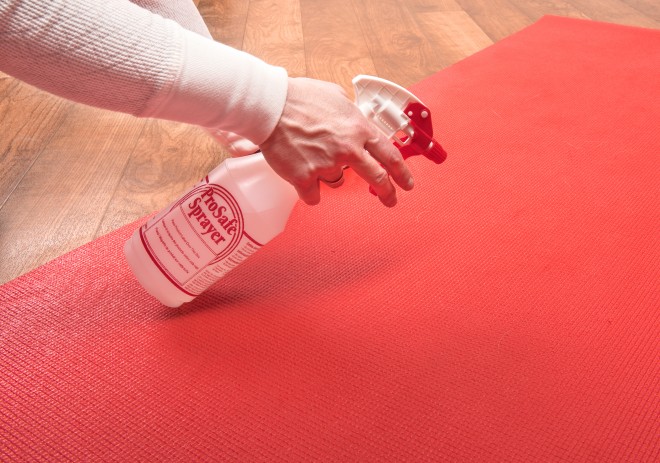 Spritz your mat and gently scrub it with a soft sponge or wipe it down with the cloth. Be careful not to overdo it with the spray. You want to
clean the surface
, not soak it through.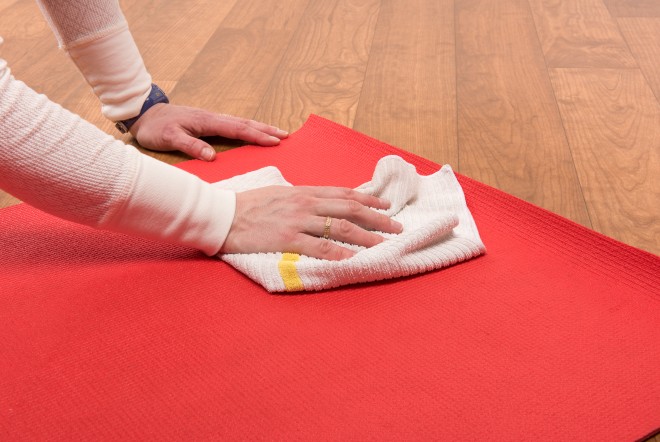 Next, wipe it down with a wet washcloth. Repeat these steps on the other side.
Finally, hang your mat over a banister, shower rod or deck railing to give it ample opportunity to dry completely before your next practice.
Quick and simple, right?
You'll want to keep that spray around — use it on your counters for a quick clean up if you like, as well as your mat or even home gym equipment. It doesn't contain bleach so it's nontoxic and, consequently, mild enough to use on most surfaces. (A quick spot test is probably a good idea, especially with spendy natural stone.)
As for me, I suspect that yoga mat cleaner will live on my kitchen counter. I'm buying a
yoga bag
so I can keep my freshly cleaned mat spic and span! Good thing I know where to get one for a steal!
Quick survey! How often do you clean your yoga mat? Around here, the answer is a solid "Never." Only filthy yogis work here, apparently!