For many, trail running season ends when the snow starts to fly and doesn't begin again until trails are completely cleared. Icy paths, slippery climbs, and cold temperatures act as a deterrent, causing even the most hardcore runners find solitude in the treadmill. Guys, it doesn't have to be this way! Not only is the treadmill boring, but the wintry conditions are an excellent means for race preparation. Not sure how to brave the trails during the frosty months? Read on for five tips to help you enjoy the winter wonderland right outside your door.
1. Find Your Traction
Snowy and icy trails can be slippery and dangerous when not properly prepared. Arm yourself with your
favorite traction device
. Some runners prefer to
screw their own shoes
, while others purchase gear such as
Yaktrax
or Kahtoola spikes. Regardless of your choice, grip is going to be key on those snowy runs.
2. Dress Properly
We've all been there: you pop your head out the door to test the temp only to realize it's
freezing!
You layer accordingly (so you think anyway) and within 10 minutes of running, you're drenched in sweat.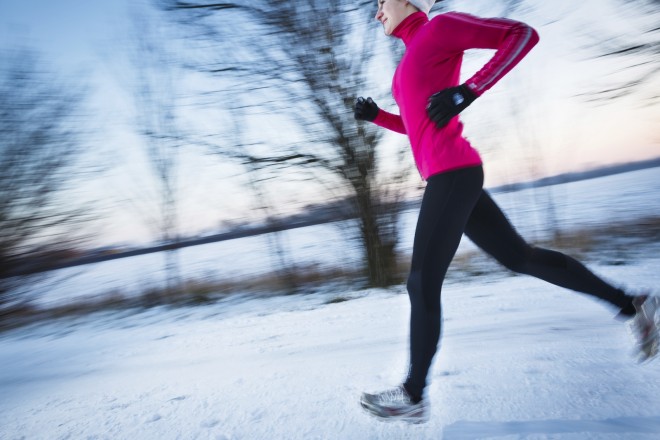 Dressing for winter weather can be tricky, but it's not impossible. A good rule of thumb is to dress as if it is 20 degrees warmer outside than it actually is. This measurement accounts for the insane amount of heat your body creates while running, and it means you'll likely never sweat through all of your layers.
How you dress is important, but what you wear matters too. Your core body temperature will be in stark contrast to the cold outdoor temperatures, so you need to wear a
baselayer
top that wicks sweat away from your body. A
hat
or ear warmers are crucial in the cold, as are
mittens or gloves
. If it's extra windy or wet, a
running shell or jacket
will work wonders in keeping you toasty. And don't discount
arm warmers
; they're easily removable and versatile. You'll be impressed with how many uses you discover for them while on the trail!
3. Shorten Your Stride
When you're learning to run on snow, your main concern will likely be falling. To minimize this, shorten your stride in order to keep your feet underneath you. Once you are more comfortable on the slippery surfaces, you can begin to work back into your usual gait.
4. Stay Hydrated
Thanks to the cold temperatures, it can be easy to forget to drink your water. But using a
water bottle or hydration pack
to stay hydrated is just as important in cool temps as it is in warmer months. Your body is possibly working even harder on the ice, so it will need more water just to keep it going. Also, dehydration can lead to feeling even colder, which can only take your run in a downhill direction. Play it safe and drink your water!
5. Nurture Your Feet
It may be instinctual to layer up with double socks to keep your feet warm, but that's probably not your best option. Frequently, multiple layers of socks will crowd your feet inside your shoe and your feet will get even colder. Find a good pair of
wicking socks
that you love; your body will take care of the rest.
*Featured image by Will Rochfort.
What advice would you give for running on slick trails or in cold weather?