If you're tired of running on pavement, or just tired of your normal workout routine, taking to the trails can be a great way to mix things up. But if you're just starting out, it can definitely be a challenge. Take it from a beginner — trail running isn't as simple as it sounds. Here are a few things you'll want to consider before you head out from someone who's recently learned just how much fun dashing through the woods can be.
Don't get lost, and take a buddy with you.
Getting lost is a good thing to avoid whether you're a beginner or not. Technically, trail running includes anything off pavement, so your first run doesn't have to be through the deepest wilderness you can find. You can start by running through an area that's familiar, or find someone with some trail running experience who's willing to take you out with them.
In addition to the fact that most adventures are better shared, having someone with you who can help if something goes wrong, and even just to serve as a pacesetter or motivator, can make runs a whole lot more fun. It's especially important not to go alone if you're in the wilderness; running into wildlife by yourself isn't an experience you'll want to have. Plus, if your buddy has some trail miles under their belt, they'll also likely know the best local trails to visit, and they'll be able to help you plot out a route with an appropriate level of difficulty.
Finally, taking commonly accepted safety measures you'd always use when going out into the woods is a good idea as well. Tell someone where you're going, look at a map or two before you leave, take a cell phone with you if you can, and make sure to bring water if you're going to be out for a while.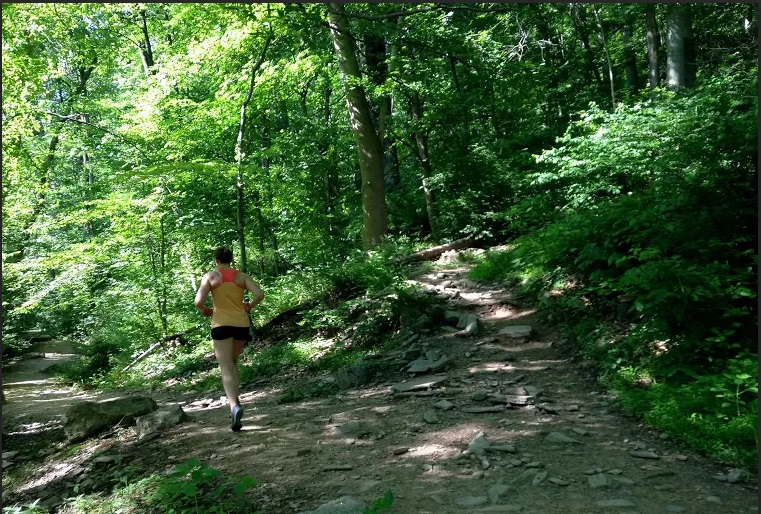 Choose who leads the route carefully.
In general, it's best to let the slowest runner lead the way on the trail, which is also a generally accepted option for hiking and backpacking too. There are few things worse than being left behind, or being forced into a pace that's uncomfortable. Putting the slowest member of the group in the front means you're guaranteed to go at a pace that works for everyone, and the group will stay together.
However, if you're new to trail running, or hitting a new trail for the first time with a buddy who's done it before, consider not going first, even if you're the slower runner. That way, they'll be able to make sure you stay on course and keep a pace that works for the group. They'll also run into all of the spider webs and bugs before you do.
If you're not careful, you'll trip over things.
And even if you are careful, you'll probably still trip over things. Trail running is completely different from running on paved roads, which is part of what makes it fun. You'll have to make decisions about foot placement quickly, and it can take some time to get comfortable looking at what's in front of you to help anticipate your next move. Take your time, watch your step, and pick your feet up a bit higher than you would on pavement.
Also, consider getting yourself a pair of running shoes specific to trails if you're going to be out there regularly. They tend to be tougher than road running shoes and are designed for rougher terrain. Some have thicker soles and toe covers on the (very likely) off chance you'll step on a rock or unintentionally kick something.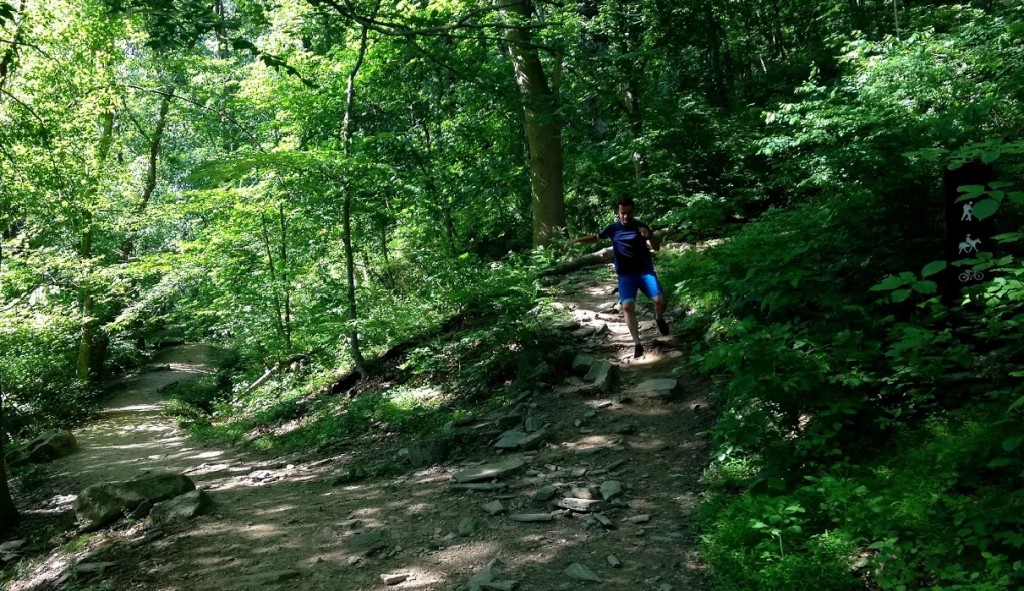 Don't tailgate.
On a recent three mile jaunt through the Wissahickon Gorge in Philadelphia's Fairmount Park, I looked up from the trail to enjoy the scenery, and in the process, I neglected to take my own advice about not tripping over things, kicked a rock, and found myself stumbling uncontrollably toward my running partner. He was two or three steps ahead of me, but he'd slowed slightly as we approached some rougher terrain. Mid-stumble, I almost ran directly into his back.
Though it can be tempting to stick close to your buddy, as with hiking, skiing, mountain biking, and driving a car, keep a safe distance. That way, if you find yourself falling or the runner in front of you stops suddenly, you won't collide. It'll also help you figure out where to put your feet if you've got a good line of sight.
Be conservative with your pace, and prepare to be sore.
After not colliding with my partner on the aforementioned trip to the Wissahickon Gorge in Philadelphia, we made it back to the cars after tackling three miles at a pace that was easily two minutes per mile slower than I'd have been comfortable running on pavement. I was beat, and my calves and feet were also sore for the next three days.
Running on trails can be significantly more demanding than running on roads, especially when you're hopping over roots, dodging rocks, and tackling hills. Plan on going slower than you would on the road. Also, keep in mind that unlike on pavement, you're going to place your feet a little differently with every step. Not only does this mean you'll have to be extra careful about where you step, you're also going to use muscles you haven't used in awhile, or you've never used. Start slowly, get comfortable, and don't be afraid to hike (walk) up hills.
If you're an experienced trail runner, what other tips would you share with a beginner? Beginners, what have you learned from your trail running experiences so far? We'd love to hear from you!