I have a confession to make: In more than 10 years of racing everything from ultra-distance mountain bike races and trail runs, to marathons and off-road triathlons, I've never raced with technology.
On race day, you'll find me at the starting line sans wristwatch and headphones by choice. In fact, until recently I've hardly trained with technology. And I've become convinced that despite what you may have heard or read, you can successfully reach your race goals (and have fun doing it) without being a slave to a heart rate monitor, tracking app or even your music collection.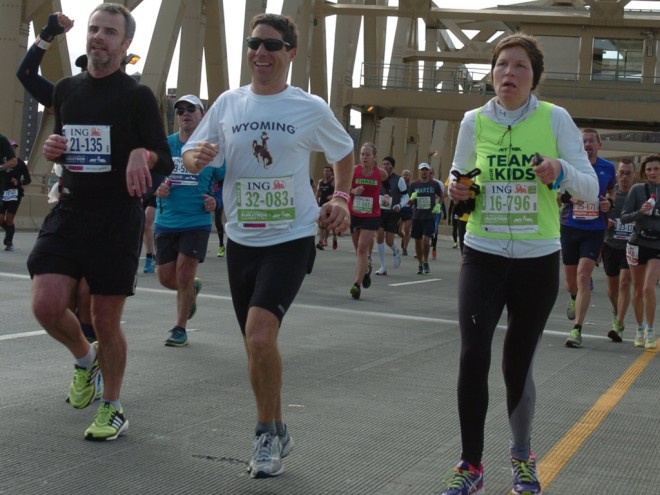 A quick confession: I've always been something of a Luddite when it comes to adapting new technology. I was probably the last working journalist not to own a cell phone and was still skiing with a Walkman years after most of my friends had switched to iPods. In a drawer somewhere there's a heart rate monitor gathering dust, but for the most part I'm a tech-resistant athlete.
My first foray into training without tech was back in 2003, when I got the crazy idea to enter the lottery for the Leadville 100, a 100-mile mountain bike race in Colorado that largely takes place above 10,000 feet. When I learned I was accepted, I was slightly dumbfounded, as I hadn't a clue how to train for a race like that. After talking to some experienced riders, I decided the best thing to do was simply the most obvious — go for long mountain bike rides.
Without a focused training plan or a spreadsheet, I sat in front of my computer and mapped out some 50, 60 and 70-mile loops that included places where I could resupply. I then spent the next five months in the saddle, racking up hour after hour on dirt, pavement and climbing. I didn't have a heart rate monitor, didn't have a computer on my bike and really didn't have a focused idea of what I was doing. What I did have was a realistic understanding of my body's conditioning level and what it would feel like to be in the saddle for an entire day. I wound up finishing the race (my only real goal) in a respectable time, and found that I loved challenging my body during tougher-than-normal races.
So why remove technology from your training program (at least some of the time)? It's as simple as accepting that technology overload can be detrimental to your training. When you're excessively scrutinizing data, instead of just listening to your body, you're in danger of developing
paralysis by analysis
.
Three reasons to train for a triathlon without technology:
1. You're more tuned into time and effort.
You can more easily hear what your body is telling you, not what your device is telling you. "Perceived exertion" is valuable for training
2. It's great for clearing the head.
Sure, music is a great distraction to turn your mind away from the physical pain of training. But without distractions, you suddenly find you have a heightened connection to your breathing and heart rate and you can hear your feet hitting the ground.
3. Gadgets don't teach you to trust your instincts.
They can interfere with the "feel factor" that helps you understand how hard you can push. Internal cues can be critical signals during a race — learning how to recognize them will benefit you in the long run.
There's always caveats. Now that I have a family, I like to keep a phone with me on my runs and rides for emergency purposes. If you're trying to qualify for the Boston Marathon, or are a competitive age group athlete, technological training tools play an important role. But even more elite athletes can benefit with a gadget-free training session during the off-season.
2012 Ironman world champion Pete Jacobs summed up my thoughts perfectly: "Many athletes are so obsessed with the structure and the number, that they forget the entire purpose of training is to be your best on race day."
So I encourage you to swim, run and ride intelligently; it's ok to leave the gadgets at home — at least once in a while.