While you can technically run wearing anything — or wearing nothing — apparel made specifically for running provides safety, comfort and functionality to runners. Having ran track from middle school through college, I've seen and purchased my fair share of running clothes. If you're looking to start or upgrade your running apparel collection, be sure these five essentials are on your list.
1. The Short Sleeve (or Tank Top)
A T-shirt or tank top is one of the main staples in your running wardrobe. On hot days it's not uncommon to forego this running essential and stick to the
sports bra
or bare skin, but I'd recommend throwing on a
T-shirt or tank top
to protect yourself from the sun.

Let's Talk Fabric:
I stuck to the basic cotton tee for far too long in my running career. Boxy, 100% cotton T-shirts are often free for the taking, so it's easy to get in the habit of wearing these sweat trappers. If you want to be more comfortable on your runs, look for shirts made of polyester, merino wool or a polyester blend. Synthetic fabrics such as polyester are more breathable and dry faster than cotton. For the ultimate sweat-wicking tops, look for quick-drying polyester.
Let's Talk Features:
Keep an eye out for tees and tanks with a UPF protection rating to keep you safe from the sun's rays. Many running tops also feature reflective accents to make you more visible to traffic in low-light situations.
2. The Long Sleeve
For those cool morning or evening runs, or runs on cold days in general, you'll want to have a breathable l
ong sleeve
on standby. A solid
running jacket
works well, too, depending on the weather and what your preferences are.

Let's Talk Fabric:
Just as with your short sleeve, polyester is a good fabric to stick with here. If you only need a lightweight long sleeve, look for polyester shirts made with quick-drying fabric. For something a little warmer, go for merino wool. Often times midweight long sleeve shirts are made with a blend of polyester and a stretchy material such as spandex or elastane, which are also good fabric choices for comfort and breathability.
Let's Talk Features:
Long sleeve shirts are exciting for their pocket potential. You'll likely need to carry things with you on your runs, like a key or a media player, and often long sleeve shirts have just the pockets you're looking for. For cool weather, look for thumb holes or lightweight hoods to help keep you warm. UPF ratings and reflective accents are also great safety features to watch for.
3. The Spandex
In college I was introduced to a world of spandex shorts, capris and pants, and I never looked back. Stretchy, form-fitting shorts or capris are perfect for speed training, lifting, or workouts that require a wide range of motion. Spandex pants and capris also work well in chilly weather and allow you to be more mobile than sweat pants do. I've had a small collection of
spandex
for years, so it's worth it to go for high quality here.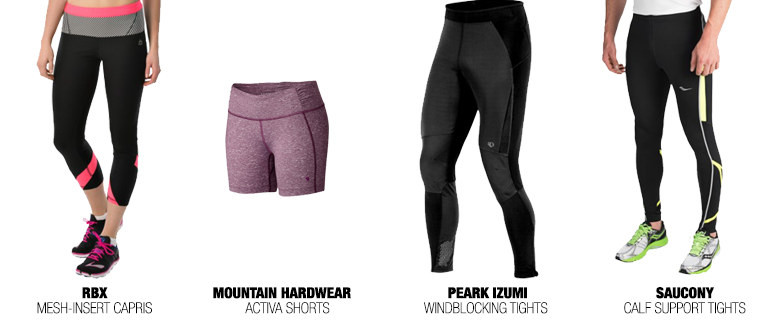 Let's Talk Fabric:
Running tights (or spandex) can be made using a host of blended synthetic materials, many times including, you guessed it, spandex. Polyester, nylon and elastane are other names to watch for here. The goal is to be form-fitting while allowing moisture to escape. Stay away from cotton blends.
Let's Talk Features:
Leggings also have pocket potential! Zippered pockets often make an appearance at the small of the back, and non-zippered pockets can be found within the waste band. UPF protection and reflective accents are great safety features to keep in mind. Today's spandex bottoms have the widest variety of colors and patterns I've ever seen, so be sure to take advantage of the fun.
4. The Shorts
Classic
running shorts
are lightweight and rather short. Most have built-in briefs, or an underwear-esque liner, for added comfort and protection.

Let's Talk Fabric:
The usual suspects are in play here: polyester, nylon and elastane. These types of synthetic materials are best for wicking away moisture and allowing your skin to sweat and breathe comfortably.
Let's Talk Features:
Look for reflective accents to help with visibility, here. Some running shorts offer pockets for tiny essentials, such as keys, at the small of the back or attached at the front interior of the waste band. A few running shorts feature built-in stretch shorts (think spandex) rather than built-in briefs. Keep an eye out for this feature if built-in shorts are more your style.
5. The Socks
Socks are key when it comes to running. If your feet aren't happy, chances are you won't be, either. You'll want to look for
lightweight, ventilating socks
.

Let's Talk Fabric:
When choosing running socks, say no to cotton. Instead, choose merino wool — or a merino wool blend — to prevent your feet from hoarding sweat.
Let's Talk Features:
Most running socks have a tendency to offer more fabric at the ball of your foot and heel, while skimping on the fabric at the top of your foot. This helps keep your feet cool while providing cushioning where needed most. If you're prone to getting blisters on your heels, avoid low-riding socks or go for socks with heel tabs. Heel tabs give you a low-sock look while preventing the sock from creeping down your foot as you run. Avid long distance runners might want to look for over the calf compression socks. Compression socks help you recover faster by improving circulation and reducing muscle fatigue.
Now that you know more about the clothes, learn how to choose the right shoe:
Running Shoes: 5 Tips for Choosing Running Shoes
How to Pick Trail Running Shoes
Pronate or Supinate: How to Find the Best Running Shoes