If you want to escape the summer heat by going to a mountain town that offers hiking, shopping, mountain biking and more, I know just the location. I'm talking about a little place called Aspen.
Aspen, Colorado isn't just a skier's paradise; it's perfect for exploring the mountains any time of year. Downtown Aspen is great for shopping and dining, but did you know it's also a hub for some amazing hikes? Take a look at these three hikes you can get to from downtown Aspen even if you're left without a car.
Aspen Hike: Ute Trail
This trail makes you work for the views. Also known as Aspen Mountain, this 2.2 mile (one way) out-and-back leads you up one of the mountains advanced skiers and snowboarders love to cruise down. Be prepared for steep switchbacks and 1,300 feet of elevation gain.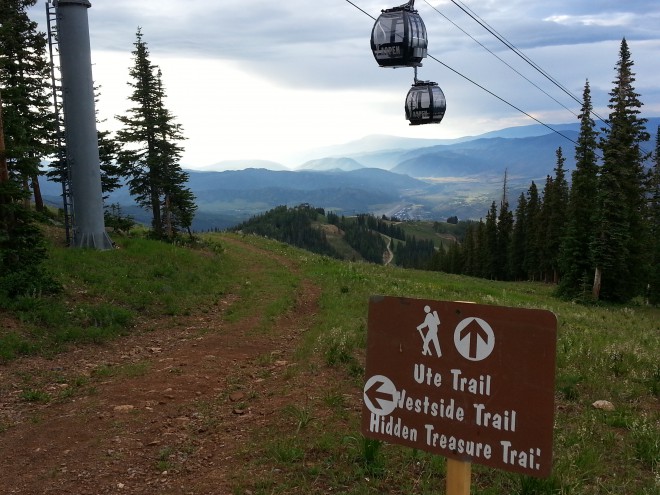 The first half of this trail gives you a glimpse at how some of the rich and famous live; you can peer through the aspens at some high-quality winter homes as you zig-zag up switchbacks. At the halfway point you reach an open area with a beautiful overlook of Aspen. Take some time soak in the views and
eat a snack
here. The second half of the hike winds through a more shaded forest with less intense switchbacks.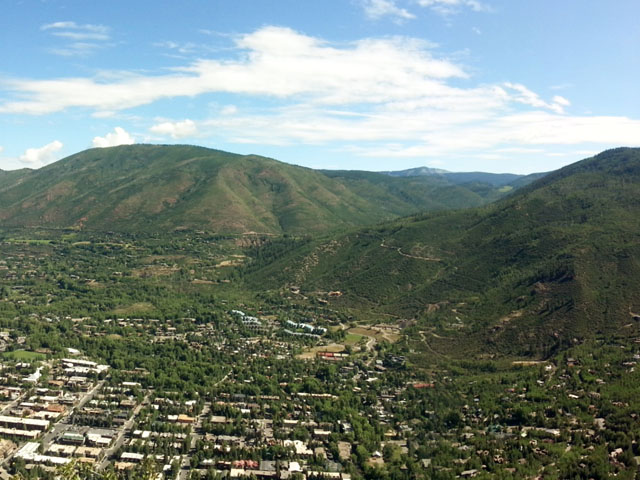 When you finally emerge at the top, watch out for flying discs. A disc golf course meanders up and down the mountain; bring your discs if you play! The best part about this hike is once you make it to the top, you can ride the gondola down for free.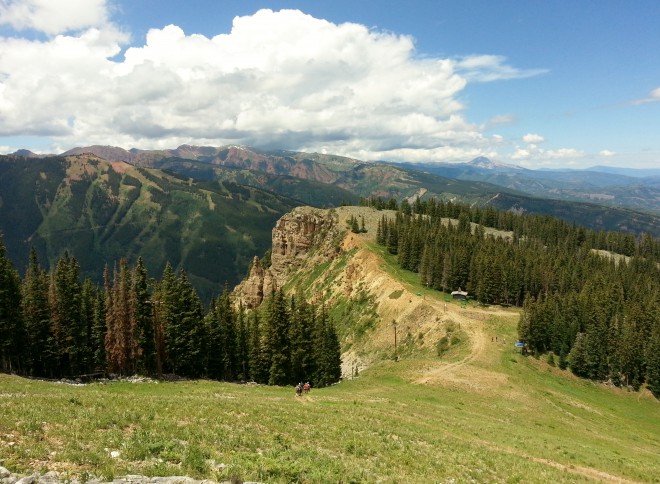 Getting there:
From the Aspen Mountain Ski Resort base, take Dean Street away from the mountain and then take a right onto Durant Avenue. From here go right on Ute Avenue until you run into the trailhead. The walk to the trailhead from the ski resort base is 0.5 miles.
Aspen Hike: Hunter Creek Trail
Stroll through meadows and aspen groves as you follow Hunter Creek along this 5 mile loop. The trail features several small waterfalls and, if you go in late June or July, a variety of wildflowers. Late September or early October is a good time to go if you like viewing golden aspen leaves.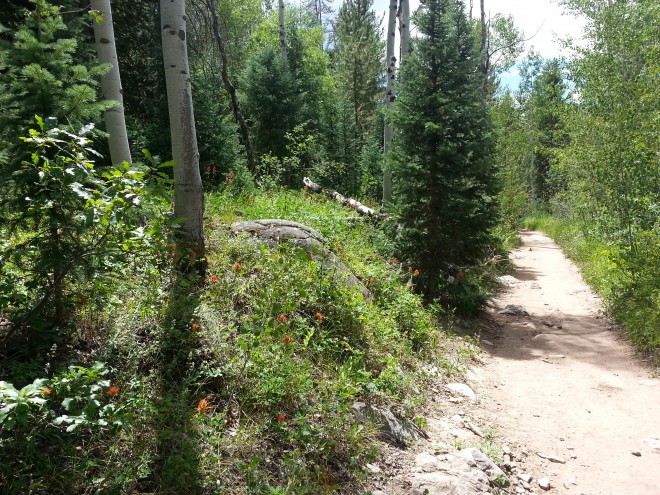 This fairly easy trail is perfect for those who might be still be acclimating to altitude or want to take a relaxed hike. Hunter Creek Trail is a dog-friendly trail; just be sure to keep your pup on-leash. Walking to the trailhead from downtown Aspen will add just over two miles to your total hiking distance, but it is a doable option.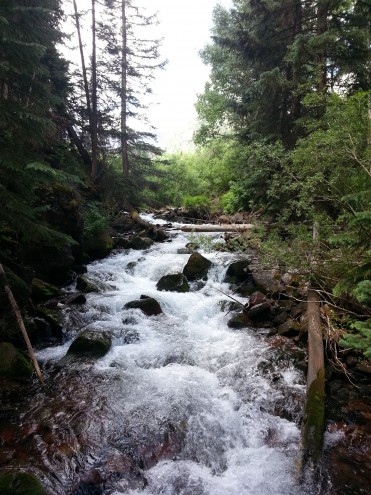 Getting there:
From the Aspen Mountain Ski Resort base, head west on Dean Street and then take a right on Mill Street. After half a mile, Mill Street turns into Red Mountain Road and veers left. Continue along Red Mountain Road, turning right when you come to a cross section, and then take a right onto Hunter Creek Road. After 0.3 miles turn left to reach Hunter Creek trailhead. The walk to the trailhead from the ski resort base is 2.2 miles.
Maroon Bells Hike: Crater Lake
The Maroon Bells Scenic Area is one of the most iconic places in Colorado. For $8, you can take a bus to this majestic area, where you can choose from a handful of hikes. Not only is the bus convenient for Aspen travelers, but it is also the preferred mode of transportation in the popular Maroon Bells area. Your bus driver acts as a tour guide, sharing historical and geological information along the way.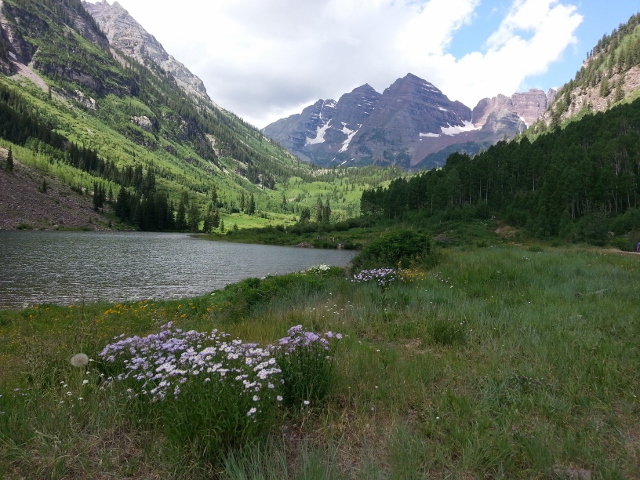 Crater Lake is one of the more popular hikes in the Maroon Bells area, and for good reason. This moderate hike brings you closer to the Maroon Bell peaks, letting you take in their beauty at Crater Lake. July is the perfect month for viewing wildflowers along this 1.8 mile (one way) trail in July. In late September or early October, golden aspens will catch your eye.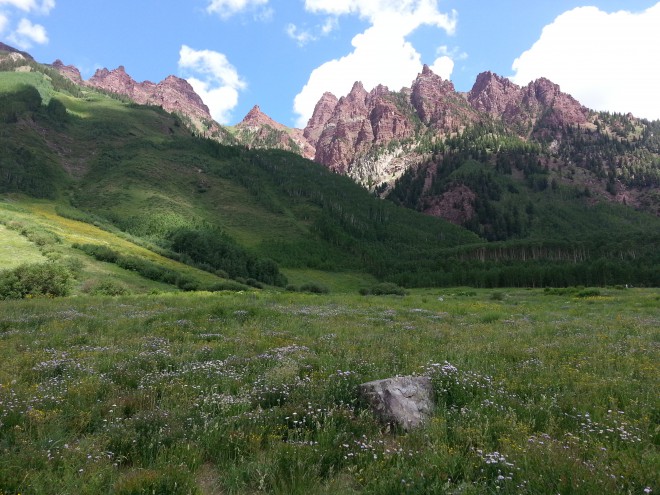 Getting there:
From the Aspen Mountain Ski Resort base, take Dean Street away from the mountain and turn left onto Durant Avenue. Rubey Park Transit Center will appear on your right in 0.1 miles. Take the free Castle/Maroons bus to Aspen Highlands, where you will transfer to the Maroon Bells bus. You can purchase tickets for the Maroon Bells bus inside of Four Mountain Sports upon arrival.
*Photos courtesy Lauren Seidl
What hikes or activities would you recommend near downtown Aspen?