For many, outdoor activities come in distinct seasons. The warmer months are for hiking, maybe some rock climbing, water sports and backpacking, while the winter months are reserved for cross-country and downhill skiing, perhaps some snowshoeing, and a whole lot of holiday meals, cookies and time spent cozied up indoors. It's definitely not a bad way to do things!
With the right preparation, hiking and snowshoeing during the winter can be a great way to keep up your "trail legs" and stave off the cabin fever I know I start to experience after a few weekends of indoor-only recreation. Winter hikes can also help ward off the holiday weight gain (and if not weight gain, at least some loss of fitness) that accompanies these sweater-clad months.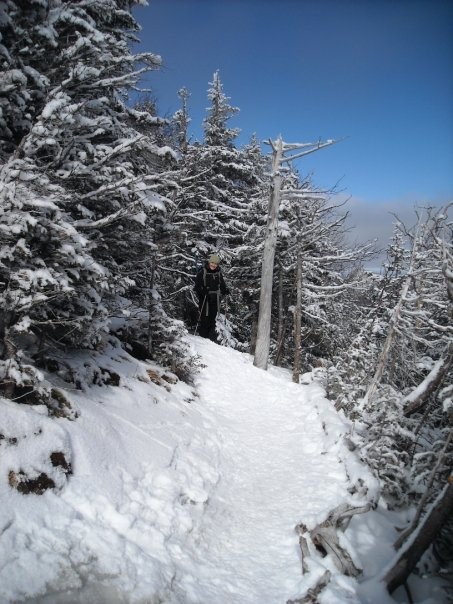 Vermont is a beautiful state with endless miles of trails winding through thick forest and up to stunning 360-degree vistas. The Green Mountains are usually draped in a blanket of snow come winter, snow that often sticks around long into spring. If you haven't experienced how beautiful snow-covered pines and bare branched trees can be or the soft silence that snow creates, you're missing out. Luckily there are plenty of trails to experience during winter in Vermont.
Keep in mind that most trails will require some sort of "floatation" device (aka snowshoes) so you don't sink into the snow and post-hole your way along. Post-holing is an exhausting and potentially injurious way to move through the woods! Also consider bringing along a traction device. I love microspikes: they're more aggressive than Yak Trax but not as intense as full-on crampons.
1. Stratton Pond
Stratton Pond is the largest body of water on the Long Trail, the state-long trail that traverses all of Vermont. You don't have to hike for weeks to get there, though. This moderate, relatively flat 7.8 mile trail is an out-and-back near Arlington. It gradually ascends through forest as it makes its way to the pond. It's a very popular and well-used trail, so it's a good choice if you're looking for a moderate distance that won't be terribly remote.
2. Sterling Pond
Looking for a quick jaunt to dip your toe into winter hiking? Sterling Pond is a quick but heart-pumping 2.6 mile out-and-back trail located near Jefferson. It may be short, but it gains almost 1,000 feet over its length, so you will get in a good workout and will be rewarded with some spectacular, unobstructed views of Smugglers Notch at the top.
3. Lye Brook Falls
See what Vermont's tallest waterfall looks like frozen still on this moderate hike through heavy woods. The trail is marked with blue blazes and gradually ascends over its first few miles (so you get a nice downhill cruise on the way out). A spur trail at about 1.8 miles lets you check out the falls, not a sight to miss. Plus, this hike is located very close to the factory outlets in Manchester, so you can get a bit of shopping in afterward if that's your thing!
4. Camels Hump
Take in some wide-open views at the top of this much-loved and easily recognizable peak in Vermont. It tops out at over 4,000 feet and is the state's third tallest mountain. Take the Burrow's Trail on the Huntington side of Camels Hump State Park. It's 2.1 miles up and a popular hike year round, so you may encounter other hikers and also might find some nicely packed snow to make your trek easier.
The best way to make your winter hiking experience one you'll want to repeat is to start off easy. Get accustomed to the different conditions, both weather-wise and trail-wise, before deciding to take on anything more challenging. Luckily, the state boasts some beautiful hikes, including the ones mentioned above, that don't require a ton of planning. Still, bring adequate food, water, layers and footwear, and always a headlamp, just in case!