When I think of Oklahoma, I think of flat plains, farmland, the Oklahoma City Thunder basketball team, and tornadoes. When I set out on this
yearlong road trip
with my brother, we thought we would blow through Oklahoma, only spending the 24 hours and one night in the state that we had "required" of ourselves. It's a boring state with virtually nothing to do, is what we thought.
Scrolling through Instagram, I found
this picture
of a beautiful sunrise and its location was in southwest Oklahoma. For the month leading up to visiting Oklahoma, I kept telling my brother that we had to visit this place, the Wichita Mountains Wildlife Refuge.
We planned to visit for only a day, maybe two, but the beautiful scenery, free-range animals, and the trails kept us there a little longer than we had planned. Have I sparked your interest in the Wichita Mountains Wildlife Refuge yet? Should you find yourself in the refuge, or planning a trip there, these are some great hikes you should check out.
Quannah Parker Lake
An easy, yet scenic hike will take you around Quannah Parker Lake. The trail itself is easy to navigate and will keep you within sight of Quannah Parker Lake the entire time. It's even safe to go off trail and sit at the water's edge, maybe even dip your hot, stinky feet, into the cool lake.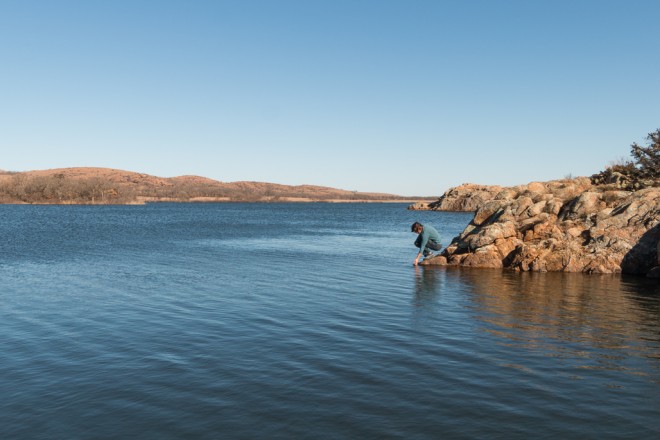 Little Baldy
Looking for something a little more challenging, yet doable? The Little Baldy Trail that takes you up to Little Baldy is the trail for you. The experienced hiker is going to view this trail as a nice warm-up, but beginner hikers and families will definitely feel the burn as the trail winds its way up to the summit. The last bit of trail is a little scramble; be cautious as you get up to the summit, and if needed, don't be afraid to use three points of contact.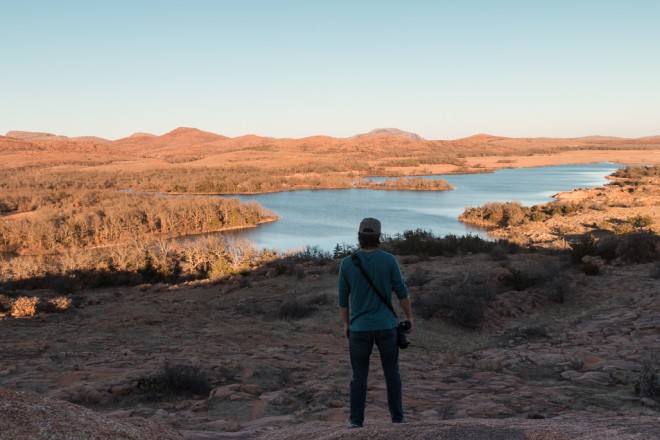 Osage Lake
Another easy hike is out to Osage Lake. The trail starts by leading you through a densely wooded area and then dumps you out into a wide open prairie. Follow the trail until you hit a body of water. That's Lake Osage. Now you can choose to skirt the lake or you can follow a small trail up on the rocks. This will give you a bird's eye view of Osage Lake, and when you're on top of the rocks you'll also have a great view of Little Baldy, Elk Mountain, and the Charons Garden Wilderness Area.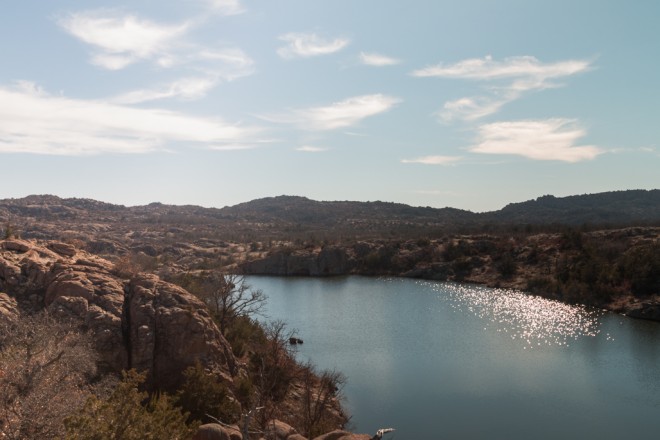 Elk Mountain
The mac daddy of trails we hiked in the refuge was the Elk Mountain Trail. This trail will put a beating on your legs. With a gain of 600 feet in about one mile, the entire hike is basically straight uphill. With hardly any flat areas on the trail, the summit sign marking the end of the trail is a welcomed view. The top is a plateau with tons of options to scramble among the rocks and explore. Now be careful, help's a long ways away and you don't want to get hurt up there, or lost. Experienced hikers are going to love this trail; the view is worth the pain getting up there.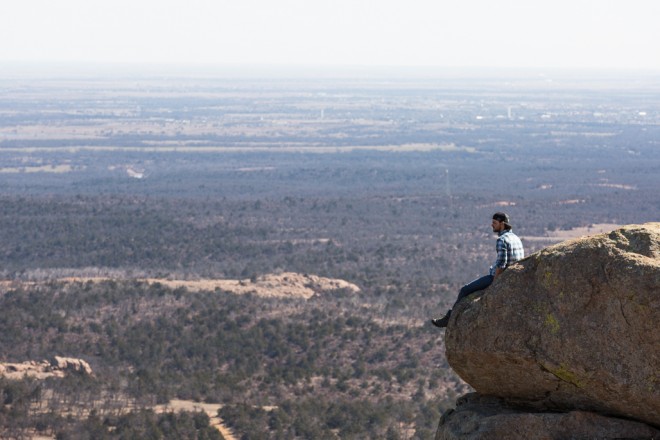 Take your pick, head out to the Wichita Mountains Wildlife Refuge and choose from one of these trails, or try out another trail, or a few, that didn't make this list. There are 15 miles of hiking in the refuge just waiting for you to explore.