Fall is a great time to go hiking with your dog. The fall season offers a totally different take on your favorite summer trails. The biggest draw to hiking in the fall is the beautiful reds, oranges and yellows of the turning leaves, but there are several other reasons why hiking in the fall is great.
The weather is cooler in the fall. Your dog is less likely to overheat, so it's possible to hike a little further than you would in warmer temperatures. The trails are less crowded, so you can find more solitude, and there are little to no flies and mosquitoes to harass you.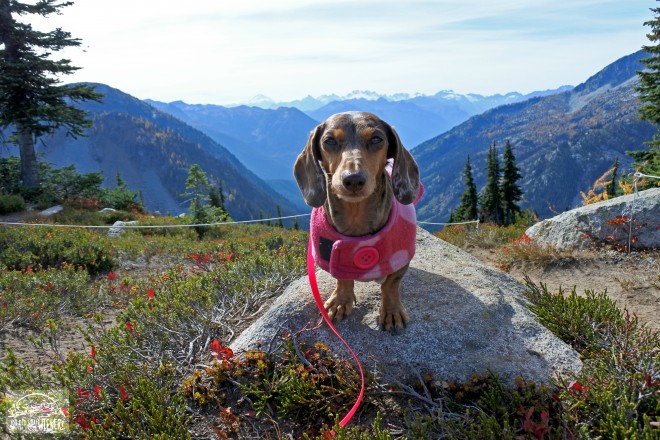 Taking your dog on a hike in the fall takes a little extra consideration. These 5 tips for fall hiking with your dog will help keep Fido safe and make the trip more enjoyable for everyone.
1. Beware of Hunters
Fall is prime hunting season, and it's easy to mistake a dog rustling in the bushes for other wildlife. Be sure to know when your local hunting season is and if hunting is allowed where you will be hiking. To increase visibility, have your dog wear a brightly colored vest like the
Kurgo Reflect and Protect Active Dog Vest
. A brightly colored dog jacket can also work.
2. Keep Your Dog Hydrated
Proper hydration is just as important in cool weather as it is in hot conditions. Dehydration can cause a quicker onset of fatigue and hypothermia. It's easy to remember to stop for water breaks when it's warm since your dog is panting, but it's easy for forget when the weather is cool. Your dog may be less interested in drinking a lot of water in cooler temperatures. To encourage your dog to drink, you can add some no-sodium chicken stock to the water.
3. Watch for Chafing
Your dog may wear a harness or a jacket in the fall to keep warm. Water, dirt and mud can turn what they are wearing into sandpaper. Make sure to
check your dog often for chafing
.
4. Be Extra Aware of Safety
In fall, the weather can be more unpredictable. Rain and ice can lead to slippery trails, and shorter days can mean getting stuck on the trail after dark. It's always important to bring the
10 essentials
and a dog-friendly first aid kit (you can make your own by adding dog-specific items to a
basic first aid kit
), but it's even more important in the fall.
5. Protect Your Car From Muddy Paws
Dirty trail dogs can make a mess in the car. These
6 must-have items to help protect your car from muddy dogs
will help the inside of your car clean.
Extending the hiking season with your dog into the fall is a great way to get more hikes in. Consider bookmarking trails known for fall colors throughout the summer and saving them to hike in the late season.
What do you think is most important to remember when hiking with your dog in the fall? Let us know in the comments!