The Alps.
The seemingly endless mountain ranges spanning France, Switzerland, Italy, and Austria that has captured the imagination of mountain lovers the world over. High above Europe, it is a marvelous place for adventure-seekers. Even in the summer when the sun is hot and the days are long, the tallest of the mountains remain snow-capped, making it the most opportune time for a glacier chase.
In the summer, there is plenty of hiking, but there is also a cornucopia of other outdoor adventures for all levels and ages, from mountaineering, hut-to-hut
trekking
,
rock climbing
,
mountain biking
, paragliding and more -- the choice is yours. In both the French and Swiss Alps, there is a vast network of cable cars, ski lifts and trains, making those DIY long-distance day hikes manageable if you can ride the train part of the way up or down the mountain.
While it is true that travel to Europe can be expensive, the U.S. dollar is in a very strong position at the moment. If I were you, I would make a dash for the Alps. Rent a car, split a chalet rental with a group of friends or family, or even go camping, and you could have a true Alps experience that is your own.
While you're there, here are five towns in the Alps that you can consider your base camp.
1. Chamonix-Mont Blanc, French Alps
Right at the base of Mont Blanc, the highest mountain this side of Europe, is Chamonix, a lively mountain town. Peppered with shops and cafes (and yes, tourists), Chamonix is a unique place to experience mountain vibes mixed with a hint of French culture.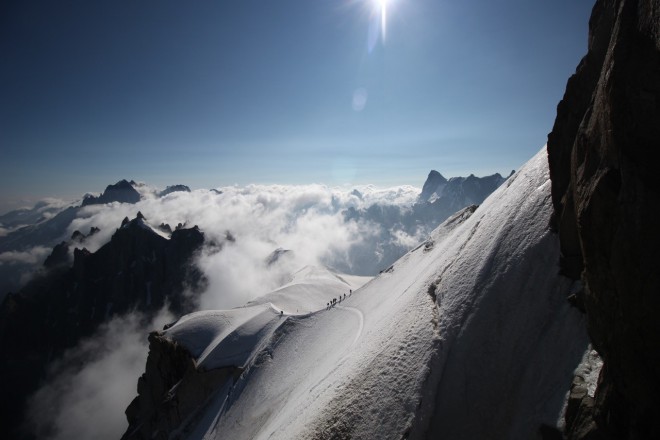 Highlight:
One cannot miss the tallest highest peak in Western Europe, Mont Blanc. You can take the gondola up to Auguille du Midi for gobsmacking views of Mont Blanc from a viewing deck. If you go, pack your layers! The wind and temperatures at over 15,500 feet can be pretty extreme. If you plan on staying in Chamonix for a few days, consider getting a Mont Blanc MultiPass. It gives you access to lifts and gondolas in the Chamonix Valley. Auguille du Midi cannot be missed, but my favorite panoramic views of the Mont Blanc massif is from the mountains across from it, in Le Brevent.
2. Argentiere, French Alps
About 10 miles north of downtown Chamonix is the quieter, more laid back Alpine village of Argentiere. Like in Chamonix, there is a gondola that can take you up and down the mountain if you are pressed on time. The difference is there are far less crowds here so you can have a slice of the French Alps and some glaciers pretty much all to yourself.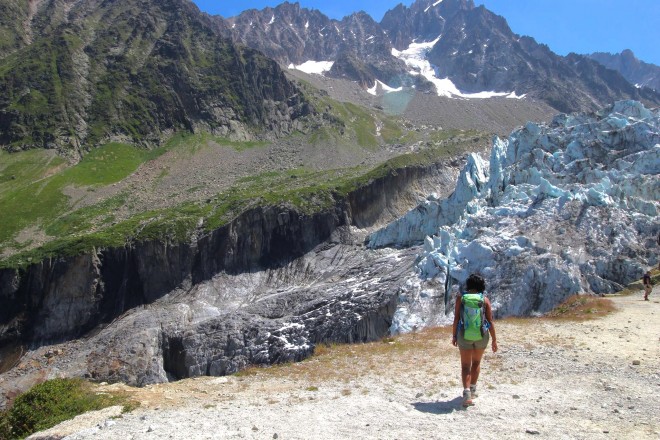 Highlight:
Hike up the mountain, through small rushing streams, to stunning and quiet views of Glacier d'Argentiere.
3. Lauterbrunnen, Swiss Alps
Dubbed as the Valley of 72 Waterfalls, Lauterbrunnen is a small alpine village located in the Bernese Oberland region of Switzerland, east of Geneva. Some glimpses of it remind me of Yosemite Valley, but with bleating goats and audible cowbells in the background. On a clear summer day, Lauterbrunnen Valley is just gorgeous - the grass in a vivid color of green, waterfalls spilling from tall cliffs on either side of the road.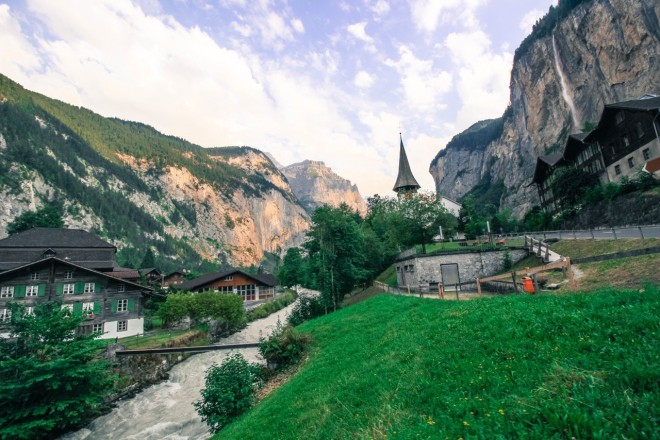 Highlight:
I am not sure if Switzerland is the European capital of hiking, but I think it could very well be. There is an extensive network of maintained trails everywhere, and there are many villages that can only be reached by foot. I suggest picking up a free hiking map from the tourist office and creating your own adventure. Trummelbach Falls is a unique marvel to behold. The largest subterranean waterfall in Europe, it is fascinating to watch the fierce glacial melt careening and carving mountain walls, sending thunderous echoes deep inside the mountain.
4. Grindelwald, Swiss Alps
Grindelwald is perhaps the busiest hub for adventurers and tourists wanting to get to Jungfraujoch, one of the most prestigious peaks this side of Switzerland. Chalets are abundant and on certain days of the week, the village puts on a small show with traditional dance and yodeling. There is an endless number of trails to hike, but my favorite one for its views and scenery is from Grindelwald to Lake Bachalpsee.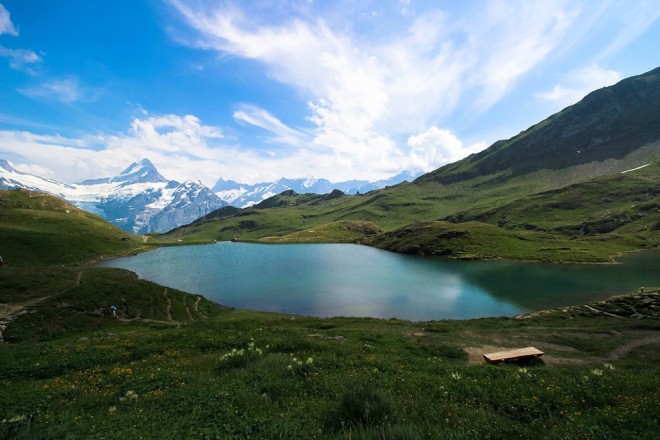 Highlight:
Jungfraujoch must to be on the bucketlist of many because this mountain, for how remote it is, gets extremely busy. Due in part to the fact that it is the highest railway station in Europe, one can get to 11,300 feet in the Swiss Alps without breaking a sweat. To escape the crush of tourists, you can easily get off the train at Kleine Scheidegg and hike the Eiger Trail from there. For a serene Swiss Alps (and breathless) experience, you can hike from the Jungfraujoch to Monchsjoch mountain hut.
5. Stechelberg, Swiss Alps
Stechelberg needs to be our little secret because it is almost mythical in its obscurity. If you drive along the Lauterbrunnen Valley, past the pastoral landscapes and the gushing rivers, you will get to a point where you dead end into a hill on one end and a waterfall on the other. That is Stechelberg, my friends. There are trails that originate right at Stechelberg that will take you on a spiderweb of adventures guaranteed to take you next to a gushing river and dense forest. The choice is yours.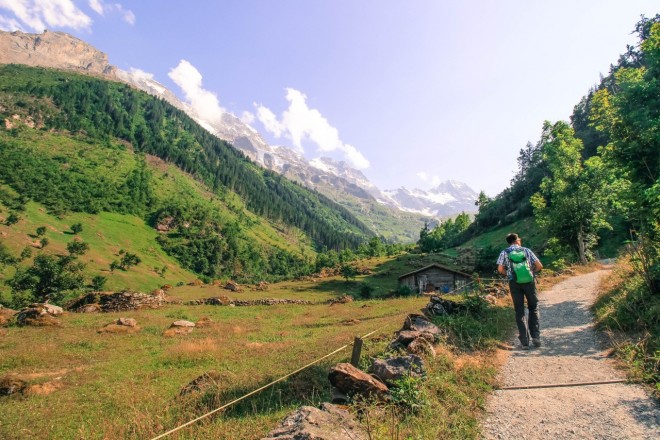 Highlight:
Sleep with the window slightly ajar, filled with dreamless sleep, to be lulled by the sound of the waterfall outside.