Classes are beginning at Colorado State University, so thousands of college students and their families have descended upon Fort Collins, Colorado for move-in day. Locals need not worry, though, because there's plenty of awesome things to do in Fort Collins to go around. Here's a list of the best places to
hike
, bike,
climb
and paddle in and around Fort Collins.
Hiking in Fort Collins
The options are endless if you're looking for a great hike in the Fort Collins area. Popular hikes in the area include hiking to the "A" on the Foothills Trail in Maxwell Natural Area, Hiking to Horsetooth Rock or Horsetooth Falls in Horsetooth Mountain Open Space, Arthur's Rock in Lory State Park and Greyrock Trail in the Poudre Canyon.
Other great hikes in the area include in-town choices like Pineridge Natural area, Reservoir Ridge Natural Area and Coyote Ridge Natural Area. You could also check out Rimrock Open Space, which is connected to Coyote Ridge. Want to get further into the mountains? Head up the Poudre Canyon and into
Roosevelt National Forest
for a plethora of other hiking options near Fort Collins.
Mountain Biking in Fort Collins
Fort Collins has a devoted and enthusiastic mountain biking community, thanks to all of the trails in and around the city. You can try looping together a few of the many trails in Lory State Park or Horsetooth Mountain Open Space and make your own tour, or head to local favorites like Blue Sky trail or Ginny trail in Bobcat Ridge. Blue Sky is known for its flowy, smooth trail, vast valley views and the opportunity it offers riders to extend their ride; try connecting Blue Sky to Rimrock, Coyote Ridge, Indian Summer or Devil's Backbone trails. Ginny trail is a favorite in Bobcat Ridge Natural Area, thanks to its challenging climbs, stellar technical riding and rewarding foothill views. Many riders take Powerline trail to Ginny trail to avoid some of the steeper climbs.
Rock Climbing in Fort Collins
There's a couple of areas in and near Fort Collins that are a climber's playground. One is Rotary Park, on the eastern shore of Horsetooth reservoir. Rotary Park is
the
place to go for a great day of bouldering, and offers a variety of routes that you can explore. Another fun place to boulder is Arthur's Rock in Lory State Park.
If you're looking for some great sport climbing, head up the Poudre Canyon and check out The Palace and Crystal Wall. Both climbing areas are located just past the beloved Mishawaka Amphitheater and are favorites for local climbers. Keep in mind that to get to The Palace, you have to park on the edge of the 2
nd
pull-off after the tunnel and then cross the river on foot. Do not attempt this crossing in high water! Instead, wait until the water is lowest in late summer or fall and cross over a series of rocks downriver to an island, and then to the opposite bank from there. Once you reach The Palace, there are a ton of sport climbing routes for you to explore. Levels range from 5.8 to 5.12, so there's something for everyone!
You don't have to cross the river to get to Crystal Wall, so you can safely reach it year round. Park on one of the pull-offs right after the tunnel, walk north along the west side of CO-14, find the purple ropes to aid your approach and follow the trail up to the crag.
Paddling, Boating and Fishing in Fort Collins
Looking for some water-bound adventures? You're in the right place! Fort Collins is flanked by two of the best places to enjoy the water -- Horsetooth reservoir and Cache La Poudre river.
The crown jewel of the Fort Collins area is no doubt the Cache La Poudre river. The river itself is a registered National Heritage Area, and offers a variety of recreational opportunities to the adventurous. Grab some innertubes and float down the slow-moving river in town, or access the river in the Canyon to experience challenging rapids. The Cache La Poudre river is also great for
fly fishing

.
Horsetooth reservoir offers six and a half miles of open water for boating, swimming,
paddle boarding
and kayaking. It borders the west side of the city and can be accessed from both Horsetooth Mountain Open Space and Lory State Park. If you don't own a kayak or SUP, don't worry! You can always rent one from one of the multiple rafting and adventure companies in town.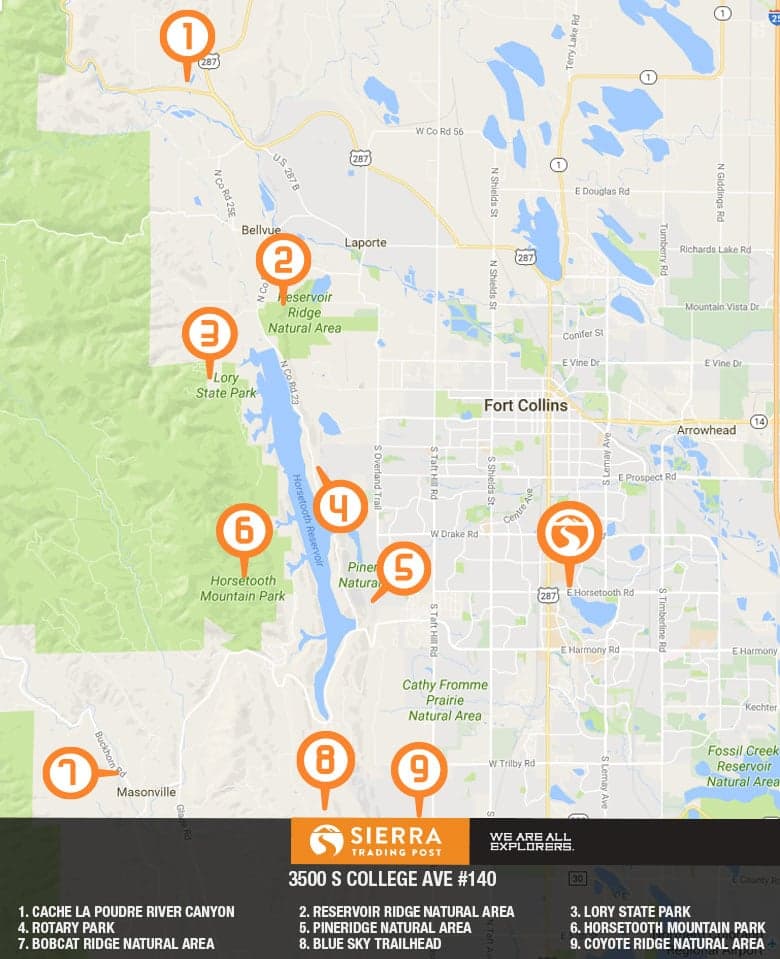 There's so much to do in and around Fort Collins that I couldn't possible cover it all. What did I miss? Where are your favorite places to hike, bike, climb and paddle?