There's really nothing like fall on the East Coast. Just ask the flocks of leaf peepers who flood windy back roads to take in the turning leaves!
We may have made an entire industry around leaf peeping and pumpkin spice, but there's no reason you can't escape the crowds and take to the trails to get some fall foliage viewing by foot. Here are some excellent East Coast hikes to get your leaf fix.
1. Vermont: Mt. Mansfield
This moderate Sunset Ridge trail up the iconic face-shaped Mt. Mansfield is a particularly great fall hike because you remain above treeline for a while, traversing Mansfield's face until you reach the true summit on the "chin." On a clear day you'll enjoy views of both Vermont's Green Mountains as well as the Adirondacks in New York. At under seven miles, this moderate trail is a pleasant challenge; where better than Vermont's tallest peak to take in fall colors?
2. New York: Mt. Marcy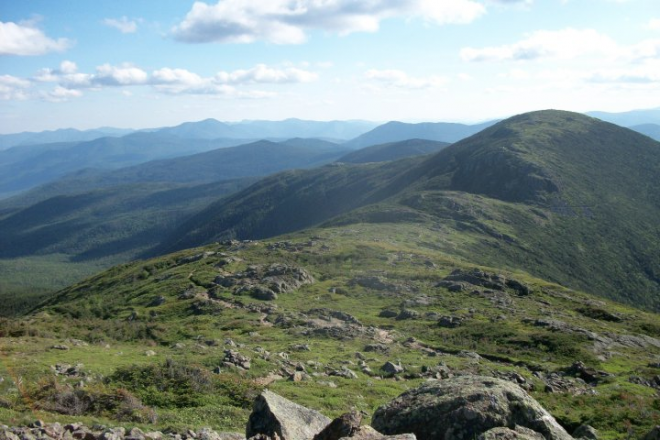 Marcy is New York's tallest peak, nestled within the high peaks region of the Adirondacks in northern New York. You'll likely encounter quite a few hikers on this trail, and for good reason. Turn this moderate hike into a leaf-peeper's dream weekend by camping at Marcy Dam. Start at the Adirondack Loj via the Van Hoevenberg Trail, a flat path winding through thick woods, and camp at the Dam before making your summit attempt.
3. New Hampshire: Rattlesnake Mountain
New Hampshire boasts some stunning, massive peaks, especially in the Presidential Range. Hiking Mt. Washington, known for having the most wicked weather anywhere, is absolutely worthwhile, but if you're looking for a quieter hike that will only take about an hour, check out Rattlesnake Mountain, near the popular climbing area known as Rumney, about 30 minutes outside of Concord. You'll get an eyeful of color and it's a great hike for kids.
4. Pennsylvania & New Jersey: Appalachian Trail - Delaware Water Gap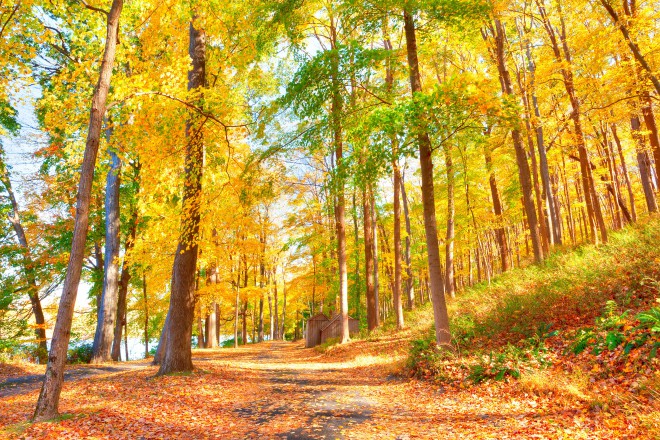 The 2,000-plus mile Appalachian Trail, winding its way from Georgia to Maine, is a leaf-lover's dream no matter where you are. If you're in Pennsylvania or New Jersey, stop by Delaware Water Gap Recreation Area and get in a section hike -- 28 miles of prime AT course through this park, and there are lots of awesome side trails to choose from. When your feet are tired, hop in the car for a quick ride around the park itself.
5. Maine: The Bubbles - Acadia National Park
If you have time to spare, take the long drive up to Acadia National Park on the tip of Maine. This island park boasts rocky coastal beaches, gentle mountains, and more character and personality than you'll know what to do with. The Bubbles (north and south), rising over Jordan Pond in the heart of the park, offer epic views of the pond, the ocean and the park. The start is steep and requires a bit of scrambling, but the descent winds through gentle forest, providing something for everyone.
6. New Jersey: Buttermilk Falls and Beyond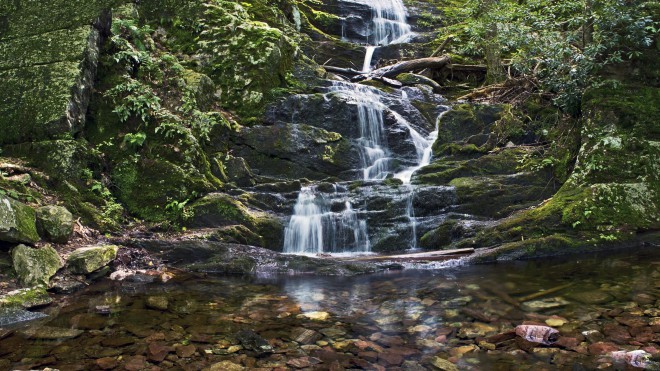 Buttermilk Falls is the tallest waterfall in New Jersey, and with easy access to the road, it can get extremely crowded. Get in a different view by hiking up the Appalachian Trail as it ascends steeply toward Crater Lake, and then continue on to Hemlock Pond for a less crowded experience. At 7.5 miles, it's easily done in half a day, and will afford you more views than the crowds will get down at the base of the falls.
7. Massachusetts: Upper Goose Pond
The Berkshires are definitely where it's at when it comes to idyllic fall scenery, and the added bonus of great Berkshire towns like Great Barrington and North Adams make a trip to this western portion of the state worthwhile. Take your kids on their first overnight by hiking along the Appalachian Trail to the cabin at Upper Goose Pond. They're sure to get bitten by the hiking bug when they see the picture perfect pond and the undeniably cool cabin built there.
Whether you're looking for a short drive outside of Boston or New York City, or a long trek to a remote Maine park, the East Coast boasts the best fall hikes around.
Can't get enough of fall? We've got just what you need:
5 Must-Do Fall Hikes Along Colorado's Front Range
Find Fall Colors in These Pennsylvania Parks
10 Fall Bucket List Items You Can't Skip
3 Breathtaking Hikes Near Aspen, Colorado
7 Tips for Fall Camping