Every season has its perks and high points, but none quite like autumn. Summer's scorching temperatures are behind you and it's time to relish in fall's crisp, cool air. Temperatures drop, everything pumpkin spice tastes just a little better, and ski season is just around the corner! But there's more than just pumpkin spice that makes autumn my favorite season to be outdoors.
The leaves that fall from deciduous trees make camping more comfortable.
In a wilderness survival class I took in college, we learned how to build several different types of shelters should we find ourselves outside without a tent. One of my favorites, and one of the easiest to build, is the A-frame shelter. After we built ours, we were instructed to stuff them with leaves to keep our bodies warm, but that pile of leaves felt more comfortable than some camping mattresses I've used. Pile a bunch under your tent and you'll sleep like a rock.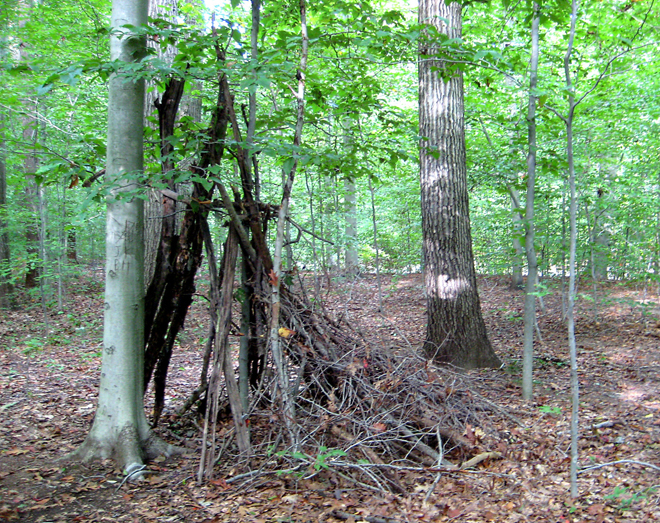 It's the perfect chance to perfect your photography skills.
Who doesn't want to come home from a trip with great photos? As great as capturing images of autumn's bright colors on your phone might be, they'll be much better shots with a real camera. If you're like me, you've got at least one incredibly talented photographer friend willing to teach you a thing or two. Desktop applications like Paint.net are great for editing at home if you're not a professional. So break out the real camera and give your smartphone a break.
The temperatures are as good as it gets.
Summer hiking in Southeastern Pennsylvania, where I live now, or upstate New York, where I'm from, means heat, humidity and a lot of mosquito bites. Winter hiking is a blast, but only if you're a fan of cold weather. Spring is temperate, but often comes with rain showers. In autumn around here, the temperatures are ideal. Strip down to pants and a t-shirt for hiking during the day, then layer up with a fleece and snuggle up in a warm sleeping bag at night. It just sounds wonderful, doesn't it?
Hot cider, even from a mix, tastes amazing at the end of the day.
One of my favorite post-hike drinks is a mug of hot apple cider and luckily, it's in season this time of year. If you're car camping or on a day hike, taking a thermos full of piping hot cider is a great way to keep hydrated. If you're backpacking, even hot cider mix can do the trick after a long day on the trail. Add a little spiced rum for the perfect outdoor nightcap.
It's a chance to test your layering system.
During tough hikes, evaporating sweat can chill you to the bone while you'll lose heat through exposed skin. Though it can be a challenge to find just the right set of layers to keep you at just the right temperature while you're on the move, fall is the season to embrace that challenge. Layer up to avoid excess sweating, but if you're backpacking, be sure to pack a hat, gloves and other cold weather essentials because once you stop moving, you'll need them.
And finally, the most obvious reason to love being outdoors in autumn --
deciduous trees look absolutely beautiful.
Many species of deciduous trees grown in areas that experience cold winters shed their leaves to protect themselves from, among other things, losing moisture to harsh winds and tissue damage the leaves would face if they kept growing. Trees transition to a dormant state in the fall and as the chlorophyll in the leaves breaks down, green colors yield to stunning reds, oranges, and yellows.
There are many, many more reasons to get outdoors in autumn. What are your favorites?