Fall is the perfect season to explore new places, or even re-discover old favorites in their fall attire. Mild temperatures and changing colors make getting into nature a must during the autumn months. If you're looking for new trails and wilderness areas to discover this fall, these six states won't disappoint.
1. Washington
Not many people think of Washington as a fall foliage destination, but the cool temps in the Pacific Northwest are perfect for larch trees. And if you've never seen a larch in its fall prime, you need to add this sight to your list. Larches are coniferous trees with deciduous habits. In the fall, their needles turn bright yellow before dropping from their branches.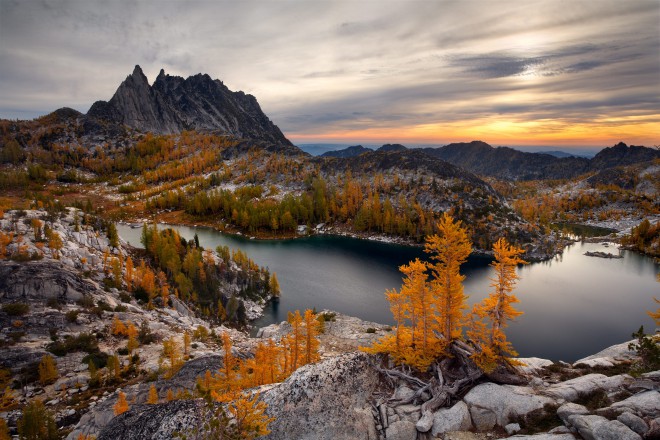 If you're on the hunt for larches (which you should be!) hike Cutthroat Pass, go on a backpacking trip through the Enchantments or head to Pasayten Wilderness for all sorts of outdoor fun, from mountain biking to fly fishing to hiking and backpacking. If you're feeling especially adventurous and have your Passport on-hand, head north to Banff National Park in Canada.
Best time to go:
The first or second week of October is usually when larches are at their peak.
2. Utah
Known for its multitude of gorgeous national parks, Utah is a state that should be ventured into any time of year. Fall is an especially desirable time to explore Utah because the temperature is mild and the leaves are popping. The star of fall here is the aspen tree. Bright yellow leaves that can have an orange hue make hillsides look like they are on fire... in a good way.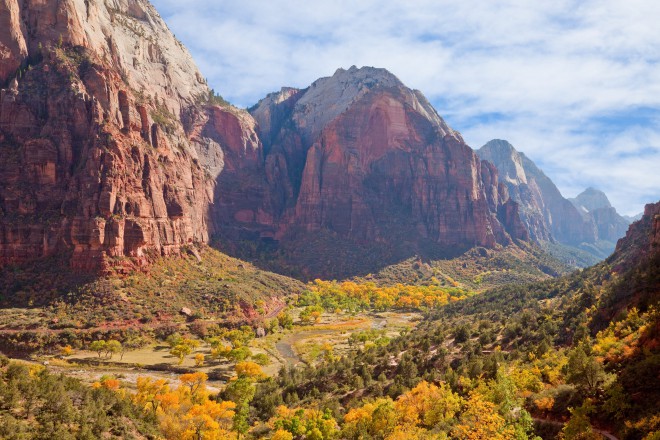 Zion National Park is certainly a sight to see in the fall. Stairs Gulch near Salt Lake City is a short but beautiful hike to take in some fall colors. You can also check out Stewart Falls near Sundance for a dose of fall and to check out one of Utah's most popular waterfalls. If you find yourself near Summit County, check out Lost Prospector Trail in Park City. Prefer taking in the sights from the comforts of your car? Drive along the Alpine Loop scenic drive just east of Provo.
Best time to go:
Late September or early October are your best bets for seeing fall colors in Utah.
3. Vermont
Well known for dazzling fall colors, you can't go wrong with an autumn visit to the East Coast. Head to Vermont to see the red-orange foliage of the mighty maple tree. Check out a cider mill while you're there or indulge in some cider donuts.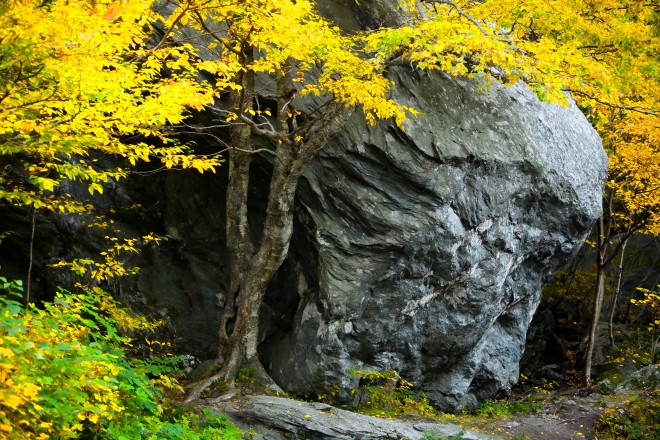 Check out Stowe for some breathtaking leafage. Hiking, kayaking, mountain biking, zip-lining and more are all available in this Vermont mountain town. Sugarbush Resort near Fayston is another beautiful area that offers mountain biking and hiking trails, such as Camels Hump and Burnt Rock. You could also venture to
Mt. Mansfield
for a moderate hike in Vermont's
Green Mountains
and take in the views from up high.
Best time to go:
Usually the first half of October offers the best fall colors in Vermont.

4. Arizona
Yes, you can find fall colors in Arizona! Milder temperatures make fall a great time to visit this desert state. But the real draw to visiting Arizona in the fall, or any time of year, is the state's lovely mountain towns.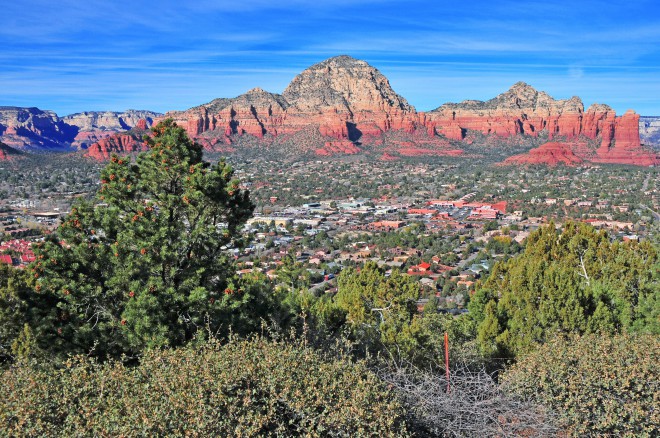 Head to Sedona for a mix of red rock and bright orange and yellow fall colors. Hikes like Fay Canyon, West Fork and Huckaby will put you right in the middle of some of Sedona's prettiest places. Flagstaff is also worth a visit, with beautiful aspen views in Wilson Meadow and at Bismarck Lake. Horton Creek in Mogollon Rim near Payson is another spot you should check out while looking for color in Arizona.
Best time to go:
Arizona fall colors can be found in late September or early October.
5. Minnesota
The large variety of deciduous trees, including oak, elm and poplar, make the Midwest an ideal spot for seeing fall colors. The variety usually allows for a longer leaf-viewing season, which is great news for people who just can't get enough of those changing leaves.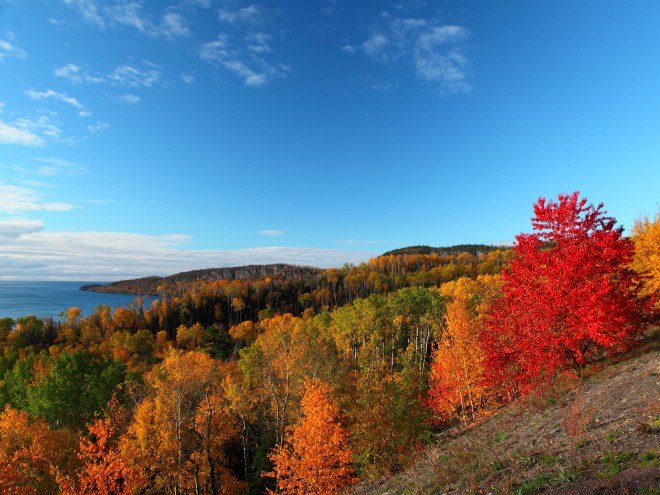 Check out the Superior hiking trail in northern Minnesota to take in fall colors from a vista view. Try the Paul Bunyan State Trail in Baxter to immerse yourself into fall foliage by bike. If you enjoy rock climbing, head toward the Mississippi River to Barn Bluff for the best sport climbing in Minnesota.
Best time to go:
While each specific area peaks at a different time, in general Minnesota fall colors can be enjoyed late September through late October.
6. Colorado
If you love the Colorado mountains in summer or winter, you'll go ga-ga over them in the fall. Bright yellow aspens cascade down the mountains through deep green pines, creating a magical scene for fall color-lovers.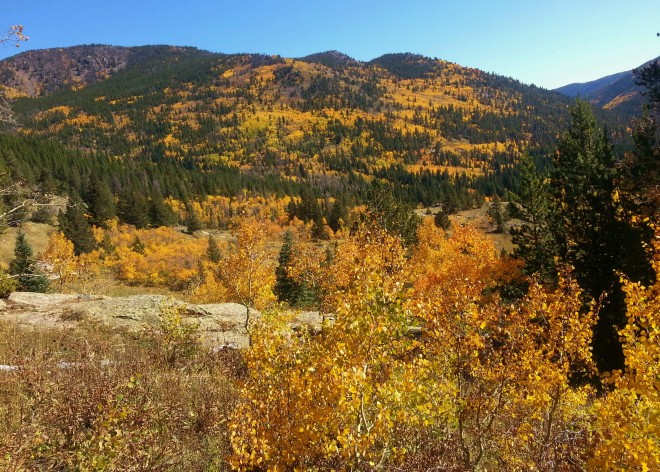 Go to the mountains to find fall foliage in Colorado.
Steamboat Springs
offers hiking, mountain biking, hot springs and more.
Aspen
has, well, tons of aspens, including those surrounding the majestic Maroon Bells. Any ski town along I-70 is sure to satisfy that fall foliage craving. Or stay closer to the front range (Fort Collins, Denver, Colorado Springs) with
these hiking suggestions
.
Best time to go:
Late September and early October are the best times to see fall colors in Colorado's mountain towns.
Where are your favorite places to visit in the fall?