It's tempting to get on the trails as soon as the spring thaw hits, but early season hiking requires some extra thought. Mud, snow and high-water crossings are all part of spring hiking -- not to mention unpredictable weather. Stay safe and comfortable on the trails this season by including these five pieces of gear for spring hiking in your daypack.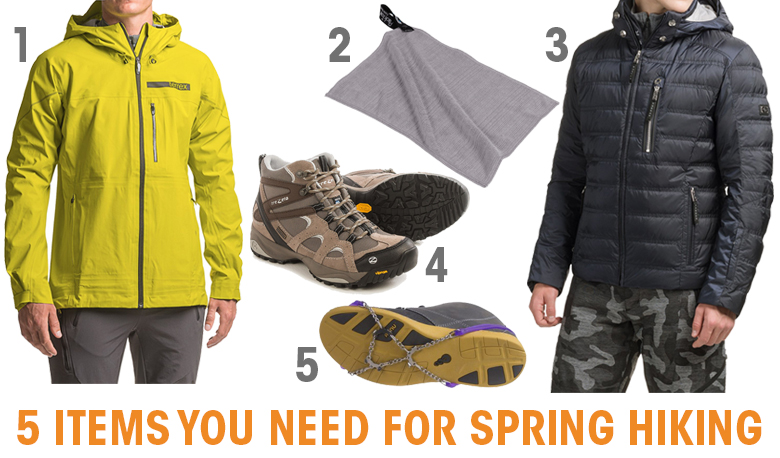 1. Waterproof Jacket
Spring is a rainy season in many parts of the country, so prepare yourself by packing a
waterproof jacket
. Many rain jackets offer fully seam sealed, waterproof protection at a light weight that can easily be stuffed into a pack. This is one of those "better safe than sorry" daypack essentials.
2. Lightweight Towel
Snow, puddles and water crossings all have one thing in common: They're wet. Prepare yourself by adding a lightweight
pack towel
to your daypack essentials. Pack towels are soft, light and excellent at absorbing water; some can take in up to five times their weight. A small towel can help you dry off after water crossings, rain showers or any other water encounter, leaving you more comfortable on the trail.
3. Packable Insulated Jacket
Fluctuating springtime temperatures make grabbing an extra layer a no-brainer. Packable
down or synthetic puffy jackets
are the perfect solution for packing extra warmth into a tight space. These insulated jackets often pack down into their own pockets or stuff sacks, allowing you to carry a warm coat without adding bulk to your bag.
4. Waterproof Hiking Boots
While this item goes on your feet, not in your pack, it's still worth mentioning the power of waterproof boots while spring hiking. Wearing hiking boots made with a waterproof breathable membrane (such as Gore-Tex®) will up your comfort level when faced with wet terrain. Remember that when hiking on muddy trails, it's best to trudge through puddles and mud rather than walking around. This prevents erosion and keeps favorite trails in good condition. All the more reason to wear
waterproof boots
!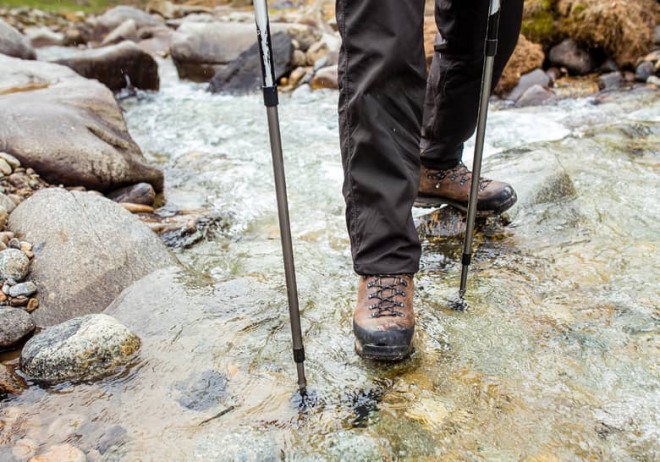 5. Traction Spikes
If you're venturing into higher elevations or hiking on trails that don't get much sunlight, ice and snow are very likely in the spring. Fumbling up and down slick terrain is no fun; trust me. Trekking poles can add stability, but the real magic lies in traction spikes. A number of brands make
traction devices
that can easily slip over a hiking boot to give better grip on ice. Traction types vary from chains to cleats to spikes, depending on how slick the terrain is.
Adding some type of traction to your shoes lets you cruise through icy trails without the fear of slipping. I'd highly recommend throwing a pair of traction spikes into your daypack for any early season hikes.
Pro-Tip:
While many consider spring to be March-May, mountains are often late bloomers. If you plan to do any hiking at high elevation, check the trail conditions. Trails above 10,000 feet can have snow and spring-like conditions through July. Make sure you're prepared!