After spending years trying to make it happen but being thwarted by life's obligations, I was thrilled: I finally had figured out how to adventure for an entire week in Moab, Utah. Having heard so many wonderful things about this red-stoned desert oasis from outdoor-minded folks, I had a long list of spots to visit, hikes to take and sites to see.
Then, reality hit: my partner had a work obligation that would mean our six-day adventure would be cut in half. But what about this long list of top-priority adventures I had created?
I was crestfallen. That lasted all of an hour, though, once I realized I still had an opportunity to visit an amazing place, and just needed to prioritize what mattered most. I can't say the ensuing trip really qualified as a "vacation," because cramming the most sites and activities as possible into three days isn't really a relaxing experience, but look at it this way: I did it, so you don't have to.
If you have a chance to visit Moab for just a day or two, here are the things you should check out - and what you should skip - to make the most of your time there. Lest I offend, please note that those items listed as "skips" are just as stunning and worthwhile to experience, it just happens that they don't top my personal list.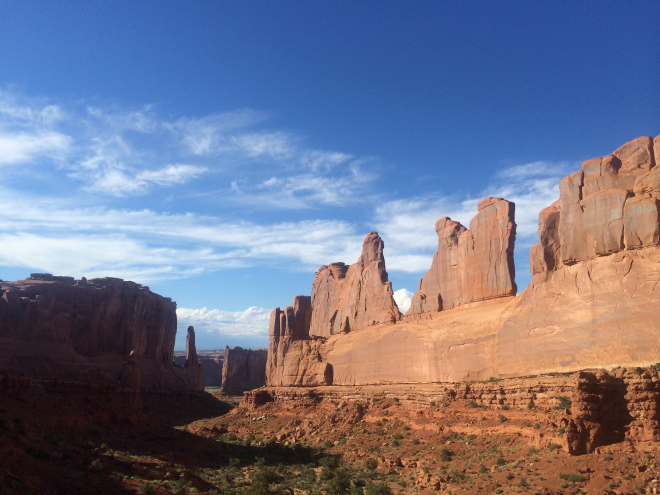 See: Arches National Park.
This one's a no-brainer. While my partner and I wanted to take the time to hike to iconic Delicate Arch and the various keyhole formations scattered throughout the park, I felt satisfied spending a few hours driving through the park and walking the short distances to the major tourist vistas. Yes they will be crowded, but it's worth it to drink in this alien-like attraction.
Skip: Hole 'N The Rock.
Yes, it's cool. It's a home carved into a rock, and not just any home: a 5,000-square-foot historic home. Families might find this trip a bit more worthwhile, as it offers some historical lessons, but the tourist/gift shop nature of this stop had me wishing we spent our time elsewhere.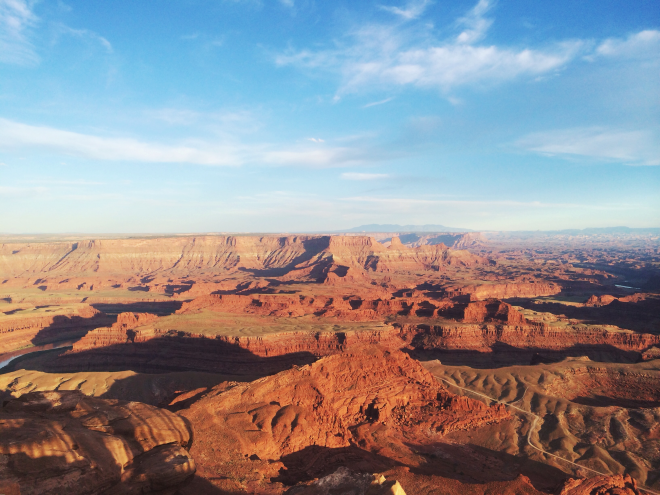 See: Dead Horse Point.
If you can time it right, visit this utterly breathtaking canyon vista at sunset and witness a sunset like you've never seen before. The dying rays of the sun paint the canyon in gold, pink and purple, and it every time you blink, the view seems to change as shadows shift and the light fades. There's a good reason this place is one of the most photographed in the United States.
Skip: Canyon Rims Recreation Area.
This dog-friendly recreation area, while certainly beautiful, is a bit of a haul outside of Moab proper, and while the Needles Overlook is definitely breathtaking, the amount of time and driving it requires to navigate this vast open space is a bit much for those on a tight timeline. Add to this the fact that the maps provided at the entrance are woefully inaccurate and don't include the copious number of non-marked paths, and you'd be better off wandering elsewhere.
See: Negro Bill Canyon (hike).
Unlike many of the other hikes around Moab, Negro Bill Canyon winds along a luscious stream. The greenery is lush and any canine companions you may have will love the opportunity to swim. The views are unparalleled as you look around at smooth canyon walls, feeling a bit like an ant in a maze, and the pay-off is Morning Glory bridge, a massive natural arch bridge curving over a natural clear water spring.
Skip: Corona Arch (hike).
This will sound like blasphemy to some, and if you have the time, definitely give this hike a try. It's certainly short - only 1.5 miles - and also insanely popular, so if you're looking for a private outdoor experience, go elsewhere. If you got your fill of arches in Arches, though, give Negro Bill Canyon a look and enjoy a change of pace.
There are an untold number of other attractions to see — and some exceptionally tasty spots to eat (Peace Tree, I'm looking at you) in Moab itself — but the list above definitely reigns supreme in my book. If you find yourself with a few hours to spare, also take a spin around Canyonlands, or hike Fisher Towers — both are worth an honorable mention.