If you're deciding between a waterproof jacket that features
Gore-Tex® Active
or
Gore-Tex® Pro
, chances are you love spending time outside. You need a high-quality jacket that will protect you from the elements, and both of these options will do just that. But Gore-Tex® Active and Gore-Tex® Pro offer different benefits for different uses and conditions. If you spend a lot of time exploring the outdoors, you want to make sure you get the jacket that best suits your needs. Let's cover the difference between the two so you can make a well-informed decision as you ponder the best waterproof jacket for your next adventure.
What's the difference between Gore-Tex® Active and Gore-Tex® Pro?
Designed to meet the high standards and needs of mountain guides, alpinists and freeriders,
Gore-Tex® Pro
waterproof breathable technology features ultra-durable, abrasion-resistant construction, excellent breathability, and superb waterproof and windproof protection. It manages moisture to keep you dry from the inside out, and offers optimum comfort during activities with frequent work-rest cycles. It's the most durable of the Gore-Tex® technologies, and performs best in extreme conditions.
Gore-Tex® Active
, on the other hand, features the most-breathable fabric in the Gore-Tex® family, and is meant for activities where your heart rate goes up and stays up for an extended amount of time. Fast-paced, high-intensity, done-in-a-day activities in wet or unpredictable conditions call for the ultra-breathable waterproof and windproof protection of Gore-Tex® Active. The ultra-breathable construction features soft, lightweight fabric, and offers excellent next-to-skin comfort. Plus, it wicks moisture and dries quickly to keep you dry and comfortable from peak performance through cool down.
Gore-Tex® Active vs. Gore-Tex® Pro: which should I choose?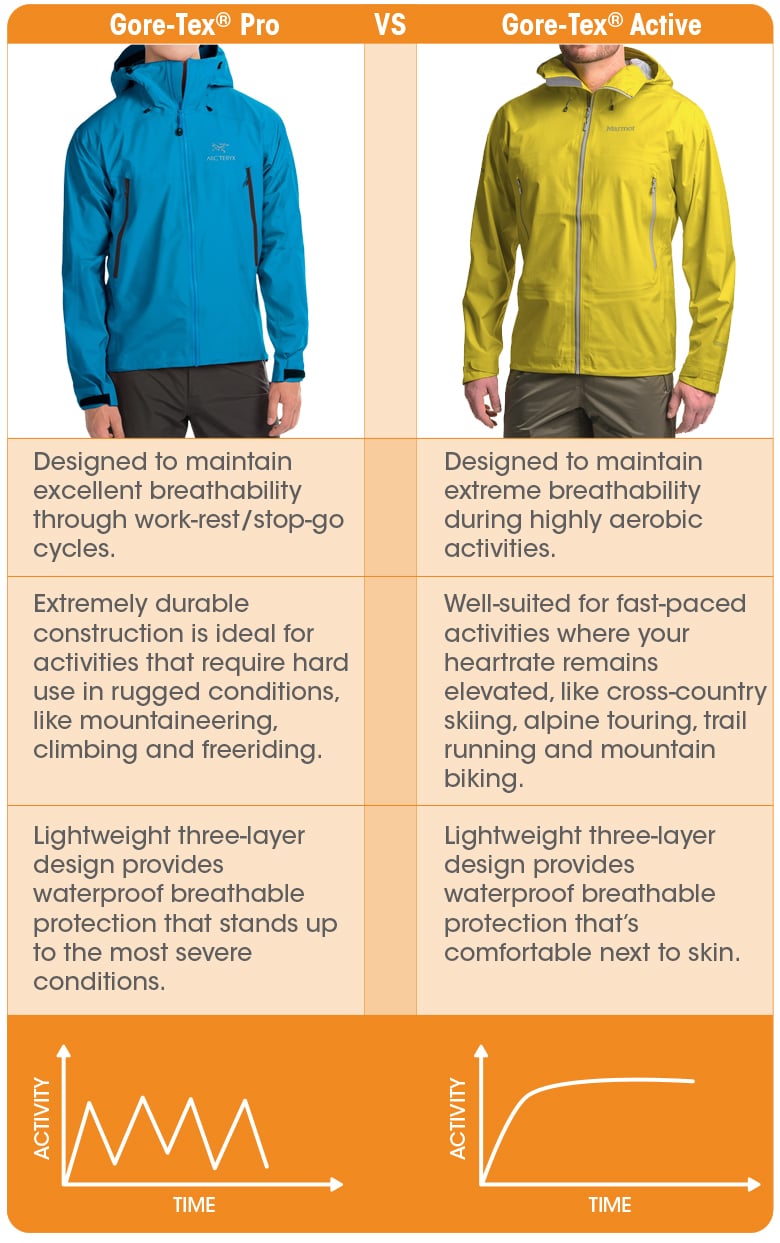 If you're looking for comfortable waterproof breathable protection during your time spent trail running, road running, mountain biking, cross-country skiing or alpine touring, the extreme breathability and moisture-management performance of Gore-Tex® Active is the best choice for you.
If you need a jacket that not only keeps you dry in extreme conditions, but also stands up to hard use, long-term wear and the perils of rugged terrain, choose a jacket with Gore-Tex® Pro. Activities like mountaineering, freeriding and climbing usually require the superb durability and protection of a Gore-Tex® Pro Shell. Alpinists and outdoor professionals tend to go with this option, as well.
What are some other Gore-Tex® technologies?
There's a bunch of other
Gore-Tex® technologies
besides Gore-Tex® Active and Gore-Tex® Pro. They all offer dependable weather protection, but are designed to have slightly different benefits. Here's some short descriptions of most of them to help you with any other Gore-Tex®-related decisions:
Gore-Tex®
waterproof breathable membrane is waterproof, windproof and highly breathable, allowing for maximum comfort during a wide range of activities.
Gore-Tex® Performance Comfort
membrane combines durable waterproofness and optimized breathability to keep feet dry in moderate weather conditions.
Gore-Tex® Performance Shell
is a durable, waterproof breathable fabric engineered for a wide range of outdoor activities.
Gore-Tex® PacLite®
waterproof shell is extremely breathable, lightweight and packable.
Gore-Tex® Soft Shell
waterproof breathable fabric is highly durable, windproof and designed for outstanding freedom of movement.
Gore-Tex® N80P-X
is a super-durable, waterproof breathable hard shell fabric created by Arc'teryx in conjunction with W.L. Gore.
That covers most of the Gore-Tex® technologies you'll find as you shop waterproof jackets. Need more information about waterproof gear? Check out our
waterproof guide
. Want to learn about how waterproof technology actually works? Learn the science
here
. Curious about waterproof ratings and the difference between waterproof and water resistant? It's all explained
right here
.