The Narrows in Zion National Park isn't your typical walk through the woods. In fact, it isn't hiking through the woods at all. The Narrows will have you knee to waist deep in a river with massive canyon walls on either side of you. It's a hike well worth the time and effort, but it's important to go well-equipped to make your trek as comfortable as the canyon is beautiful.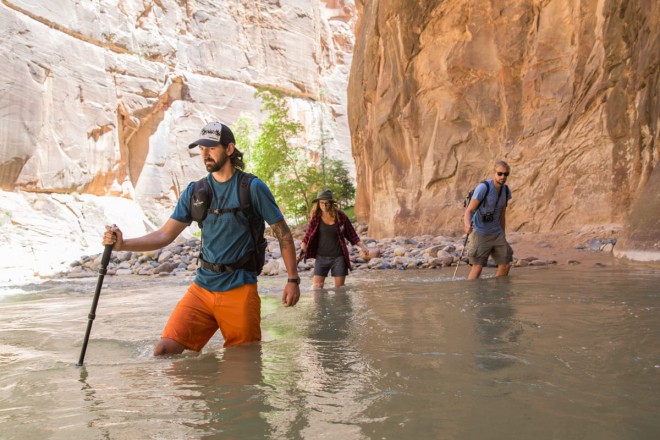 There are a few essential items you'll need to enjoy The Narrows. That includes fast-drying clothes, shoes that will give you good grip, something to stabilize you while you carefully make your way back and forth across the river, and a camera to capture those inevitable good times you'll be having.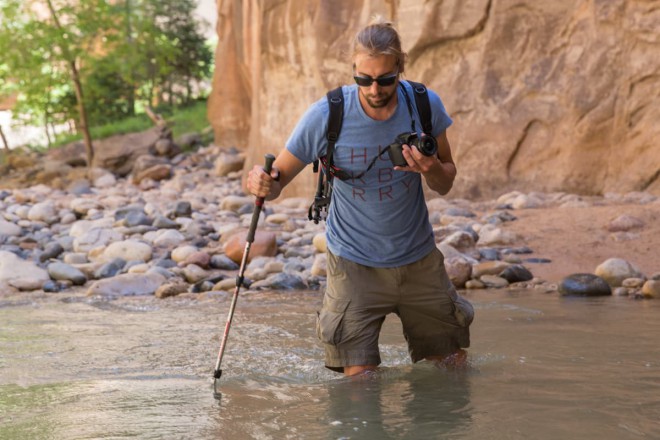 You can rent these things from the conveniently located gear shop within the park. But as you can imagine, they come with a pretty hefty price. They'll recommend you rent their neoprene suits to stay warm in the brisk water, some pretty clunky neoprene boots, a hiking stick to keep you stable, and even a dry bag to keep your valuables safe.
While well intentioned, you just don't need any of the rental gear! It's totally doable to get away with gear you already have, or gear you can get at
low prices
and reuse time and time again.
I recently braved The Narrows with no experience, just a little ingenuity, and came away unscathed and with plenty of good memories. Here is how my friends and I coped with gear we already own.
Hiking The Narrows: Clothing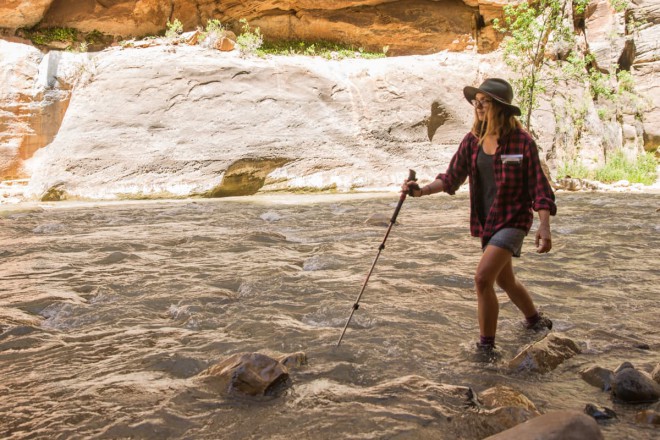 The summer air is warm but the water is pretty chilly! You'll want a comfy t-shirt or light long-sleeve paired with some microfiber shorts that will dry quickly as you make it from one side of the river to another. The neoprene rental suit is overkill. The water isn't
that
cold. And your wallet will surely thank you.
Browse hiking clothes
Hiking The Narrows: Hiking Sticks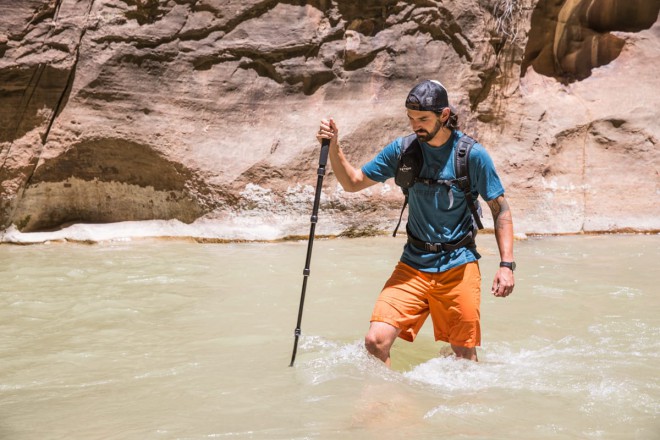 Sticks in nature are free. Sticks from the rental gear shop cost $10. I felt that was ridiculous so I opted to use my camera's monopod as my walking stick, and it worked just fine! If you have a set of hiking poles, share one with a friend. One sturdy stick to lean on is all you'll need in the water as long as you're careful.
Browse Trekking Poles
Hiking The Narrows: Footwear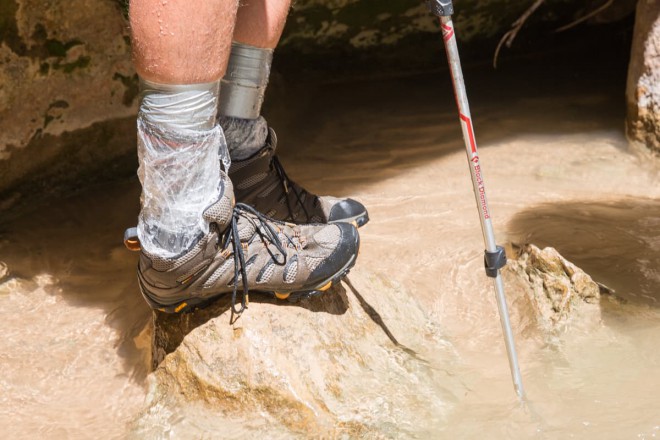 Like the neoprene suit, the fancy boots are just as unnecessary. A trusty pair of fast drying hiking boots or trail running shoes will do the trick! My
Merrell
All Out Crush shoes gripped the river bottom great and drained the water right out. If you're trying to keep your feet totally dry, good luck! Not even plastic wrap and duct tape will keep you immune to the cold water.
Browse Hiking Shoes
Hiking The Narrows: Bags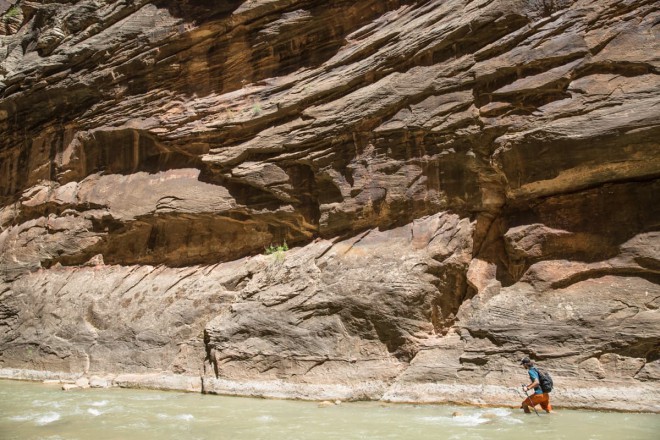 Depending on if you plan on falling in the water, you may or may not need a
dry bag
. I felt fairly confident and didn't have any issues carrying a normal backpack. It kept all my snacks, camera gear, phone, wallet, keys, etc. together without ever touching the water. If you're worried about taking a plunge, grab a cheaper alternative to keep your stuff dry before you enter the park.
Browse Hiking Packs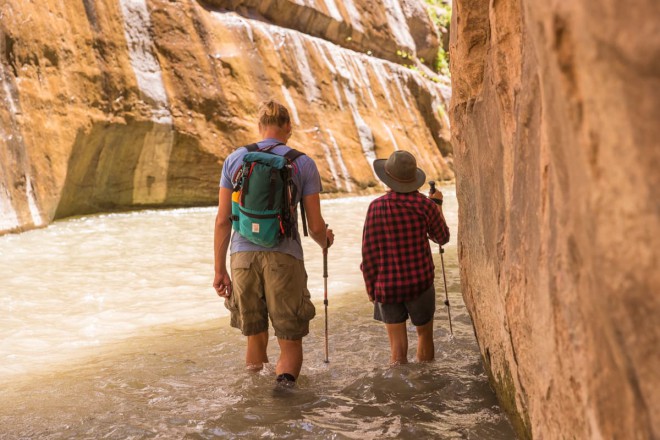 Choose your steps carefully in the water and choose your gear carefully. Do that and you're bound to have a pleasant day in The Narrows. Happy trails!

*All photos courtesy Adam Fricke