First things first: there is no such thing as an "easy" 14er. Fourtneers, or any peak higher than 14,000 feet elevation, are serious business. Some may only require a few hours for the most fit, but even the least "serious" of these hikes require a good deal of preparation and research. If you have your sights set on tackling a 14er this season, heed the following do's and don'ts for a safe experience you'll want to recreate.
Do: Choose carefully.
Not all 14ers are created equal. Many of these peaks are nearly a marathon in length. Many require technical climbing skills. None of the above are good for your first adventure above 14,000 feet. Consider choosing a more moderate mountain from our list of
great 14ers for first-timers
.
Don't: Try to be a hero.
Every year, tons of inexperienced hikers attempt to make the iconic Longs Peak their first 14er summit. It's easy to see why; this mountain is visible from across Denver and beyond and is easily accessible, with a paved road and parking lot at the trailhead. Every year, about half of those who attempt this hike don't make it to the top. Up your chances of success by choosing a more reasonable starting point.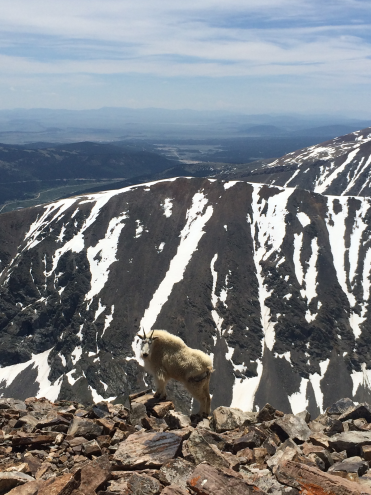 Do: Check the weather
. Even on the shortest and "easiest" of 14ers, the weather can turn a half-day adventure into a potentially deadly experience. Keep in mind that the weather at the trailhead has absolutely no bearing on what the weather at the summit will be like.
Don't: Act invincible
. If you're on your way up your first 14er, and the weather takes a turn for the worst, turn around. Any bad weather at treeline or below will be infinitely worse above treeline.
Do: Get started early
. Really, really early. Lessen your chances of being caught above treeline when the inevitable afternoon (or morning!) storm rolls in — and avoid some crowds — by starting super early. I'm talking 4 a.m. No, that's not when your alarm goes off — that's when you hit the trail. Give yourself plenty of time to get up and down before any sort of bad weather starts.
Don't: Go alone
. Always take along a hiking buddy who is of a similar fitness level to you. Someone who eats 14ers for breakfast may be bored by your pace. An avid gamer whose idea of exercise is a walk to the fridge will lag behind.
Do: Bring plenty of water and food
. Water is especially important; the lack of oxygen, perspiration and heavy breathing will dehydrate you. It will vary person to person but a good rule of thumb is one liter for every three miles, and it's always better to have more than not enough.
Don't: Forget to bring plenty of clothes and layers
. Yes, your pack will be very full. But keep in mind that a sunny, 80-degree trailhead has no bearing on the summit temperature; it could easily be 40 degrees colder up there. Bring multiple, breathable layers, a water-resistant layer, a hat and gloves.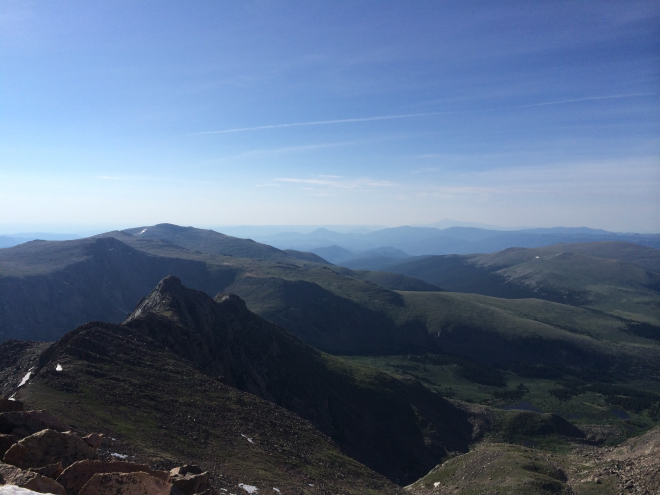 Do: Get acclimated, if you have the time
. Make your trip into a lovely weekend outing by camping near the trailhead the day before. Most trailheads start at several thousand feet above Denver's 5,280 feet, so a night at elevation will help you acclimate. If you are from out of town, give yourself several days, if not longer, to get used to the elevation, and stay hydrated!
Don't: Try to set records
. The start of many 14ers can be deceiving. Rather than beginning at a breakneck speed, pace yourself. Take breaks, slow down if you need to, and have frequent, small snacks. Slow and steady wins the race.
Do: Prepare (short term and long term)
. For the beginner-oriented 14ers listed earlier, the trail and trailhead access is all pretty straightforward. Still, it would behoove you to do your research to ensure you know the path the trail follows and any side trails you may encounter.
Don't: Take shortcuts
. The Colorado Fourteener Initiative does an amazing job creating and maintaining trails on Colorado's mountains. Many of the more popular peaks have "herd paths" created by individuals looking for shortcuts. Not only do these shortcuts usually end up not saving time, they destroy the delicate ecosystem living on these mountains and contribute to erosion. Stay on trail even if you're itching to get to the summit faster.
So, how about it? Do you plan to hike a 14er this season? Ever? Which one?