Just the thought of scaling a 14,000-plus-foot mountain is enough to induce shortness of breath in the initiated. Colorado is full of these peaks — called "fourteeners" for obvious reasons — and every summer, aspiring mountaineers set a goal to tackle their first (and maybe only) 14,000-foot mountain, often not knowing quite where to start.
Hiking a 14er, even those deemed "easier," is never "easy." If hauling up several miles and several thousand feet were easy, everyone would do it. And yet many Coloradoans have never set foot above 14,000 feet, except perhaps after driving to the top of Pikes or Mt. Evans, two peaks with paved roads to the summit.
Some 14ers are better to start with than others. Let's take a look at good starting points for the aspiring Colorado peakbagger.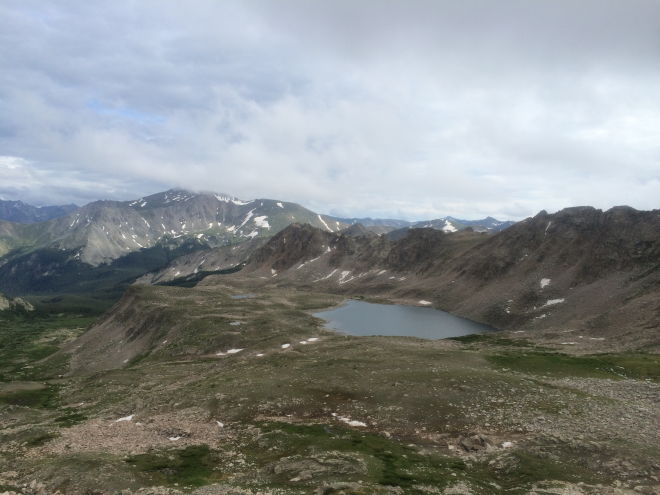 Choosing your peak

Despite what some seasoned hikers and 14er peakbaggers may tell you, there isn't a single "easy" 14er. Not all 14ers are created equal, and some are much more challenging than others, but all are difficult in their own way. If you haven't spent much time at altitude, simply
breathing
above 8,000 feet will be a challenge.
Your first 14er should be a mountain with relatively easy access and a straightforward trail. Many of Colorado's highest peaks are reached only by pitted 4WD roads. Then, making it to the top requires significant route-finding ability. For your first, you're better off choosing a peak with paved road access, a parking area and minimal opportunities to deviate from the trail.
Mount Bierstadt
: With its ease of access (leave I-70 at Georgetown and simply drive up Guanella Pass to the massive trailhead parking area) and simple, straightforward trail, Mount Bierstadt is
the
peak for most aspiring 14er hikers.
The trail winds along the west face of Bierstadt, covering less than 3,000 feet over three plus miles to the summit. For reference, any hike that covers less than 1,000 feet over the course of a mile is a more moderate climb.
The trail itself is more a highway than a hiking path, wide enough in many places for five or more people to ascend lengthwise. It begins on a flat and winding path through marshes in the valley, and culminates in a final quarter-mile push that requires a bit of scrambling but no technical equipment or skill.
For these reasons, the trail will no doubt be crowded throughout the summer, and selfie-taking climbers will cluster at the summit. But, the views are stunning, and if you can find an private spot, you can pretend you're alone at 14,000-plus feet.
Mount Democrat
: Most hike Democrat as one of several 14ers in a four-mountain peak bagging adventure. But, for those looking to simply bag their first, a quick jaunt up and down Democrat is an excellent choice.
The trailhead starts at 12,000 feet, meaning the two-mile climb to the summit barely ascends 2,000 feet. The ample parking area at Kite Lake outside Alma offers bathrooms and beautiful alpine camping as well.
Minimal route finding ability is required — just make sure that when you get to the saddle between Democrat and Mount Cameron, you bear left and follow the trail west up Democrat's ridge.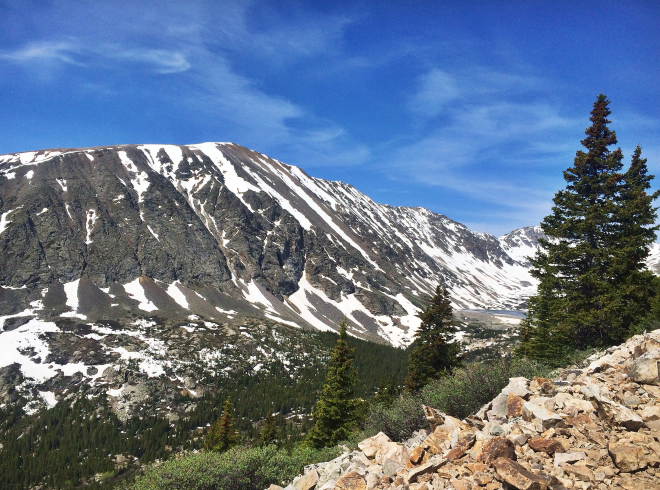 Quandary Peak
: Another easily-accessed peak, Quandary is a bit more challenging than Bierstadt and Democrat but still a viable option for those interested in pushing their limits.
The Class I trail requires zero route finding ability and, as an added bonus, includes some stunning forest hiking at the start. A large trailhead parking lot with porta potties makes parking a breeze, though those who find the upper lot full will be forced to walk a bit further after parking in the lower lot.
Some may find the views from Quandary's east ridge trail a bit more breathtaking than from Democrat or Bierstadt, as well. That's partially because it's gorgeous but also because the trail itself covers nearly 3,500 feet in just under seven miles.
Bonus:
If you're in great shape and really looking to challenge yourself, check out
Mount Harvard
. The trail to the summit covers 4,600 feet over 14 miles — a long and arduous day, especially for the inexperienced — but the trail itself is absolutely beautiful, straightforward and popular. Inexperienced hikers would be better off bringing along a friend who has hiked a few, though, if they want to start with this massive peak.
Whether you want to bag just one 14er so you can say you did it or you're hoping to eventually summit all 54, starting off with Bierstadt, Democrat or Quandary is a solid launching point.
So how about it? Are you ready to bag some Colorado peaks? Before you get started, check out our list of
14er Dos and Don'ts
, created with first-timers in mind.