I love hiking in the autumn.
When the trees change from green to vibrant reds, yellows, and oranges.
When the mornings are chilly and the afternoons bright and sunny.
When I can sip fresh apple cider and stash pumpkin bread in my daypack for a snack on the trails.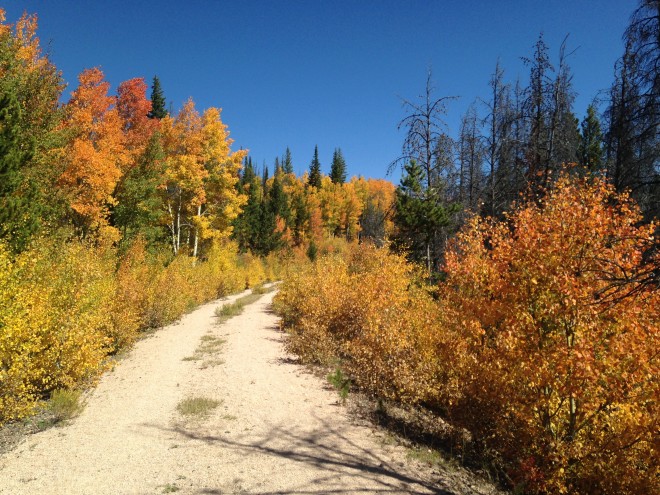 But if you live in an area like I do, falling leaves mean you'll be sharing the wilderness with hunters looking for game. It's important to be a little bit more cautious when you're in the wilderness.
Here are a few tips to safely hike through hunting season.


Learn a little bit more about the areas you plan to explore. A simple Google search can tell you hunting season dates, what animals in your area hunters are looking for, where hunting is permitted and when to expect to see hunters in the woods. Armed with this knowledge you can plan your routes and outdoor adventures.


Hunters typically look for game away from popular trail networks, so stick to well-established trails during hunting season. Hunting season is a great time to visit a National Park or a State Park that doesn't allow hunting.


Try to learn when hunters like to hunt and avoid hiking during that time of the day; typically this is early in the morning or late in the evening, when wildlife is active.


Be careful around areas where animals have been hunted. Hunters are required to follow a set of guidelines when it comes to disposing and removing animal carcasses. It varies by region. Even if rules are followed, a kill site can attract predators looking for an easy meal. If you stumble across a kill site be on high alert for animals like bears, wolves and mountain lions.


Wear brightly colored clothing and try to make yourself seen and heard. While hunters are required to wear neon orange in most parts of the United States there is no such requirement for hikers. It's best to leave the neutral colored clothing at home and make a fluorescent fashion statement. It's also good to be louder than usual. Talk, sing, whistle, hike with a crying baby; all of these noises will let hunters know that you're in the area. Hunters and wildlife both prefer to be away from noisy trails, so make your presence known.


Protect your dogs. Get a neon vest, collar or leash for your dog and try to keep your dog on a leash if you can. A dog tromping through the brush can be mistaken for game.


Do you hike during hunting season? How do you stay safe? What tips do you have?