When we're carrying everything we need for an outdoor adventure, we all want a lighter pack. We want to cut every ounce that we can. For some, that means cutting off the edges of maps and ditching toothpaste for tooth powders. For others, it means trading in the tent for a tarp and carefully measuring food proportions.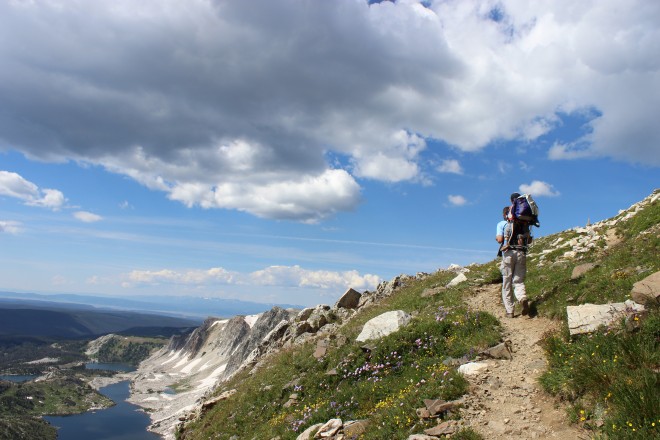 But what if you can't reduce the weight of the gear in your pack? What if you are hauling a heavy toddler on your back and carrying all of the gear for the both of you? Or what if you simply want to bring a few comfort items on your backpacking trip and don't mind hauling the extra weight?
The truth is that sometimes a heavy pack is inevitable. But there is good news. There are simple ways to make carrying that heavy load just a little bit
easier.
Plan Ahead
The first step is to take into consideration the weight of your pack, the weight of your gear, the duration of your trip, the terrain and the weather conditions. With a little bit of planning, you'll be able to separate your "wants" from your "needs." If you want, simply leave the "wants" at home or in your car at the trailhead.
Choose the Right Backpack
Next, choose a pack that fits your gear and your body size. Some people go as far as calculating a ratio of pack weight to body size to find this. But I'd just head over to your favorite gear shop and ask an expert to fit your pack. You can read Sierra Trading Post's
backpack buying guide
to learn more about choosing and fitting your backpack. A
properly fitting pack
can do wonders when it comes to carrying heavy loads.
Distribute Weight Evenly
If you know you're going to be carrying a heavy backpack, pay close attention to
how you pack it
. A lot of hikers and backpackers recommend packing the bulk of heavy items centered toward the middle of the pack to distribute the weight. However, if you're packing around a child or two you might not have much choice in how the weight is distribute on your back (or front).
Make a Smart Route Choice
When it comes time to select your route, look for terrain that offers gentle elevation change if you can since you'll be working hard to get to your destination. Pay close attention to your surroundings to avoid things like bushwhacking and areas with challenging footing. You should also know your physical limitations and how the weight of your pack will affect how much energy you'll spend on the hike. Try out your heavy pack on a few short day hikes to get used to the weight and to get into shape. Even if you're in good shape, try to select a trail that has scenic vistas, shade, water or a nice place to stop and take a break every mile or two. Plan a little bit of extra time into your day so you can hike at an enjoyable pace.
Use Your Gear Thoughtfully
Be extra careful when putting your pack on and taking it off. Try to prop the pack up on a stump, log or picnic table, ask for help, or squat down to put your pack on to avoid straining your back. When hiking with trekking poles, use the straps properly and use good poling technique (like you're cross-country skiing.) While poles shouldn't be used as a crutch to support body weight, they can help provide a little bit of extra stability when navigating difficult terrain, like creek crossings and scree fields.
It's not always fun to hike with a heavy pack, but with a little bit of planning and preparation, hiking with extra weight doesn't have to be a miserable experience.