Hiking with your family is a great way to spend time together outside. If you can walk, you can hike, which makes it an ideal activity for family members of all ages and ability levels. But when your idea of a fun hike is different from that of the rest of your family, you can run into some problems. Personally, I enjoy summit hikes that make you work hard for an outstanding view. My family? Not so much.
The first time I took my parents on a hike in Colorado, I just about killed them. I chose a waterfall hike in
Rocky Mountain National Park
and was excited to show them all of the beauty I had discovered out West. The out-and back hike wasn't supposed to be long or strenuous, so I thought it would be a good one to do as a family. But I didn't realize the trail went up a gradual hill for the first mile. I also didn't take into account that my parents, who lived in a Wisconsin city with an elevation of 500 feet, would struggle to hike in a Colorado park with a starting elevation of 7,800 feet. Oops.
The hike started out well enough, but by the first mile my parents were ready to call it in. I had never done the hike before and was eager to get to the end, so I urged them to keep going, impatiently setting a fast pace and hoping they'd follow suit. The day ended with my mom sitting face down at a restaurant table in Estes Park, too nauseated by altitude sickness to eat, and me never seeing the end of the hike. It was a lose-lose situation.
Let's just say I learned my lesson. And to prevent you from nearly killing your family on a hike, I want to share these family hiking tips.
1. Think About Ability Levels - I Mean Really Think
When choosing a trail for a family hike, make sure you take a variety of factors into account. How in shape is your family? Are you hiking with small children? If you have family visiting from out of town, what is the elevation difference? These are all things you should consider when choosing a family hike. While there may be a difficult hike you want to check off your bucket list, it might not be a good fit for the rest of your crew.
2. Share Details About the Hike with All Involved
Make sure everyone knows what they're getting themselves into before starting the hike. I like to take family members on hikes I've already done so I can give details about the hike before and during the excursion. A few years ago I hiked Hanging Lake with my parents in Glenwood Springs, Colorado. I made sure to tell them that the hike was steep, but short, and I kept them updated on our progress along the way. Knowing details about the hike can help put your family in the right mindset to push on to the beautiful views at the end.
3. Make Sure Everyone is Well-Equipped
Does everyone have the right
shoes
and
layers
for the hike you're about to do? Most importantly, does everyone have water? If your family is visiting from out of town, especially if they're coming from a lower altitude, you'll want to make sure that you bring plenty of water to help ward off altitude sickness. I usually fill a
day pack
with water, snacks and sunscreen to share with my family on our hike. For more details on what to bring on a hike, check out Sierra Trading Post's
packing list
.
4. Let the Slowest Hiker Set the Pace
Setting a hiking pace for family members of different ability levels can be challenging. To make sure no one falls behind or overexerts themselves, it's best practice to let the slowest hiker in the group set the pace. If you're in a big group, you can split into two smaller groups of similar ability levels. Splitting your group may be the best option if you're with children of different ages or impatient hikers.
5. Be Prepared for a Change of Plans
Remember that the point of a family hike is to enjoy exploring the outdoors together. Have fun in the moment and don't worry too much about the final destination. Be ready to turn around before the end of the hike or to choose a different hike if your family isn't feeling it. And make sure you allow yourself enough time to take plenty of breaks along the way.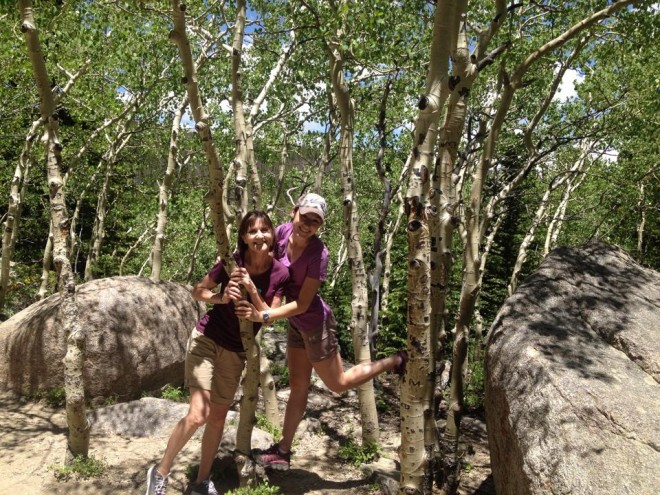 What do you think is most important to keep in mind when hiking with family?