Growing up I was able to eat all sorts of foods all the time. I mean I was cracking peanuts out of their shells during baseball season, fish off the grill that we caught earlier that day, and cookies between surf sessions.
As I've gotten older, I've had to alter my diet. Not only because I work a desk job, but also because I've developed food allergies. You know what food allergy I have that worries my doctor the most?
Peanuts!
That's been killing me because I used to love eating trail mix on hikes and having it as a snack at the office when I'd get the afternoon munchies. Only problem is peanuts are in every trail mix bag I've found!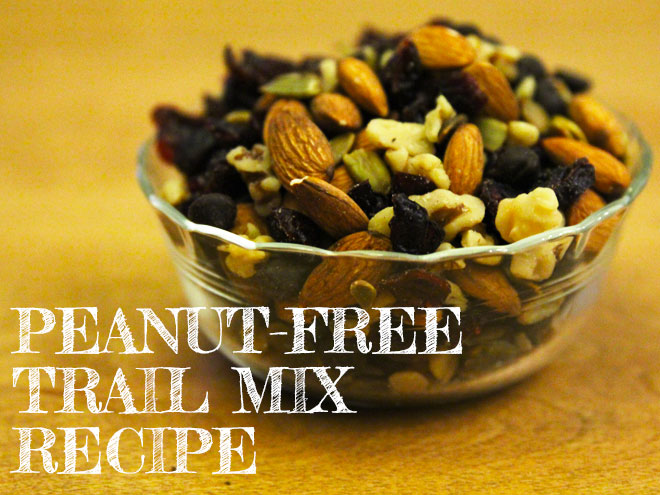 I can always opt for that tropical mix that's filled with dry fruits, but all I really want is a trail mix with little chocolates and other nuts, like almonds. I'm baffled at the fact I can't have peanuts, but almonds, cashews, walnuts, and any other nut on this planet are fair game.
That's why I've put together this peanut-free trail mix for my fellow outdoor enthusiasts that are also allergic to peanuts, but can indulge in every other type of nut.
What You Need:


1 mixing bowl


1 cup almonds


1 cup walnuts


1 cup dried cranberries (craisins)


2/3 cup pumpkin seeds


¼ cup dark chocolate chips


1 set clean hands or a spatula


Something to store your trail mix


Directions:
Take all your ingredients and dump them into the mixing bowl. With your clean hands (or a spatula, if you're a Germaphobe) mix all the ingredients together. It should only take about 15 seconds of mixing to blend it all together.
Now you have a few options to store your trail mix. You can put it in a gallon bag, divide it out into smaller portions or put it into a container with a lid. It's up to you and when you're going to be eating your trail mix.
Makes 10 Servings
Nutrition Facts per Serving:


296 calories


26 g carbs


8 g fiber


5 g protein


19 g total fat


3 g saturated fat


23 mg sodium


Make this peanut free trail mix and take with you on the trail, to the office, or to the beach. It's a tasty alternative to trail mixes that have peanuts in them and you can customize it to your liking.
Note: You can substitute 1 cup of dried cherries and 1 cup of dried blueberries. It'll be a lot more expensive.
**Justin Fricke is a regular contributor to the Sierra Social Hub as part of #TeamSierra. Learn more from him on his blog:
Justin the Weekend Warrior
.