Spring is a season that is admired for the warmth and life it breathes back into the outdoors, but these desirable attributes often blind us to the season's major flaw: its unpredictable. Yes, as lovable as it may be, spring can often be a bit flaky and unreliable. If the season's sunny skies and melting snow have you lusting toward adventure, be sure to pack accordingly. Watch for these product features to stay prepared this spring.
Versatility
Depending on where you live, spring weather can provide a roller coaster of temperatures. Sometimes even a day hike can be hard to plan for, so look for products with versatile features. Versatile products prevent you from over-packing and over-buying, which is definitely a win-win situation.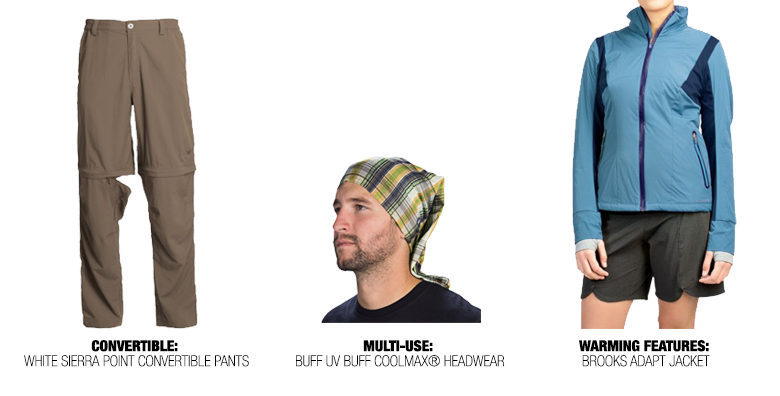 Convertibles:
Some people deem apparel with zip-off features nerdy, but I
love
my
convertible zip-off hiking pants
. They're perfect for varying temperatures and altitudes and allow me to change from shorts to pants and back again in just a few minutes.
Running and cycling jackets
are also well-known for their convertible features, allowing athletes to go from a long-sleeved jacket to a reflective vest with the pull of a few zippers.
Multi-Use:
Products with a variety of uses, such as
Buffs
, make for great spring accessories. Turn your Buff into a hat or balaclava if the temperatures dip, or use it as a headband to wick away sweat and protect you from the sun when it gets warm.
Moisture-wicking layers
can also work in this sense by keeping you warm when worn together and keeping you cool when worn separately.
Warming Features:
Jackets with warming features such as
thumbhole cuffs or stowable hoods
are perfect for in-between seasons. When it's chilly, you can use these features to give you a boost in warmth. When the sun comes out, simply remove your hands from the cuffs or pack-up your hood and keep on trekking
Packability
If you need to pack a handful of layers, you'll want to make sure they pack up nicely. Lugging around a pack filled to the brim with bulky jackets and sweatshirts is never fun.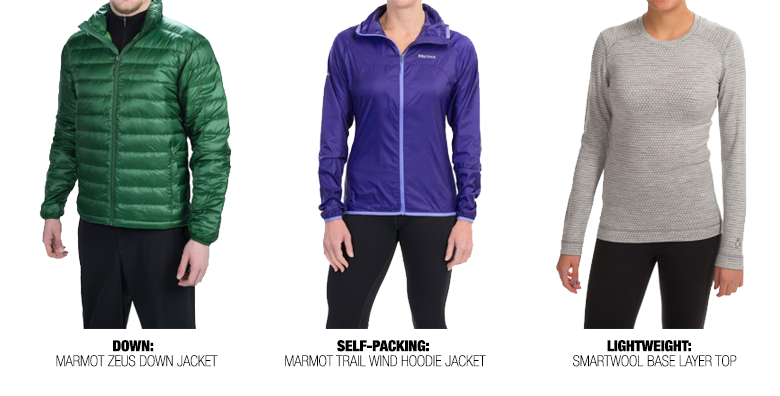 Down-Filled:
Down jackets pack the most punch when it comes to warmth in a lightweight coat. They can be folded, rolled or squished into a small size to fit into your pack without taking up too much room.
Down jackets
with a high fill power (650-800) will keep you the warmest while maintaining their packability.
(Learn more about down.)
Self-Packing:
Some
jackets
pack neatly into their own pockets, making them the ultimate packable items. Other coats come with their own stuff sack, which also helps you cut down on space in your pack.
Lightweight:
Just because something is made of a heavy fabric doesn't necessarily mean it will keep you warmer than apparel made with lightweight materials. Ditch your bulky, cotton sweatshirts and look for base layers made of high-performing fabrics such as merino wool. Adding one or two high-quality
base layers
to your gear closet will keep you warm as you explore without weighing you down.
(Learn more about merino wool.)
Protection
Product features that protect you from spring's varying conditions will serve you well for exploring in this unpredictable season.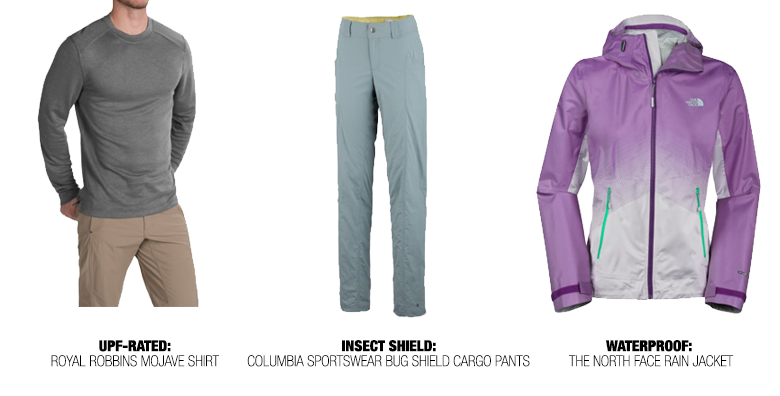 UPF-Rated:
Ultraviolet Protection Factor (UPF) ratings are becoming important as we become more aware of the sun's damaging factors and are similar to SPF ratings used to rank sunscreens. If an article of clothing is labeled with a UPF of 50, this means 1/50 of the UV radiation will pass through. In other words, you're protected from 49/50, or 98%, of the UV radiation. A UPF of 30 means you are protected from 29/30 of the UV radiation present, or 96%.
UPF-rated garments
range from 15 to 50+, with 50+ providing the best protection.
Insect Shield:
Protect yourself from ticks, mosquitoes, flies and other bugs that will start to resurface as the temperatures rise with
bug-repelling garments
. Most of these types of clothing infuse Insect Shield® technology into the fabric, creating an odorless repellent built to last 70 wash cycles, or the average lifetime of a garment. An EPA-approved pesticide called permethrin is the main ingredient in this technology.
Waterproof:
Fend off the rain with waterproof
jackets
,
shoes
and
pants
. Waterproof gear consists of special waterproof membranes or coatings that other gear — including those that are water resistant — doesn't have. For extra protection, look for products that are seam-sealed, meaning the stitching on the garment is sealed, taped or welded to prevent water from penetrating the small openings between the thread. Fully seam-sealed gear, or that with ever seam sealed, will give you the most protection from wet conditions.
(Learn more about waterproofing.)