Grab your favorite pair of
hiking boots
or trail shoes and your
rain shell
because any kind of weather is good hiking weather. Finding that perfect day where the sun is out and the wind lightly blowing might not happen as often as you would hope. Why not head to the trail even if it is raining or the trails are muddy.
Hiking in the rain can be a very cleansing and relaxing time. To me listening to the rain hit my rain shell is incredibly soothing. Just like listening to the rain pitter patter on the roof of a tent or the roof of the house when you are trying to fall asleep.
The rhythm of the rain keeps your mind occupied enough to keep you aware of your surroundings but can allow your mind to wander. Focusing on the rain can also help you notice your surroundings more so than you normally would.
That moment when it begins to rain there is a distinct smell to each and every ecosystem. The animals become calm and in that calm before the storm the forest or desert seems to be welcoming the rain with open arms. Where is your favorite place to smell a storm?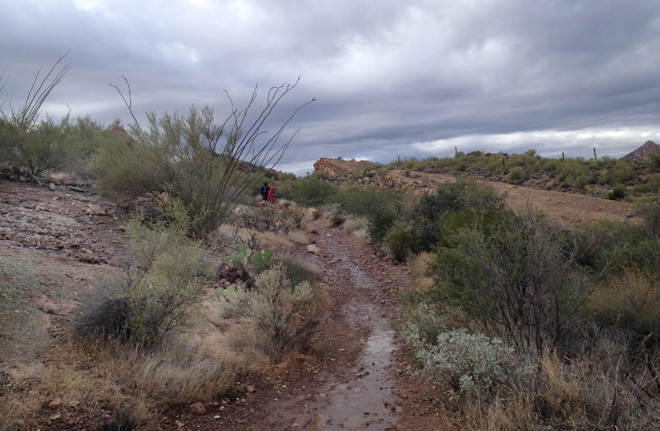 Downpours can turn trails into rivers and the weather can become severe at times. Keeping calm and knowing basic weather safety skills will help you weather any storm. Make sure to check your local weather before you head to the trails. Keep your eyes on the skies to watch for inclement weather that may pop up. If you're hiking in an area that you are new to or unfamiliar with make sure to do some research or ask if there is any kind of weather that you should be careful of. The Midwest has its tornadoes, the desert has its flash foods, and the East Coast has its Nor' Easters.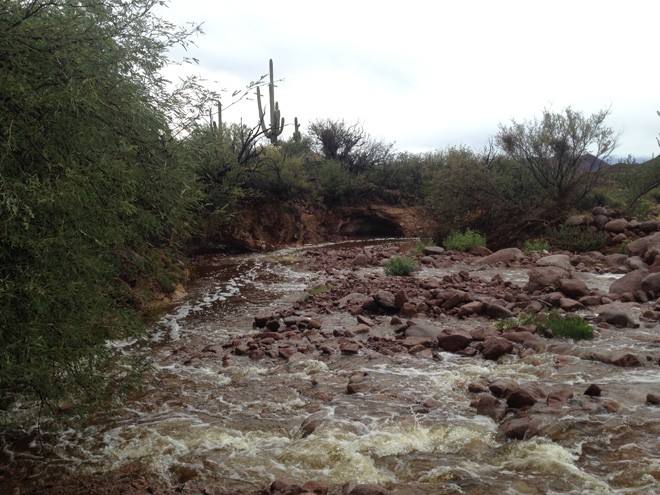 Keeping a positive attitude and knowing that even with the most expensive gear you will get muddy and wet is the key to having a good time in the elements. Also knowing when to turn around can keep you safe when things get too severe. The mountain you are trying to summit or the trail you are trying to finish will be there for years to come. No need to put yourself or others at risk trying to go just a little bit further.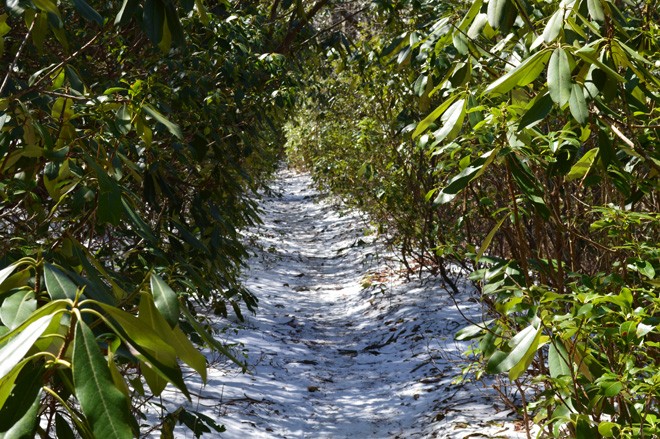 As winter slowly melts away and spring begins to thaw the trails will become muddy. Just like the rain, muddy trails should not keep you from putting in some miles. Even though they might be a little more challenging they will surly keep the fair weather hikers and outdoor enthusiasts away.
With a little water and some scrubbing your boots can look just like new after a day hiking in the mud. That is if you do not just take them out again a few days later to do it all over again and just let them stay muddy.
In the end you should not let anything get in your way of your hike trail run or even ride. Instead simply embrace the weather and enjoy every season as it is.