No matter how many times you've hit the trails, there will always be some pieces of gear that you don't value as much as the others. These select pieces of gear aren't fun to talk about at the trailhead, they often don't come in as many colors, and yet they do a lot of work to make sure you stay dry and comfortable. No, I'm not talking about rain gear or sleeping bags. I consider the following list of items to be the most undervalued pieces of gear in backpacking:
Tent Stakes
Tent stakes might not seem that important. If you have a
freestanding tent
that stands upright on its own you may have asked, "Why are they even there at all?" Stakes greatly increase the strength of your shelter and believe it or not, they help keep you dry. Many tents come with a
bathtub floor
to keep water out. If it rains hard and the your tent isn't properly staked out, the pressure of the water on the bathtub floor can cause it to fold over and let water into your shelter. On the other hand, tent stakes help the keep the walls of the bathtub floor taut which keeps the water on the outside where it belongs.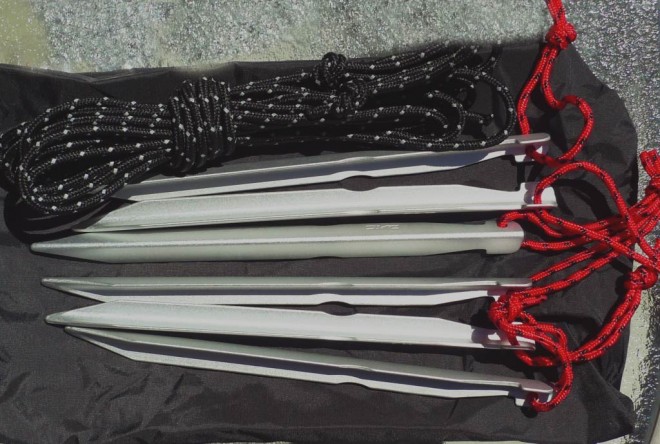 I had a non-freestanding tent on the John Muir Trail, which depends on stakes for structural support. During a heavy rainstorm the ground became very soft like a sponge and saturated with water. A gust of wind came up and one of the stakes was pulled out of the ground which caused my shelter to collapse. Everything I owned was thoroughly soaked in a matter of seconds. While stakes may not be needed when the weather is great, they can quickly become a necessity in poor weather conditions. It's a good idea to look at your tent stakes and consider what ground conditions you typically stake your tent out in. You'll want stakes that have good holding power for the specific situation at hand. Usually tent stakes with a "y" shape have the most holding power, and
tent stakes with a "v" shape
come in second. However, there are other types of tent stakes that are specifically designed to perform better in sandy or snowy conditions. Tent stakes not only work hard to keep you dry, but they also provide other benefits that typically go unnoticed. For example, stakes usually help secure your rain fly so that it doesn't flap around as much during the night. They can also provide
a stable platform to cook on
if you have any problems with your stove or fuel.
Socks
Hiking involves spending a lot of time on your feet, so it's important to take good care of them. Happy feet start with great socks. I've found that the socks I wear are just as important as the shoes I choose in relation to blister prevention. Find a style of sock that works well for your feet. While some people like a thick sock, I've found that my feet do better with thin, lightweight socks. I look for socks that wick moisture and allow my feet to breath. Merino wool socks are a great choice because of their ability to absorb a lot of moisture without feeling wet. While I rarely carry any extra clothing while backpacking, I always make sure to pack an extra pair of socks. Changing into a dry, clean pair of socks halfway through a backpacking trip can do amazing things for morale...trust me on this.
Pack Cover
Pack covers rarely need to be pulled out. However, if it starts raining and you don't have one you're going to be disappointed. Backpacks usually aren't waterproof on their own, so the gear inside can quickly become soaked if it starts raining. Dry gear is essential for your comfort and safety out in the elements and a pack cover is a good layer of protection that ensures the gear you value most remains dry and useful.
What do you think? What do you consider to be the most undervalued types of backpacking gear?