It's not surprising that a brand well-known for producing high performance mountaineering and backpacking equipment was named after the coldest side of a mountain: the north face. But you may be surprised to know that this maker of parkas, fleece, base layers and everything warm was founded in San Francisco's North Beach neighborhood. In 1966, two California hiking enthusiasts decided to follow their passion for the outdoors, and
The North Face
was born.
The North Face
grew over the years, adding skiing apparel to their repertoire in the 1980s, a broad range of athletic performance wear in the 1990s, and shoes for hiking and trail running in the early 2000s. This brand continues to look to the future with innovative outdoor products so you can follow the brand's mantra and never stop exploring.
So what happens when you pair a brand that never stops exploring with a brand that is made up of explorers? You get a lot of exploring, for one thing. You also get high-performance apparel at low prices so you can come exploring with us. Take a look at some of our favorite apparel from The North Face that can be found right here at Sierra Trading Post.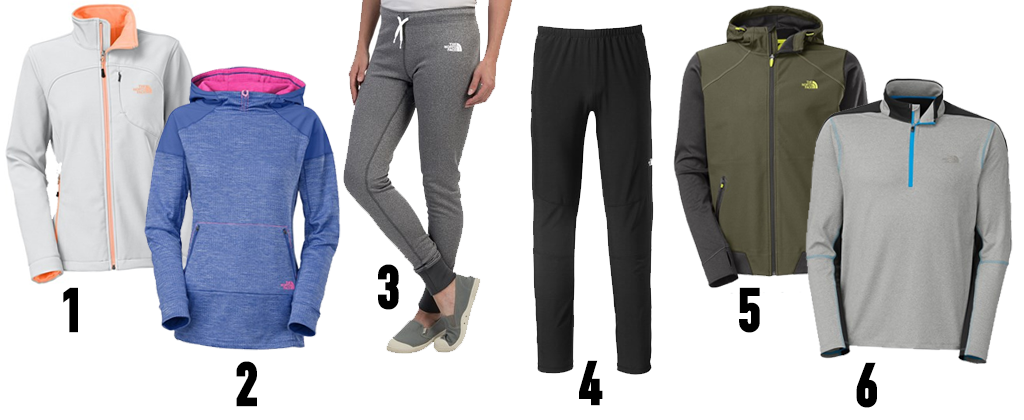 1. The North Face Apex Bionic Soft Shell Jacket (For Women):
Protect yourself from cold, wet and windy weather with the Apex Bionic Soft Shell from The North Face. Backed with fleece and armed with hidden stretch inner cuffs, this coat has what it takes to keep you warm.
2. The North Face Dynamix Hoodie (For Women):
This hoodie was designed to encourage you to get outside even when the weather isn't appealing. Made with hardface fleece, this hooded sweatshirt will keep you warm when the temperatures start to drop. And soft shell fabric in the shoulders and hood allows you to run, bike or play outside without getting too down about a little unexpected condensation.
3. The North Face Half Dome Leggings (For Women):
Take your softest pair of sweatpants and cross them with leggings. You now have The North Face Half Dome Leggings. Wear under snow pants, a sleeping bag or a snuggling pet for the warmth and comfort your active legs deserve.
4. The North Face Torpedo Stretch Pants (For Men):
Get moving in cool temps with these these lightweight, weather-resistant pants. Whether you're going for a run, hopping on your bike or hitting the trails, these pants will keep you warm without weighing you down.
5. The North Face Kilowatt Jacket (For Men):
This durable jacket was built for explorers. Abrasion and wind-resistant, this jacket can get you through tough terrain while protecting you from the elements.
6. The North Face Kilowatt Pullover Shirt (For Men):
With wicked wicking power, a ventilated neck zip and the ability to resist abrasions, this technical long sleeve won't let sweat or mother nature get in the way of exploring. Adventure on with this durable, breathable pullover.
Sierra Trading Post offers all of these products and more from The North Face at prices that won't break your bank. If you'd like a shot at winning The North Face product from Sierra Trading Post, enter the raffle below. Good luck!
a Rafflecopter giveaway