Nestled against the mountains of the Wasatch Range and bordered by the Great Salt Lake, Salt Lake City is perfectly situated for outdoor adventures and urban wanderings.
Whether you're looking for a challenging hike or a city-center stroll, you'll find a ton of fun things to do in Salt Lake City! While there's a variety of things you can do in Salt Lake City, my list includes the best options for mountain biking, hiking, skiing or snowboarding, site seeing and shopping.
Salt Lake City Mountain Biking
1. Antelope Island
: For some smooth-cruising singletrack that allows you to take in the sweeping views and unique landscape, head to Antelope Island State Park. The gorgeous and sometimes other-worldly scenery of Antelope Island is just Northwest of Salt Lake City. Novice riders and families will enjoy riding on the paved causeway and two-mile Lakeshore Trail. The nine-mile White Rock Bay loop offers a bit more challenge, as well as even more lake-side scenery. Keep an eye out for the massive boulders and cliffs that expose rocks that are 2.7 billion years old!
2. Bonneville Shoreline Trail
: Located in the city, the Bonneville Shoreline Trail (aka "BST") is perfect for explorers looking to get a fun, scenic ride in without leaving town. There are several trailheads for the BST, but check out the stretch between Hogle Zoo to City Creek Canyon for some solid climbing, descents and technical riding.
3. Mill D to Desolation Lake:
Mountain bikers looking for a more technical ride and challenging, steep climbs should check out Mill D to Desolation Lake. The grueling uphill and gnarly obstacles are worth it when you arrive at the breathtaking Desolation Lake. There's a variety of trails in this area that you can explore to make your ride whatever you want it to be. Take a trail map with you and discover all the area has to offer. You'll find the Mill D trailhead just east of the city, in Cottonwood Canyon.
Mountain bikers are only allowed on Millcreek Canyon trails on even-numbered days.
Salt Lake City Hiking
4. Donut Falls:
A favorite hike in the Salt Lake City area, Donut Falls is in the same area as the Mill D trail mentioned above, so you'll have ample opportunity to explore the canyon if you have the time, gear and stamina. Hike the forested trail to its namesake, Donut Falls, a waterfall that gushes through a hole in the mountainside. You'll find the Donut Falls trailhead less than a Mile past the Mill D trailhead. You can walk or drive on the Mill D South Fork Road to get there.
5. Bell Canyon:
For another beautiful hike with a waterfall viewing opportunity, head to the Bell Canyon trail. The Bell Canyon trailhead is located off of Wasatch Blvd, in the mountains east of the community of Sandy.
6. Mt. Olympus:
For a more strenuous hike with a rewarding summit, turn to Mount Olympus. With a peak elevation of 9,026 feet and a trail that gains 4,100 feet over the course of 3.75 miles, the hike to the Mount Olympus summit is steep but do-able for most, as long as they take it slowly. It's amazing that such a spectacular hike and summit exists so close to a major city. The Mount Olympus trailhead is on the east side of Wasatch Blvd.
Salt Lake City Skiing and Snowboarding
If you're visiting during ski season, exploring the Salt Lake City's nearby ski resorts is a must. Alta, Solitude Mountain and Snowbird are all located in the Wasatch Range to the east of the city, and all are around a 45 minute drive from the city center.
7. Alta:
"Alta is for skiers." The Alta ski area makes it clear that snowboarders are not allowed. This causes some controversy, but Alta remains a favorite destination for seasoned skiers.
8. Snowbird:
Snowboarders and skiers alike are welcome at Snowbird Ski Area. Snowbird is adjacent to Alta and offers similar perks -- a long ski season, extensive terrain and epic conditions.
9. Solitude Mountain:
Solitude Mountain Resort is a wonderful place to visit in any season. The Resort offers plentiful outdoor recreation opportunities and beautiful views in the summer and 1200 acres of terrain for skiers and snowboarders in the winter.
Salt Lake City Site Seeing and Shopping
10. Temple Square:
Don't leave SLC without stopping by Temple Square. A sprawling complex owned by the Church of Jesus Christ of Latter-day Saints, Temple Square offers beautiful gardens, magnificent architecture and over 150 years of history.
11. City Creek Center:
If you're up for a little shopping after taking in Temple Square, head over to beautiful City Creek Center to experience world-class shopping and dining venues.
12. Sierra Trading Post:
Of course, if you need to pick up some quality outdoor gear before heading out to explore the surrounding area, be sure to stop by Sierra Trading Post in Cottonwood Heights!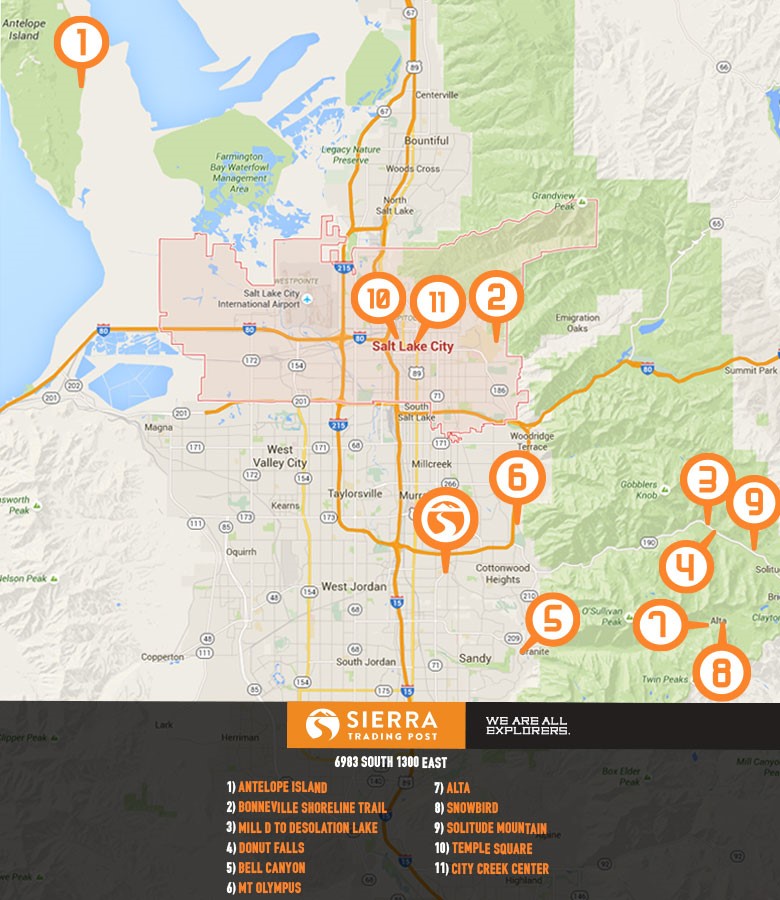 *Featured Flickr photo courtesy Garrett