With so many amazing outdoor spaces in the Chicago area, it's no wonder Sierra Trading Post is opening not just one, but two stores outside of the Windy City! As we celebrate the grand opening of Sierra Trading Post retail stores in Kildeer and Wheaton, we also celebrate the explorers, adventurers, active urbanites and the spaces that act as their playgrounds. It was a challenge to narrow the list down to just five great outdoor spaces in the Chicago suburbs. We'd love to hear about your favorites that didn't make the list!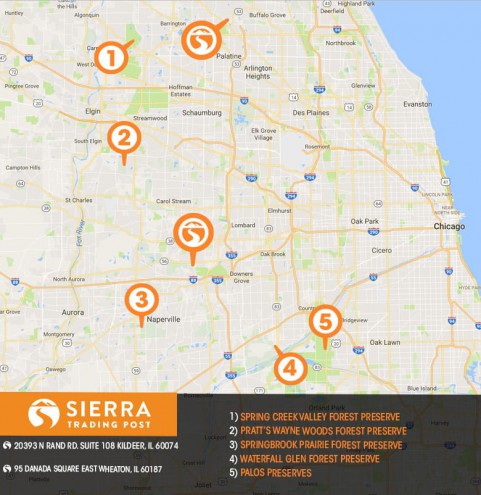 1. Spring Creek Valley Forest Preserve
Spring Creek Forest Preserve, aka Spring Lake, is a nearly 4,000-acre swath of rolling hills, lakes, woodlands, wetlands and prairies in Barrington Hills. There are miles of unmarked and unpaved trails, so it's best to bring a compass, map or GPS. You're likely to find peaceful serenity on any of these trails, as well as a variety of flora and fauna. These trails are perfect for humans and horses alike; many equestrians love going for a trail ride at Spring Creek.
The southern section of the preserve is the most frequently visited; you'll find picnic tables, small lakes and Penny Road Pond parking area there. This is a favorite spot for dog lovers, who find it to be the perfect place to enjoy the great outdoors with their furry friends. Birders and anglers will also find a rich variety of species to make the most of their day on the lake.
2. Pratt's Wayne Woods Forest Preserve
Located in Wayne, IL, Pratt's Wayne Woods encompasses 3,478 lush acres and over 12 miles of trails. The preserve stretches to the north to combine with James "Pate" Philip State Park to form a 4,000-acre stretch of open space. Ponds, lakes, streams, sloughs and marshes cover most of the area, making it a reprieve for the bird watchers, anglers and naturalists of the northwest Chicago suburbs.
While the trails are perfect for hiking, biking and horseback riding, the water is what sets this area apart. Anglers can enjoy some fine fishing in Pickerel Lake, Catfish Pond, Horsetail Pond, Beaver Slough and Harrier Lake -- all five are host to several popular fish species -- just be sure to have your fishing license!
3. Springbrook Prairie Forest Preserve
Springbrook Prairie Forest Preserve is 1,829 acres of prairie, grasslands and wetlands in Naperville. It's considered an important regional grassland bird community that provides a rich habitat for a variety of local birds, including bobolinks, short-eared owls and endangered northern harriers. The proliferation of wildlife in this little forest preserve is a treat for naturalists and birders with keen eyes and ears.
Besides a vibrant wildlife community, Springbrook is home to 13 miles of trails to hike, bike and explore. Horses are welcome on most of these trails, as well. Two miles of the trail system are narrow, groomed pathways that aren't open to bicycles, but are ideal for getting a closer look at the environment.
4. Waterfall Glen Forest Preserve
A beautiful area that boasts 2,492 acres and 11 miles of trails, Waterfall Glen Forest Preserve is located in Darien and is home to a rich and diverse ecosystem. The impressive ravines, ridges and potholes of Waterfall Glen were created at the end of the Wisconsin glaciation period, about 10,000 years ago. Visiting the area is an eye-opening reminder of the natural beauty that remains among the bright lights and concrete of the sprawling Chicago suburbs.
Four mapped trails offer ample opportunity to enjoy the unique terrain via foot, bike or horseback. Old quarries offer still waters for fishing, and a permanently marked orienteering course is available for explorers who want a challenge.
5. Palos Preserves
Across the Des Plaines River from Waterfall Glen is a group of Cook County preserves known as the Palos Preserves. The beloved Palos trail system boasts 38.9 miles of unpaved trails for hiking, biking and equestrian use. The trail system is perfect for cross-country skiing and fat biking in the winter, too.
Mountain bikers are especially fond of the Palos trail system. The northern section of the the preserves is chock full of trail options for every rider. You'll find challenging climbs, quick descents, winding singletrack and open widetrack here. Head south to the the Swallow Cliffs area to enjoy the best widetrack in the area. Be sure to grab a map before you set out -- there are tons intersections that offer plenty of options for variety, as well as opportunities to get lost.